The New and Improved Normal
New Tools Boost Franchise Lending Prospects
Previously, I described one of the few positives from the recent financial crisis: In the world of small-business lending, franchising has gained a competitive edge in the battle for access to capital.
We're now in phase two of a small-business credit recovery that started in late 2011 and will last a few more years. This phase is defined by the banking community's gradual return to small-business lending, the result of banks beginning to feel earnings pressure they didn't have following the 2008 financial crisis. Investor expectations for banks are gradually changing from capital preservation to earnings--and banks make money by lending.
The early part of phase two starts with banks searching only for lower-risk lending opportunities (e.g., a small business with a good track record and lots of financial strength reflected in a good net worth, decent liquidity, and a relatively high personal FICO score). These candidates, for the most part, have been provided ample credit during this recovery. However, banks haven't changed their conservative risk profiles, and they aren't finding many additional candidates with those attributes.
As banks move further into phase two they will increase their tolerance for risk, but only if they can be convinced the additional risk is modest--not only for their own credit appetite, but also for regulatory oversight reasons. To do so, banks are learning another way to assess small-business risk, and it's becoming the centerpiece of the "new normal" in lending.
The centerpiece is using a franchise brand's performance history to prove its creditworthiness. No other type of small business can do this, which creates a distinct advantage for franchising. I've previously described how unit, system, and franchisor performance combine to give both program and transaction lenders very good information they can use to extend credit. This information, packaged in FRANdata's Bank Credit Reports, is drawing lenders to franchising because the reports allow all types of lenders to understand the risks associated with franchise lending. This improved understanding is beginning to draw lending capital away from independent small businesses and toward franchised small businesses. Built on the solid logic that better information leads to better credit decisions and more credit, this information and more is now available to lenders on the Franchise Registry website--changing how lenders underwrite franchise loans.
In the process of developing these new tools with lender and franchisor input, another powerful idea came into being. Connecting prospective and existing franchisees seeking additional capital from lenders is a slow, inefficient process. Franchisors start with a prospect long before a financing package can be assembled; and lenders want to screen and be introduced to good prospects as early in the process as possible so they can build a relationship. After some brainstorming among franchisors, lenders, and FRANdata, an epiphany of sorts occurred: What if we turned the traditional model of franchisees and franchisors finding lenders to a new normal model of lenders finding franchisees?
Boefly started down that path of addressing the inherent inefficiency by helping franchisees put together financing packages and showing them to lenders through an online website, but that occurs late in the development process. From the credit underwriting information on the Franchise Registry website, we could add tools for lenders to connect franchise brand searches based on lender credit criteria. If we added franchisors' criteria for screening prospective franchisees, lenders would be able to identify candidates that meet their credit boxes at earlier stages in the franchise development process--which would give lenders and franchisors more confidence that a deal will happen. So we added search tools for lenders to do just that.
Then we took it one step further. Lenders asked if we could show actual credit information for prospective franchisees. Franchisors said they collect basic credit criteria on all prospects to increase the likelihood they will get financing. Franchisors were willing to put that information on the Franchise Registry website--if it is seen only by lenders, and if franchisors could control whether and how the lender/prospect connection is made. We worked through the details, and it is now ready for prime time.
Here's how it works. Lenders now have tools available--only to them--that allow them to search franchise brands based on lender credit criteria; not only for things like loan size and industry, but also for criteria such as geographic preference as localized as a ZIP Code. Franchisors are allowed to show both their general screening criteria for prospects and prospect-specific credit information at several points--much earlier in the development process than lenders historically were able to get involved--such as when prospects attend discovery day and at the moment they sign a franchise agreement. Prospect screening criteria include such things as net worth, liquidity, FICO score, and business experience. Franchisors have the option of showing actual prospect names or requiring lenders to direct all inquiries through franchisors to control connections to prospects. These tools also apply to existing franchisees seeking expansion capital.
These tools allow lenders to much more efficiently find prospects more likely to get through underwriting. They also bring the lending process more in line with the timing of the development process so franchisors have more confidence their prospects are financeable earlier in the process. Finally, these tools exist only for the franchise community, which will attract a disproportionate share of additional small-business lending capital. Welcome to the future of franchise lending.
---

Darrell Johnson is CEO of FRANdata, an independent research company supplying information and analysis for the franchising sector since 1989. He can be reached at 703-740-4700 or djohnson@frandata.com.
Published: November 7th, 2012
Share this Feature
Recommended Reading:
Comments:
comments powered by

Disqus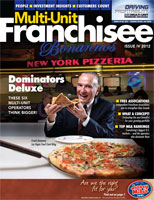 Multi-Unit Franchisee Magazine: Issue 4, 2012
Daddy's Chicken Shack believes in simple, high-quality ingredients with a lot of love.
Born from a desire to bring classic, home-style comfort food and unparalleled service back to American diners, today's...
Cash Required:
$500,000