The Pursuit of Happiness: Key Economic Decisions are Now in Play
The recent U.S. election cycle, more than any other in recent memory, tapped into deep angst within both major parties and the electorate at large. On the surface, this would seem to be at odds with an economic reality that has an unemployment rate of around 5 percent, wages rising more strongly than they have in a decade, and citizens, on average, in far better shape than they were in 2008 or even 2012. Even before the election, average household income had climbed back toward all-time highs supported by recovering housing prices and rising stock markets. What gives?
The knee-jerk presumption points to the gap between the top and bottom tiers of wage earners, and indeed that gap is large relative to any point in recorded history. A host of perceived ills from applied regulation, immigration, globalization, unfair taxation, too many lobbyists, and a host of other culprits have variously been painted as having "robbed" us of something we are "owed." To hear the popular press and the politicians tell it, it's as if the Declaration of Independence actually promised "happiness," versus the right to pursue it. Note the difference a few words makes? The original doctrine implied self-rule and self-sufficiency--not an "everybody gets a trophy" mentality.
But to create an amenable environment for business and consumption to occur, three important constituencies must work together:
Government -- Provides infrastructure support, fiscal policy, reasonable regulatory oversight, national oversight of borders, treaties, and citizen protection.
Business -- Produces profits that remunerate stakeholders, pays equitable taxes to support resources relied on from government, and partners with educational institutions to create, train, and maintain a leading-edge work force.
Central bank -- Formulates a strong and viable central bank and policy to facilitate reliable money movement, monetary policy, oversight of employment, and inflation targets.
The basics in play
Before the election, the popular mood presumed that the central banks were the only piece of the equation that could be counted on. It was as if the other two legs of the stool were too tattered to do their part (or that a citizenry had forgotten how to hold them accountable). Nearly a decade of zero interest rates created a global conundrum with $13 trillion in government debt priced below zero, bloated central bank balance sheets, and tepid economic growth.
But between the Brexit vote and the outcome of the U.S. presidential election, all of a sudden basic economic philosophies seem to be in play again. What does "fair" look like when it comes to regulation, taxation, ownership, security, borders, etc.? It's opened a tiny wedge in a seemingly intractable system, and each of us has an ability to speak up and hold our politicians, business leaders, and government officials accountable for helping to create an environment conducive to self-sufficiency. Granted, the definitions of "fair," "open," and "equitable" are thorny. But we'll never get to them if we're all living in and trying to operate from behind barriers, literal or figurative.
Key fundamental decisions will be made in the coming months. Some of the issues in play are:
tax rates for individuals--the higher they are, the less individuals have in discretionary funds to invest in venture and early stage projects.
corporate tax and regulatory environments--and whether or not they encourage companies to stay put, bring cash embedded in foreign subsidiaries home, or build innovation zones.
carried interest taxed at capital gains versus ordinary income rates.
tariff decisions which, if increased, could spawn counter-tariff moves by other nations and put a damper on global trade.
Collectively, we can either lean into these discussions--and hold those in high places accountable to do the same--or we can allow media and leading voices to continue to polarize the debate. Despite the fact that some very vocal constituencies have been left behind, putting the globalization genie back in the bottle is essentially impossible, especially in a low-rate environment. Individuals will seek opportunity--it's embedded in our optimistically biased human nature and our desire for a better life for ourselves and our offspring. Companies will seek an amenable environment, which means a well-educated work force, high local standard of living, and fair tax environment. The trick in the next couple years is ensuring a seat at the table and a piece of that global opportunity.
As changing political moors in a variety of countries and blocs are sorted out, the current state of global affairs may well lead to volatile markets in quarters ahead. In environments like these, we continue to advocate global diversification, a steady head, and nimble (though studied) dynamic tactical shifts as events unfold.
Capitalism can be a messy, unorganized state of affairs. Innovation typically grows faster than expected and can quickly disrupt or challenge business models and regulatory sensibilities seemingly overnight. Such change and flux can be either frustrating or exciting and opportunity creating. It's up to all of us to decide which--and to hold our politicians and government officials, business leaders, and central bankers to more collaborative and constructive standards. It's up to all of us to help create an environment conducive to the collective pursuit of happiness!
Carol M. Schleif, CFA, is deputy chief investment officer at Abbott Downing, a Wells Fargo business that provides products and services through Wells Fargo Bank and its affiliates and subsidiaries. She welcomes questions and comments at carol.schleif@abbotdowning.com.
Published: March 30th, 2017
Share this Feature
Recommended Reading:
Comments:
comments powered by

Disqus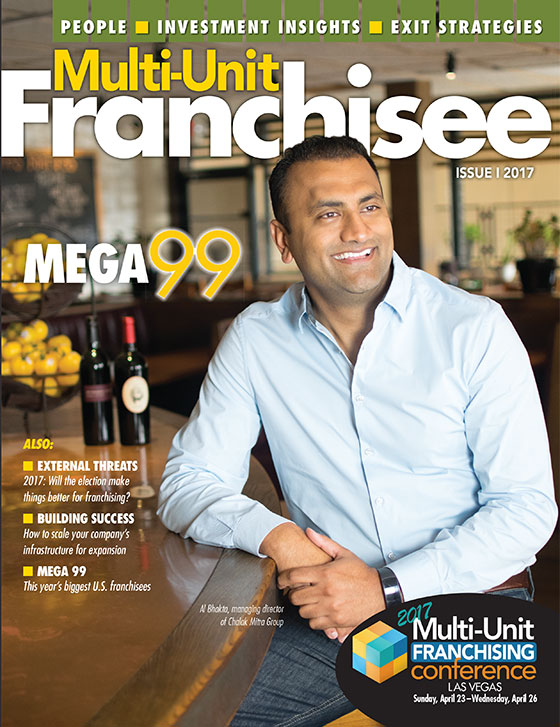 Multi-Unit Franchisee Magazine: Issue 1, 2017
The door to the future is through technology. Each iCode Computer School for Kids franchise teaches children to create technology—not just play...
Cash Required:
$100,000
With more than 270 active locations in 29 states and dozens more in development, American Family Care is America's #1 Urgent Care Franchise.
Cash Required:
$550,000