Well-Coordinated: Balance Your Portfolio With Complementary Brands
The inspiration for Randy Elias's expansion into a new franchise concept came from a restaurant he'd been frequenting for years. In a prosperous area of Atlanta, a Mexican eatery called Jalisco sat next door to a Baskin-Robbins ice cream shop. With the help of customers looking for something sweet after a spicy meal, that Baskin-Robbins location was the number-one shop in that company, says Elias.
"Scott Paton, my business partner, and I saw the success with those two restaurants, and we modeled our business plan after that," says Elias. Good plan: today the two operate a very successful Moe's Southwest Grill in the Atlanta area, consistently coming in among the top 5 percent of the franchisor's 70 locations in the area. When a space opened up a few doors down from that restaurant, they decided it was time to expand. "We had to come up with the right concept," says Elias.
That concept turned out to be Menchie's, a frozen yogurt shop franchise based in Los Angeles. Given that his Moe's location was very family-oriented, the fact that Menchie's caters to the 5- to 15-year-old crowd was ideal. Already, some three months after opening, Elias says the spot has become the local malt shop. "That's who we're serving anyway," he says. "We had a strong dinner concept in Moe's and now a very strong dessert concept with Menchie's."
Like Elias and Paton, franchisees across the country are finding that expansion doesn't have to mean opening more locations of their existing concepts. Sometimes, the best chance for growth comes with a complementary brand. That new business might capitalize on current customer traffic, as Elias's does.
Or it could broaden the product mix, offering clients more choices. That's what Mike Blass has achieved with his new Miracle Method franchise. The bath fixture resurfacing business adds an entirely new line to Blass's existing construction company in Lima, Ohio. "For me, the refinishing business made a lot of sense, because it gave my customers a different set of options at a different price point," says Blass. "It gave me as a business owner an opportunity to more effectively solve problems. And they feed each other. If I go in to do a Miracle Method job, that will lead to a construction job down the line."
Adding a new type of franchise can also be a financial diversification strategy, as Steve Reimer's new Einstein Bros. Bagels business has proven to be. Already a multi-unit hotel franchisee, with two Marriott brands and one Hilton flag, Reimer decided to get into food service partly because the investment wasn't nearly as capital-intensive as building another hotel.
"It's a very big capital expense to build a hotel," says Reimer. "It's a long-term real estate play. With a restaurant, you're in leased space, and you just have the build-out and FF&E. It's a cash-flow business, where hotels are more of a long-term hold."
For Dev and Sunita Sagar, branching out from their Denny's restaurant into Baja Fresh and Jack in the Box allowed them to cover different segments of the restaurant business in Northern California: 24-hour family dining, fast casual, and QSR. The mixed bag of concepts reduces risk, Dev figures. But by keeping all the businesses under the food-service umbrella, operations are simplified.
"Customer service is customer service," says Sunita. "The food is different, the POS system is different, but the skills are the same. You offer good food and good service in a clean environment. It's all about using the basic skills."
For Cary Albert, adding Cinnabon franchises to his Schlotzsky's shops in North Texas didn't just require the same basic skills--it required the same staff, the same space, the same utilities, and the same overhead--all of which brings in new customers and drives residual sales. "It's bringing an added value into the brand," says Albert, who now has five Schlotzsky's and five Cinnabon franchises, with three more dual-brand locations under development and another seven planned. "The only additional overhead is the cost of the product."
Albert has seen Cinnabon sales grow to between 5 percent and 8 percent of each location's take. With store sales that range from $1 million to $1.6 million, that's not insignificant. "Worst case, that's $50,000 a year you wouldn't have," he says, "plus the additional sales you're getting at Schlotzsky's, like soda sales. It's definitely added value."
Financing!
When seeking funds for a new, complementary brand, franchisees can point to the success of their existing businesses as proof of their management acumen. For instance, Elias's Menchie's addition was funded by private lenders. After financing Moe's with commercial loans, he was able to attract that private funding because of his consistent growth and strong P&L history with Moe's.
The Sagars' first location, a Denny's in the San Francisco Bay area, was financed out of their own savings, with the help of local, community banks. Sunita had 17 to 18 years of experience in food service by then, and Dev had a successful computer-support business to his credit. "They knew they could trust us, providing the financing," says Dev.
Since then, the Sagars have tapped community banks for their various expansions. It's part of Sunita's philosophy of commitment to the local community. "We believe in getting involved, and that includes community banks," she says. "We have gotten funding from a lot of community banks."
Regional banks backed Reimer's hotel locations, but the Einstein Bros. expansion is an all-equity proposition; he and his partner are funding that themselves. Adding a third hotel to his stable, however, was a different story. The project was ready to go in 2008, but that's when, as Reimer says, "the whole world changed."
Reimer's previous financiers weren't interested in another hotel, so he went to several different banks. Some weren't interested in the project at all, while others wanted a major equity investment from Reimer. "Ultimately U.S. Bank financed it," he says. "I had to put more equity in it than I planned on, but less than what some others had quoted."
SBA 504 loans have helped Albert with his rapid Schlotzsky's/Cinnabon expansion. After developing one new store (slated to open in September) with a conventional loan from J.P. Morgan, Albert was able to put another three into the works, thanks to new SBA legislation from Congress.
"They raised the limit to $5.5 million, which gave me another $3.5 million more to work with," he says. "Each store is $1.2 million to $1.5 million, with the SBA guarantee at 40 percent of that. So with the new limit, I can develop four or five more units using SBA money." Plus, the SBA requires only 10 percent down, he says, compared with 20 percent to 25 percent with conventional lending. "That keeps more capital in my coffers," he says. "It lets me expand more rapidly."
Blass has borrowed heavily to fund both his construction business and the Miracle Method franchise. "We've financed quite a bit in both businesses, because I'm confident that, given a little bit of time, it will be worth it," he says. "But I've got a lot of debt. At a conference recently, we heard what other entrepreneurs' credit scores were, and that helped. I thought it was just me."
One thing that's helped Blass with budgeting is the fact that he has a pension from his previous career in government. "I don't have to have a salary at this point," he says. "That gives me the ability to reinvest my cheapest form of capital, which is my time."
Synergy!
Having a successful first business to build on helps not only financially, but operationally as well. One of the advantages of operating three different concepts, the Sagars have found, is that they can apply good ideas from one franchisor in operating their other businesses. "Each brand, each franchise, has its own systems," says Sunita. "We can choose the best and apply it to them all."
For instance, Baja Fresh has well-established fund-raising and catering methods, Sunita says. The franchisees work with community organizations, schools, sports teams, and the like on fund-raising events. The organizations drive traffic into the restaurants, and then reap 20 percent of the proceeds. It makes sense for the Sagars' Denny's and Jack in the Box locations to do the same.
"That's the kind of community involvement I would like to have with all of my stores," says Sunita. "Getting involved in the community lets them know about us and helps us to increase sales. I believe strongly in getting involved."
There are opportunities for the Sagars to share more than good ideas. Their operation is large enough to warrant a full-time financial staff to deal with all three brand operations. Accounts receivable, accounts payable, human resources, customer service, and other back-office functions are all handled out of their Fremont, Calif., headquarters.
Management training comes out of Fremont as well, another synergy offered by operating several concepts. Cross-training managers ensures that the businesses always have backup in place. It also helps to retain employees by grooming them to move up as opportunities arise. "We do look into promotion or opportunity for growth within the organization first," says Sunita.
Cross-training is an important part of Reimer's hotel strategy, too. All three of his hotels, which he operates in partnership with his brother, are located in the same block of downtown Grand Junction, Colo. Employees are trained on all the computer systems so that, if one hotel is busier, employees can be shifted from another property to help handle the extra traffic. Cross-training also makes it easier to fill in for employees who are sick or on vacation. Plus, there's one administrative office for all three hotels, so they can share maintenance and sales staff when necessary. "We've seen a lot of cost savings in that respect," says Reimer.
Blass figured that, after adding Miracle Method, he could hire a full-time bookkeeper for all his companies, but that didn't work out: he decided that he didn't want to risk of putting all his financial information into the hands of one person. "Now, I use my accountant's office for the construction company's books, and the next step is to meet with the accountant to hand over Miracle Method's books," he says. "Actually, they can do it cheaper, and if something were to go awry, they're licensed, and they have something to lose if I had to go after them."
However, Blass does have a single administrative office that serves as a base for all his companies, including the remodeling business and Miracle Method. He's in the process of opening a combination showroom and shop for Miracle Method, and he maintains another shop for Blass Residential Services. Eventually, he'd like to combine them all. "The goal is to someday, hopefully in the not-too-distant future, combine into one facility and operate under one roof," he says. "That would offer a lot of leverage and synergy to capitalize on."
His centralized administrative office allows Blass to share costs across the businesses, basics such as sharing one photocopier, costs on office supplies, and so on. "Also, I have some ability to shift costs to maximize my tax strategy," he says. "And Miracle Method, as a franchisor with 125 offices, has negotiated some trade discounts with major suppliers. Once I have that relationship, I have the option of asking for the discount for my construction company."
Another way Blass has found to double up is with payroll costs. All of his employees are technically on the construction company's payroll. Miracle Method then leases its employees from Blass Construction. That way, he has to pay for only one payroll package. "I do the same thing with vehicles," he says.
Next up: advertising. Blass is exploring ways to combine advertising for Miracle Method and Blass Residential. "We're looking at paying a rate for one company to get coverage for both," he says.
Complement!
These diversified franchisees have some words of caution for entrepreneurs considering similar moves. Choosing the right franchise is paramount. "Number one, you have to understand that the operative words are complementary, strategic," says Blass. "So you stick with what you know, and make sure that whatever franchise you're looking at doing, it will allow you to leverage the resources of your existing business."
Elias seconds that notion. There's no point in taking on a second franchise if it doesn't somehow fit with your current business, he says, as the Menchie's dessert niche does with his Moe's. "If you're selling dinner at one franchise, you might want a lunch business," says Elias. "If you have a lunch business, you might want a coffee shop next door."
It's key, of course, to do your homework on a prospective franchisor, says Dev Sagar. "Understand what their expectations are, how people view the brand, what kind of systems they have, how much they'll support multi-unit growth," he says. "It's like a marriage: You need to understand what a partner will provide you, what compromises you will have to make, and how you can achieve your goals in the environment that you share."
Sunita points out that the analysis can't stop with franchisors. Entrepreneurs must look carefully at themselves, too. "Multi-concept is not for everybody," she says. "You need to look at your personal strengths, at your business's current infrastructure, to see whether you can do it."
Reimer agrees that adding a complementary franchise is a big decision, but with retail space in plentiful supply, now is a good time to take the leap. "There's a lot of empty space in retail centers, so you can make a much better deal on vacant space with landlords. It's a good time if you have a concept that will work in your market."
In fact, Reimer is mulling another addition to his growing business. His latest hotel, a Springhill Suites by Marriott, has a 2,000-square-foot storefront. He's thinking about opening a coffee franchise there. "It would be a recognizable coffee franchise, with a door leading from the coffee space into the hotel, as well as storefront doors for customers from the downtown area."
Reimer figures the coffee business would be an amenity not only for the new hotel, but also for the city's downtown. And if it works out as planned, it would also be an amenity to his portfolio of complementary franchise brands.
Published: July 22nd, 2011
Share this Feature
Recommended Reading:
Comments:
comments powered by

Disqus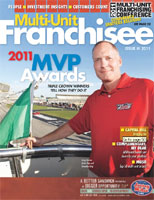 Multi-Unit Franchisee Magazine: Issue 3, 2011
THE FASTEST GROWING BREWERY IN AMERICA IS building more brew pubs and franchising throughout the US. BrewDog is a great investment that offers...
With more than 200 locations open or under development, Woof Gang offers best in class grooming, and a unique retail experience; our gourmet treats...
Cash Required:
$75,000