2019 Global Growth Forecasts: Best Countries for Franchise Development
Despite global trade fears, new franchise development around the world in 2019 will continue to be tied to GDP growth. Generally, the higher the annual GDP growth rate in a country, the more new investment is being made in its economy, and the more likely a franchisor will be able to find investors wanting to become new licensees. Bottom line: the market for new franchise development around the world remains robust and strong.
While the IMF believes global growth will slow a bit to about 3.7 percent in 2019, there remain several countries where the annual GDP growth rate will exceed 5 percent, such as China, India, Indonesia, the Philippines, and Vietnam. Each of these high-growth countries will continue to see the growth of franchised units in 2019. First let's hear from franchise sector specialists about 2019 franchise development opportunities in four countries and the Middle East.
Argentina. "IMF support and fiscal reforms have pleased financial markets, but high interest rates are slowing domestic consumption, and the economy is expected to have GDP growth of less than 2 percent in 2019. The second half of 2019 will be the time to begin looking at this market again with eyes on 2020 for new franchise development opportunities." -- Robert Jones, Chief International Officer, EGS
Australia. "While there is perception that franchise regulation in Australia is somehow restricting the sector, this is completely false. Food retail continues to be a strong sector for new market entrants, but franchisors should note that Australian labor and occupancy costs are high. Other growing market opportunities exist in fitness, well-being, technology, business, and professional services." -- Jason Gehrke, Director, Franchise Advisory Centre, Australia
Mexico. "From the outside-looking-in perspective, there is an atmosphere of uncertainty with the new president, yet franchises have always been a stable business model in uncertain times. The new government understands that franchising is a solid and powerful job generator, and in a growing country this is vital." -- Ferenz Feher, CEO, Feher & Feher, Mexico City
Thailand. "As a center for global tourism, Thailand supports more franchise brands than its own population could support. It is also an excellent showcase of brands and proof-of-concept for the region. The Thai franchise market is crowded and tightly focused on selected urban areas. But there is a subset of strong, risk-tolerant, and qualified investors willing to invest in well-established American brands." -- Greg Wong, Commercial Counselor, U.S. Commercial Service, Bangkok
The Middle East (Saudi Arabia, United Arab Emirates, Kuwait, Qatar, Oman, and Bahrain) has experienced an economic contraction over the past several years. However, the market continues to demonstrate high AUVs for brands that provide the market with a unique experience, innovation, and value. The restaurant segment continues to be strong, retail is highly competitive, and the B2B and B2C sectors offer limited opportunity for compelling opportunities." -- Paul Cairnie, CEO, World Franchise Associates
Around the world
Now for some predictions for other franchise-friendly countries for 2019. Projected 2019 GDP growth rates for this article are from the Economist magazine.
Brazil. Although the recent election of new President Jair Bolsonaro is somewhat of a wild card, he is expected to propose fiscal reforms during his first year that will signal a very positive message to the market, attracting domestic and foreign investors. Pro-business policies are expected to stimulate the economy and generate 2.4 percent GDP growth in 2019, creating new opportunities for foreign franchisors.
Canada. A GDP growth rate of about 2 percent, new employment laws and regulations, plus high business taxes will keep new franchise brand development down in this country in 2019.
Chile. Continued strong domestic demand and solid fiscal discipline should result in a GDP growth rate of 3.4 percent in 2019, making Chile a solid prospect for foreign franchisors.
China. Trade tensions with the U.S. and EU, as well as Chinese government controls and barriers, have increased the difficulty factor in this market. GDP is expected to slow to 6.3 percent in 2019 as the government attempts to establish a more sustainable level of growth for the long term.
India. Although higher oil costs are a drag on the economy, GDP growth is expected to reach 5.2 percent in 2019. If the government implements regulatory and economic reforms, which it has announced it will do, the business climate could improve for foreign franchisors to find qualified licensees in 2019.
Indonesia. Strong domestic demand is expected to sustain a GDP growth rate of 5.2 percent in 2019. Although U.S.-China trade tensions pose a risk to economies in this region, foreign franchises are generally well received in the Indonesian market.
Italy. A higher fiscal deficit and disagreement with the EU regarding the new government's budget have resulted in an estimated GDP of 1.2 percent for 2019. However, U.S. brands are popular in this market, and there is a demand despite the economy's challenges.
Japan. Manufacturing has recently slowed somewhat and higher oil prices are a negative, but increasing domestic demand should maintain a GDP growth rate of 1.1 percent in 2019. Foreign franchises continue to find investors in Japan despite the low GDP growth, which is an anomaly.
Peru. Consumer spending is up, the government is pro-business growth, and increased export growth supports a prediction of 4 percent GDP growth for 2019, providing a solid opportunity for franchisors to find local investors.
The Philippines. With an expected GDP growth rate of 6 percent in 2019, a fast-growing middle-class consumer base, and a robust new franchise development environment, this country will see new international food and beverage franchise brand entry in 2019.
Poland. Although the country's very strong growth is expected to moderate somewhat in 2019, the current estimate of 3.6 percent is one of the region's highest economic growth rates. While this market offers solid opportunities for foreign franchisors, market analysis and selection of the correct partner are keys for success.
Saudi Arabia. The GDP growth rate is expected to be an anemic 2 percent in 2019. Low oil prices and lots of local investment and legal challenges will mean little new franchise investment for the year.
Singapore. Weaker manufacturing will be offset by stronger demand, with a 2.9 percent GDP growth rate estimated for 2019. Anti-immigrant legislation has made finding service workers difficult, and choice retail space is priced at a premium. Singapore is saturated with foreign franchise brands.
South Africa. With a new government and a program of fiscal stimulus, the country could have an estimated GDP growth rate of 1.7 percent in 2019. But security and rule of law challenges remain in a country with a huge middle-class consumer upside.
Spain. Although 2019 annual GDP growth is expected to slow from 2.7 percent in 2018, the pace of new franchise development will continue to be high, especially in the food and beverage sector.
United Arab Emirates. The wildly fluctuating oil price over the past couple of years has resulted in low new franchise investment, especially in the food and beverage sector.
United Kingdom. The impact of the impending Brexit has been to decrease interest in new investment projects in the U.K., especially in the food and beverage sector.
Vietnam. This market continues to have strong retail sales and has benefited from factories relocating from China. GDP growth of 6.6 percent is expected in 2019. U.S. franchises are highly desired in this market.
William Edwards is CEO of Edwards Global Services (EGS). From initial global market research and country prioritization, to developing new international markets and providing operational support around the world, EGS offers a complete international operations and development solution for franchisors based on experience, knowledge, a team on the ground in over 40 countries, and trademarked processes based on decades of problem-solving. Contact him at bedwards@edwardsglobal.com or 949-224-3896.
The 2019 EGS GlobalVue Country Ranking for Selected Countries
Projected
Market
Trademark
Ease of

Average

Countries

2019

GDP
Size
Protection for
International

Country

Growth
(Customers)
Brands
Brand Entry

Ranking

Philippines
1
2
2
1

1.5

USA
2
1
2
1

1.5

Chile
2
3
1
1

1.8

China
1
1
2
3

1.8

India
1
1
2
3

1.8

Indonesia
1
1
3
2

1.8

Mexico
3
1
2
1

1.8

Vietnam
1
2
2
2

1.8

Spain
3
1
2
1

1.8

Japan
3
1
2
2

2.0

Peru
1
3
2
2

2.0

Thailand
2
2
2
2

2.0

United Kingdom
3
1
2
2

2.0

Argentina
3
2
2
2

2.3

Australia
2
2
2
3

2.3

Brazil
3
1
2
3

2.3

Canada
3
2
2
2

2.3

Poland
2
2
3
2

2.3

South Africa
3
2
2
2

2.3

Italy
3
2
2
3

2.5

Saudi Arabia
3
2
2
3

2.5

Singapore
2
4
1
3

2.5

United Arab Emirates
2
2
3
3

2.5

Country Ranking: '1' is best and '4' is worst
Published: December 13th, 2018
Share this Feature
Recommended Reading:
Comments:
comments powered by

Disqus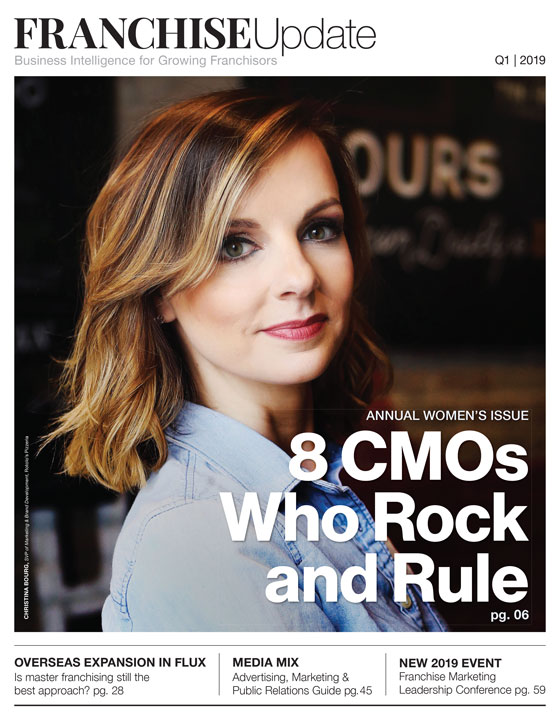 Franchise Update Magazine: Issue 1, 2019
Featured Opportunities