Young, Experienced, and Growing
From Busboy To Multi-Unit Operator
Alex King may be only 29, but the Freddy's Frozen Custard & Steakburgers multi-unit operator has been a part of the throwback brand since he was a teenager. The Kansas native worked at a Freddy's in Wichita all through high school and continued during college while attending Wichita State University. King found he liked business and quickly made his way through the ranks from busboy to cook, then manager to operator.
The young entrepreneur, along with his brother Stuart and two other friends--all with experience at Freddy's--decided they liked the brand so much they would pool their money, look for an open territory, and open their own. They settled on Indianapolis and opened in late 2016.
At this early stage, King is still heavily involved in day-to-day operations--and looks forward to the day he'll be able to work more on the business than in it. He'll have to: his goal is to open 11 more Freddy's in the next 7 years.
As an operator, King believes he has a unique perspective about his employees. "I started out with Freddy's at an entry-level position, so I can relate to employees on all levels," he says. "I know the importance of developing employees and strive to build great relationships with our team members."
Two years into life as a franchisee and King couldn't be happier. He says he has relied heavily on grassroots marketing and strongly believes in being involved at the local level. "We spend a lot of time finding ways to get involved in the community," he says. One of his favorite endeavors is hosting "give back nights," where a portion of sales is donated to local organizations. His stores also have been actively involved in supporting veterans groups.
But business is not the only thing that's been growing in King's life. Last summer his wife had their first child. He says the experience has been great, and he's been spending the majority of his free time with his newly expanded family.
King is a young gun on the rise. His first Freddy's, which opened in December 2016, has experienced double-digit growth in sales in 2018. He's also been busy this year preparing for his next Freddy's, which he's aiming to open in late spring next year.
Name: Alex King
Title: Franchisee
No. of units: 2 Freddy's Frozen Custard & Steakburgers
Age: 29
Family: Married with newborn daughter; brother is a business partner
Years in franchising: 2
Years in current position: 2
Personal
First job:
Busboy at a Ground Round in Wichita.
Formative influences/events:
Starting at Freddy's at a young age and learning the opportunity for growth with the brand.
Key accomplishments:
Working my way up through Freddy's in Wichita at the corporate locations was a huge accomplishment for me--especially as someone who hadn't graduated college at the time. I started as a cook in Kansas at 16 and worked at Freddy's through high school and college at Wichita State University, where I worked my way up to manager. My brother, Stuart King, introduced me to Freddy's, where I met Blake Epperson when I started as a cook. Soon after I started, I got my buddy Alex Kent a job too. A few years ago, four of us realized we wanted to franchise and invest our money in the brand instead of school. We pulled out a map of the United States and determined where we would like to move together to open Freddy's locations of our own. We landed on Indianapolis and here we are today.
Biggest current challenge:
Getting enough growth to take on the market by storm. It's a challenge to expand quickly while also building and maintaining a strong team of staff that will stay with our company and grow as we do. When a new restaurant opens, a lot of time needs to go into employee recruitment, while simultaneously needing to manage the existing restaurants.
Next big goal:
Right now I'm heavily involved in the operations aspect of the restaurants, so eventually I'd like to step out of operations a little more and gain a wider scope of our presence in Indiana. Our goal is to open 11 more Freddy's restaurants in the next 6 to 7 years.
First turning point in your career:
Going from an hourly team member to a salaried manager. The role not only gave me additional responsibility, it also changed my mindset when it came to my career. I went from someone who did basic day-to-day tasks to someone who managed a business. It immediately changed my frame of mind and helped me focus on the bigger picture.
Best business decision:
Franchising, honestly. For a long time I worked for Freddy's in Kansas and eventually took ownership of managing a restaurant as a single-store manager. Franchising allowed me to become my own boss.
Hardest lesson learned:
Plans often go awry. You can plan as much as you can with all aspects of the business such as staffing, developing real estate, construction, and everything else, but more often than not there is going to be a wrench thrown in your plans and you need to be able to adapt.
Work week:
I spend about 50 hours inside the restaurant and 5 to 10 outside the restaurant working on the bigger scope kind of things. I'm very hands-on with the day-to-day operations of our second location and handle a lot of the in-store logistics such as staffing, scheduling, placing orders, etc.
Exercise/workout:
Not right now. My wife just had our first baby in July, so I spend the majority of my free time with my family.
Best advice you ever got:
One of my managers told me, "Hard on spec, easy on staff." This means to make sure things are done the way they are supposed to be done, while making sure your team is treated well and coached the right way in doing those things.
What's your passion in business?
Originally, I started with an interest in accounting. I really enjoyed financial accounting, numbers on paper, how they represent your business and how vendors use numbers to judge a business. This started my passion for business, although recently I've been drawn to the managerial side of it.
How do you balance life and work?
This is tough for sure. Becoming my own boss and not having someone to specifically report to has been challenging, as I need to set my own goals at work and accomplish them. It's also difficult as the owner to say I need to go home and call it a day. With a new baby at home it's easier to step away from operations to get home, but I need to make it more of a priority to take time to be with family.
Guilty pleasure:
Video games. I still find myself turning on the Xbox. Luckily my wife is supportive.
Favorite book:
Game of Thrones books.
Favorite movie:
All the "Star Wars" movies.
What do most people not know about you?
I listen to heavy metal. People meet me and think of me as a country boy coming from Kansas, but I listen to some pretty hard rock. People are usually surprised when they hear what I'm listening to. Darkest Hour is my all-time favorite.
Pet peeve:
Disorganization.
What did you want to be when you grew up?
An artist. I actually enrolled in art classes, art theory, and art history when I started college. I spent about a week in classes and decided to change.
Last vacation:
Family vacation to Louisiana to visit my wife's family.
Person I'd most like to have lunch with:
Joe Rogan.
Management
Business philosophy:
Freddy's has a motto: Give 'em the pickle! Meaning if the guest orders extra pickle (a free condiment), just give them the pickle. Don't fret about the extra costs. If that pickle means the guest is happy, then it's well worth it--especially if it helps turn them into a regular. But this philosophy can be applied to more than just pickles. Another philosophy I use daily (I'll call it "the 2-by-4") I learned from Freddy's COO Scott Redler. Scott often mentioned placing a 2x4 on the ground in the doorway. At first, you will stub your toe and trip on the 2x4. Over time, you will learn to step over the 2x4 until it becomes second nature, and eventually you stop noticing it all together. The idea here is that the 2x4 signifies a problem. Deal with the problem and fix it because it won't go away on its own.
Management method or style:
Hard on specification, easy on staff mentality. I like to lead by example, set expectations, and approach situations like a leader rather than a boss.
Greatest challenge:
Retaining staff and showing them that there are opportunities for growth within the brand if they work hard. Sometimes entry-level employees can't grasp their own potential within the brand. But because I personally started out with Freddy's at an entry-level position I have the ability to relate and motivate employees on all levels. I know the importance of developing employees and strive to build great relationships with our team members.
How do others describe you?
Driven and hard working.
One thing I'm looking to do better:
To have a more hands-off approach to the management of my locations. I need to do better at not managing my managers as closely and allow them to make their own mistakes in order to learn from them.
How I give my team room to innovate and experiment:
By giving my team members the room to try new ideas of their own.
How close are you to operations?
Very close. I spend 50 hours a week in the restaurant.
What are the two most important things you rely on from your franchisor?
Marketing the brand in the right way to the right franchisees, as well as to consumers. Freddy's does a great job in weeding out the franchisees who look at it as an investment rather than a career they will be involved in. This helps the brand maintain its great reputation. We also rely on the corporate team to stay innovative by taking new ideas and letting them unfold for the franchisees. For instance, sharing new technologies, putting calories on menus, and sharing regulations we need to be aware of. With everything we do running the restaurants as a franchisee, it's hard to pay attention to those things, so it is extremely helpful to have the corporate team share what needs to be changed or implemented.
What I need from vendors:
Reliability. It bothers me when I have to manage my vendors if they fail to uphold their end of the deal.
Have you changed your marketing strategy in response to the economy? How?
We haven't done a lot of marketing in the two years we've been here. We have more of a grassroots approach, which we learned from our time at the corporate locations in Kansas. Typically, we spend a lot of time finding ways to get involved in the community. We love to host "give back nights" where we donate a portion of sales to an organization. We also are very involved with veterans associations. Freddy is a World War II veteran, so we like to pay homage to that.
How is social media affecting your business?
Social media has a great effect on our business. It holds us more accountable for everything we do, knowing a guest can comment and post feedback online for anyone to see. It's so easy for a guest to communicate to a business about their experience, which makes us more aware of their needs and how to better serve them. We always take the feedback we receive seriously and learn from it.
How do you hire and fire?
We try to look for the best candidates possible. We recruit on social media and run advertisements on hiring sites. When it comes to entry-level positions I feel that we do very well. As far as terminating, we don't do that easily. It's a decision we put a lot of consideration into. We believe that turning someone over is the absolute last option.
How do you train and retain?
Freddy's has a great training program in place. From what I've experienced personally and how I've trained our team members, the training program is very in-depth. We have a 10-day training program for every new employee. That's 10 days of working with a dedicated trainer. Managers learn how to do every role from cashier to cook as well as the philosophy and management. When it comes to retraining we have our employees go through it again as a refresher. This keeps the information and knowledge fresh.
How do you deal with problem employees?
There are two ways you can approach a problem employee. We can cut our ties when the issues arise, or we can take the other approach and figure out the source of the problem and come up with a plan to work through the issue to make things better for the employee and us. Every situation I've encountered has been different. An employee must want to help themself for this to be successful.
Fastest way into my doghouse:
If I'm trying to help you but you don't want to help yourself.
Under 30
How did you get into franchising at such a young age?
It happened naturally. Starting out as an entry-level employee and growing with the brand, I really fell in love with the concept and wanted to continue to grow within.
Was becoming a franchise something you'd planned on?
Not originally.
Did you have a mentor or inspiration for getting into franchising?
My biggest mentor is the current vice president of operations, Ben Simon. Ben is actually Freddy's grandson. He was instrumental in guiding me through the process of becoming a franchisee and showed me the real upside of franchising. He was sad to have us leave the corporate system but was extremely supportive and excited that we became franchisees of Freddy's.
What jobs, skills, and experience have helped you operate a franchise business?
The hands-on learning I experienced as I rose through the ranks at Freddy's. I learned everything as I went.
What kinds of obstacles did you face in franchising at such a young age?
Having the capital or just cash in general. Being so young I haven't had years to accumulate a decent amount yet. We were lucky to have a great investing partner that has allowed us to take this on.
How would you describe your generation?
My mother recently retired after 35 years with her company. You don't see that anymore. For my parents and grandparents, it was easy to be a lifelong employee at a company. My generation is looking for opportunities to carve out their own career and become their own boss.
Do you see franchising as a stepping-stone or a career for you?
It is a career for me.
Bottom Line
Annual revenue:
$4 million.
2018 goals:
Happy to say our first restaurant, which we opened in December 2016, has experienced double-digit growth in sales in 2018. This is a huge accomplishment as one of our goals was to really grow the restaurant. We would like to see the second location continue to experience this same growth after its honeymoon period comes to an end. For the remainder of 2018, we plan to continue developing our third and fourth restaurants, and beyond. Right now, we are aiming to celebrate the opening of our third location in late spring 2019.
Growth meter: How do you measure your growth?
By the growth I see in others around me. If I can grow my team members into managers and help them rise through the ranks, I consider that a personal growth accomplishment in myself. I also measure growth tangibly by being able to grow sales versus cutting costs.
Vision meter: Where do you want to be in 5 years? 10 years?
Originally, I wanted to retire as soon as possible by 40 or 45. Now I realize I need a project to work on, so I want to continue to grow Freddy's and our restaurants in Indianapolis. Further down the road I'd like to find a hobby for myself that I can devote more of my time to, potentially getting back into art.
How is the economy in your region affecting you, your employees, your customers?
The economy in Indiana is very strong. The governing body is very smart and strategic in what they do for the state. A lot of industries and big names are located here, which puts more pressure on our brand since we have a lot of local competition. We strive to "wow" every guest who walks through our door to keep them coming back.
Are you experiencing economic growth in your market?
Yes, definitely. The Greenwood and South Indianapolis areas are growing like crazy with construction of businesses and new restaurants all over the place. Our Carmel location is right next to Westfield, which was voted one of the best places to live in the country.
How do changes in the economy affect the way you do business?
Freddy's is foolproof as far as the economy is concerned. Our craveable food and welcoming atmosphere create a reliable customer experience no matter the state of the economy, but when people have the luxury of dining out we are a great option.
How do you forecast for your business?
We use a lot of history to forecast our business. Coming from being a single-store manager I didn't have experience in forecasting what a new restaurant might do. I'm learning as I go. There is a great real estate team at Freddy's to help as well. We look into local competitors to help us get an idea of a particular site and what annual income may be.
What are the best sources of capital for expansion?
Right now it's been SBA or bank options. We have some investors as well, private sources as capital.
Experience with private equity, local banks, national banks, other institutions? Why/why not?
It depends which one you go to. We've talked to lots of different banks and have had different experiences at each. The ones we are with now are very easy to work with and pro-Freddy's. They are also familiar with the franchise model and work with other franchisees. Luckily, we have also been introduced to private sources in Indiana.
What are you doing to take care of your employees?
First and foremost, providing a great atmosphere for employees. We strive to uphold a positive culture within our restaurants so our employees enjoy coming to work. We also offer a competitive pay rate--every employee makes more than minimum wage. We also have opportunities for incentives and bonuses.
How are you handling rising employee costs (payroll, minimum wage, healthcare, etc.)?
We haven't increased prices since we opened in 2016, which is quite a long time to not raise prices. Eventually we will need to reflect the rising employee costs in our prices, but it is a difficult thing to do. We try to maximize all of our current resources, take advantage of every sale, and be as efficient as possible when it comes to staffing.
How do you reward/recognize top-performing employees?
Opportunity. Making sure employees understand the opportunity in front of them. We reward employees with promotions and raises as they earn them. We also have various fun competitions throughout the year and reward with cash or prizes. We want to make it fun.
What kind of exit strategy do you have in place?
I don't have one in place. For me, I've committed everything to this, and I don't see myself exiting the Freddy's brand any time soon.
Published: November 9th, 2018
Share this Feature
Recommended Reading:
Comments:
comments powered by

Disqus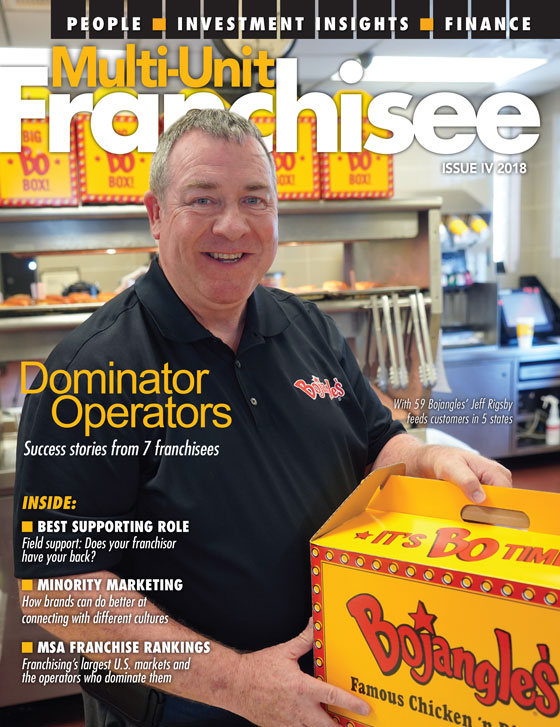 Multi-Unit Franchisee Magazine: Issue 4, 2018
Discover opportunities with Liberty Tax. As one of the nation's largest and fastest-growing tax preparation companies, there are tremendous...
Cash Required:
$65,000
The opportunity to grab a slice of the pie and partner with Perkins Restaurant & Bakery, a tried and true concept, is ready for the taking for...
Cash Required:
$600,000