A&W All the Way: It's a family thing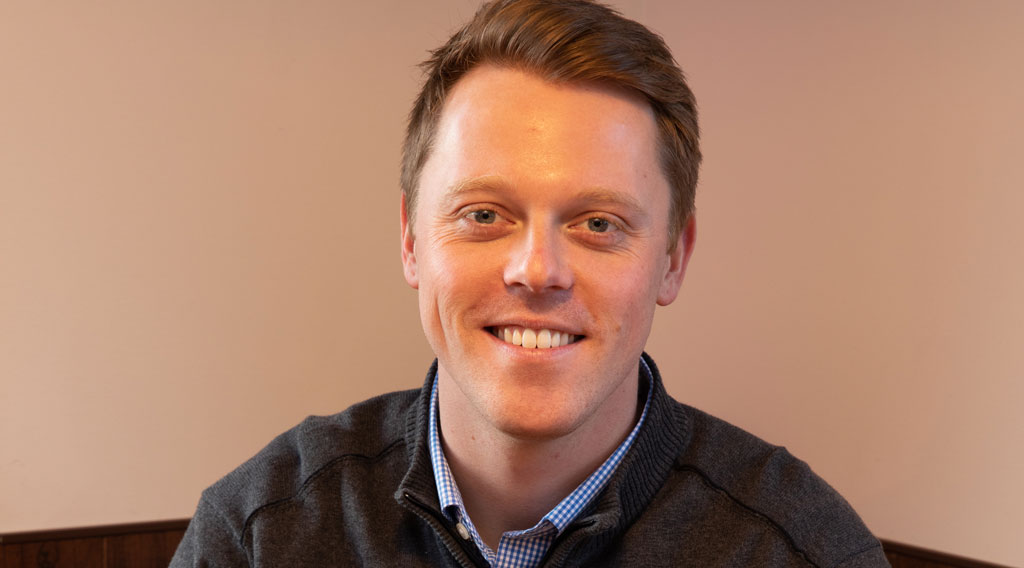 Name:

Michael Vinckier

Title:

Owner-operator

Company:

A&W

Units:

2, with a 3

rd

opening in 2021

Age:

27

Family:

Wife Jenna

Years in franchising:

4

Years in current position:

2
Michael Vinckier grew up in Yale, Michigan, a one-stoplight town with an A&W restaurant. Today he has fond memories of eating there when he was younger. "There were only a few restaurants in town and A&W was the best," he says, "especially when you could sit in that prized corner booth that everyone wanted."
Vinckier comes from a family of entrepreneurs who have been involved in everything from real estate and construction to grocery stores, hardware stores, and a gas station. Today the 27-year-old has added two A&W locations, with a third opening this year.
He opened his first in Almont, Michigan, on a parcel of land in front of the family's grocery store. "We wanted a complement to our grocery business," he says. He looked at other restaurant chains, but A&W got the nod—in part because of his nostalgia for the brand, but also because of its reputation as one of today's top brands with great food.
"The brand's support has been excellent, and it's easy to communicate at the top level," he says. "A&W's CEO has actually met us in the field on multiple visits to our restaurants."
Vinckier opened a second A&W in Marysville, Michigan, in a former Pizza Hut location. He says it took a lot of work to convert the building, but the location's performance has far exceeded his expectations.
He was all set to open his third A&W last year, this one in Kimball Township, Michigan, when Covid-19 struck. His business weathered the pandemic storm and he will see his third A&W open later this year.
Vinckier says he's doing $2 million in annual revenue and plans to continue growing with A&W by adding more locations. He also plans to continue his involvement in real estate and other business ventures. And at just 27, he's nowhere close to making any exit plans.
About that prized corner booth he fondly recalls? "Yes, we put a corner booth in our own A&W. It's always the first spot guests choose to sit in. I love that we can pass this special experience down to our guests."
PERSONAL
First job: Worked for Meelunie, a commercial ingredient supplier.
Formative influences/events: My parents bought a grocery store when I was growing up. Being involved so heavily in the food industry even as a young child affected me significantly. It gave me a passion to work in the food industry so that I could use that to put food on my own table.
Key accomplishments: Happy, safe, and employed. I've had the opportunity to have a family and close friends, and that's the most important thing to me.
Biggest current challenge: Delegating my time. Everyone has the same amount of time and that's one thing you can't buy.
Next big goal: Open another A&W and grow the existing locations.
First turning point in your career: Leaving my first main job to open an A&W. There was a huge risk that I had to take, but it was a dream and I had to pursue it.
Best business decision: Opening an A&W. It's been a great company and a phenomenal brand. It fits perfectly in our family group.
Work week: Visiting both A&W locations 5 to 7 days a week. Doing some real estate. Working in the grocery stores. I don't have a set schedule every day or every week, and that's what I love about my job!
Exercise/workout: I don't currently, but I am active! I get 5,000 to 10,000 steps a day!
What's your passion in business? I love sales and marketing. I love everything about sales. I love customer service and working with people!
How do you balance life and work? I mix life and work. It's not for everybody, and I probably wouldn't suggest it, but it works for us.
Guilty pleasure: I have a sweet tooth! Pop and candy are my weakness.
Favorite book: <Rich Man, Poor Man.>
Favorite movie: "The Founder."
What do most people not know about you? I grew up in a one-stoplight town that happened to have an A&W!
Pet peeve: Not paying someone back or not paying your dues.
What did you want to be when you grew up? I wanted to work for a major food and beverage company in sales.
Last vacation: Florida in January 2020.
Person I'd most like to have lunch with: Mark Cuban.
MANAGEMENT
Business philosophy: Don't tell someone to do something they haven't seen you do before. You work hard for me, I'll work hard for you.
Management method or style: Very hands-on.
Greatest challenge: Continuous training and ensuring our top employees are happy.
How do others describe you? Fair and approachable.
One thing I'm looking to do better: Managing my time is a continuous improvement I'm always trying to make. I also want to continue to learn in everything I do.
How I give my team room to innovate and experiment: By always asking for employees' and managers' input and suggestions. We want to be sure people feel comfortable enough to offer their thoughts!
How close are you to operations? Very close. I call myself an operator as a job title.
What are the two most important things you rely on from your franchisor? How we are doing compared with other stores or comparable markets. Industry updates.
What I need from vendors: Consistent product and communication.
Have you changed your marketing strategy in response to the economy? How? We have really focused on our four walls. We don't do TV commercials or other large marketing tactics. Facebook, social media, and excellent customer service are our main tactics.
How is social media affecting your business? It's a great tool that can be free and can reach anybody and anywhere. It connects our customers and our local communities.
How do you hire and fire? We try to hire from within. For letting go, we have an asset protection program to ensure we are covered.
How do you train and retain? We use tools and supplies provided from A&W corporate and ensure we listen to our employees. We want to emphasize that you aren't just a number with us. We care!
How do you deal with problem employees? It only takes one person to bring down the army. We deal with them directly and have conversations about the problematic areas. If improvements are not made, we use a three-strike system to ensure that problem employees do not corrupt our culture.
Fastest way into my doghouse: Lying and rude customer service.
COVID-19
What are the biggest impacts of Covid-19 on your business? We had to delay the opening of our third location to 2021 instead of 2020. But we are excited for the new opening date and it will be better than ever!
How have you responded? With positivity and ingenuity. We started offering curbside and focused on call-in and pickup ordering. We also added a bonus incentive program for our employees to let them know how important they are to the company.

What changes do you think will be permanent? The bonus program has been extremely successful, so that is something we will continue to hold.
BOTTOM LINE
Annual revenue: $2 million.
2021 goals: To open a third A&W and to increase same store sales while cutting costs.
Growth meter: How do you measure your growth? Through sales.
Vision meter: Where do you want to be in 5 years? 10 years? Continue to grow with A&W and open more A&Ws. Continue to grow in real estate and other business ventures.
Do you have brands in different segments? Why/why not? Yes! Real estate, A&W, grocery, and hardware stores. We've found that this family of businesses works really well for us. There are similar tactics involved and it provides a larger network to continue to hire from within.
How is the economy in your region affecting you, your employees, your customers? The economy hasn't affected business very much in terms of sales, which is phenomenal. Finding employees has been a bit difficult.
Are you experiencing economic growth in your market? Yes, which is very exciting.
How do changes in the economy affect the way you do business? We focus on what we can control. Our hours of operation have decreased and some dining rooms have been closed during the last few months, but sales are continuing to be steady!
How do you forecast for your business? We look back at last year's sales (daily, weekly, and monthly), last year's labor, and last year's costs.
Experience with private equity, local banks, national banks, other institutions? Why/why not? Yes, we have a great relationship with local banks who have helped us grow.
What are you doing to take care of your employees? We offer competitive wages and have a family of companies with growth opportunities. We offer insurance and bonus programs as well.
How are you handling rising employee costs (payroll, minimum wage, healthcare, etc.)? It's tough because that is definitely one of the biggest costs, but we are continuing to monitor this. It's still of utmost importance to have the best employees.
How do you reward/recognize top-performing employees? Bonus program and incentives have worked the best. Flexible scheduling has also been a great draw to our business!
What kind of exit strategy do you have in place? I do not have that in place yet, but we have had people approach us interested in our family of businesses. This is very flattering and exciting, but we are happy operating everything for now.
Published: June 25th, 2021
Share this Feature
Recommended Reading:
Comments:
comments powered by

Disqus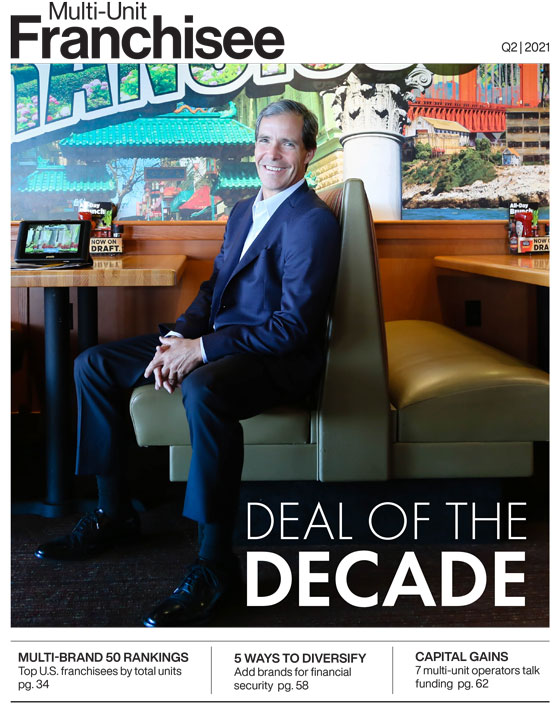 Multi-Unit Franchisee Magazine: Issue 2, 2021
Our first store opened in 1990 in California, growing quickly to a 5-store regional chain. PET DEPOT® started franchising locations in the USA in...
Cash Required:
$53,250
Invest in a Dairy Queen® franchise opportunity and immerse yourself in familiarity. We invite you to get started today. Success has never been so...
Cash Required:
$400,000