Coping with Covid with John Sahakian
John Sahakian operates two Title Boxing Clubs in Maryland – or at least he did until Covid-19 shut them both. He's received PPP money to help pay employees, but says the 25% left over for rent and other expenses is not enough, and hopes that percentage will be changed. He also has applied for additional financial help from state and county sources and the SBA.
How has Covid-19 affected your business?
Dramatically. We have a few members at each club opting in to keep paying us more for support, but I would say we're seeing a 90% to 95% drop-off.
What are you doing right now to get through this?
I am paying my two managers as we are still doing things through social media for both clubs to try to keep members engaged. We are paying a few trainers to tape classes from home that we are posting. Otherwise, I personally am using what I have in my savings to pay my own bills.
Is your franchisor helping keep you afloat?
Their help is minor. They gave us a 30% reduction in royalties about a week or two before things got really bad and everyone closed. They have stayed at that percentage. They will give it to us for another 4 weeks after we reopen. I felt it could have been more. They did give us Title Boxing Club on Demand, which was an app the company already had running. They gave our members free access to it until the end of May, which has been very helpful.
What are you doing to help your employees through this?
There was only so much I could do at the beginning. I have a few of them teaching classes, and I bought everyone a nice dinner for two at a local restaurant to support small businesses, but also to do something nice for the employees. I did pay my two mangers as there was still work to be done, but it is limited. I recently got approved for the PPP money for both clubs, so I will start paying my employees again.
What are you doing for your customers?
We are doing virtual classes with our trainers, but also giving them Title Boxing Club on Demand so they can still work out from home. Otherwise just a lot of social media engagement and asking them to tag us.
How are you working with your suppliers?
No supply issues.
What are you doing about cash flow, PPP?
As I said, I got the PPP money. I have applied to the state for their $10,000 grant money and also for a $50,000 SBA loan through them for both clubs, but nothing has come from the state. I applied for the $10,000 grant money from the county and got one of the clubs approved for it so far. I am still waiting for the funds.
What else would you like to see from your franchisor or government?
I would have liked a bigger discount on the royalties from the franchisor, and I think it should go for 90 days after we reopen, not one month, as it will take time to ramp things back up. I think the government should have something that helps the business owner more with the rents than anything. The landlords are not forgiving at all. They are deferring some rent, but are expecting you to pay it within the year. That is really going to be tough. The 25% from PPP needs to be bigger for this part of the equation.
Are you planning to reopen and rebuild your business post–Covid-19?
Yes, that is the game plan for both clubs.
Published: August 28th, 2020
Share this Feature
Recommended Reading:
Comments:
comments powered by

Disqus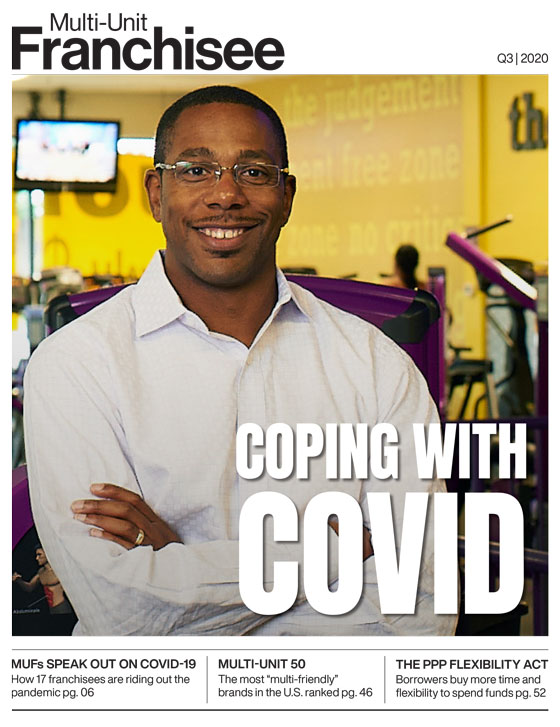 Multi-Unit Franchisee Magazine: Issue 3, 2020
Twin Peaks is so much more than your typical sports bar. This lodge welcomes every guest with World Series walk offs and barrel-aged whiskey.
Cash Required:
$1,750,000
At RedBrick Pizza (R), old world traditions meet new world recipes to create a better-for-you pizza experience. Baking pizzas to perfection at 1000...
Cash Required:
$200,000