European Master & Multi-Unit Franchising Conference Debuts in London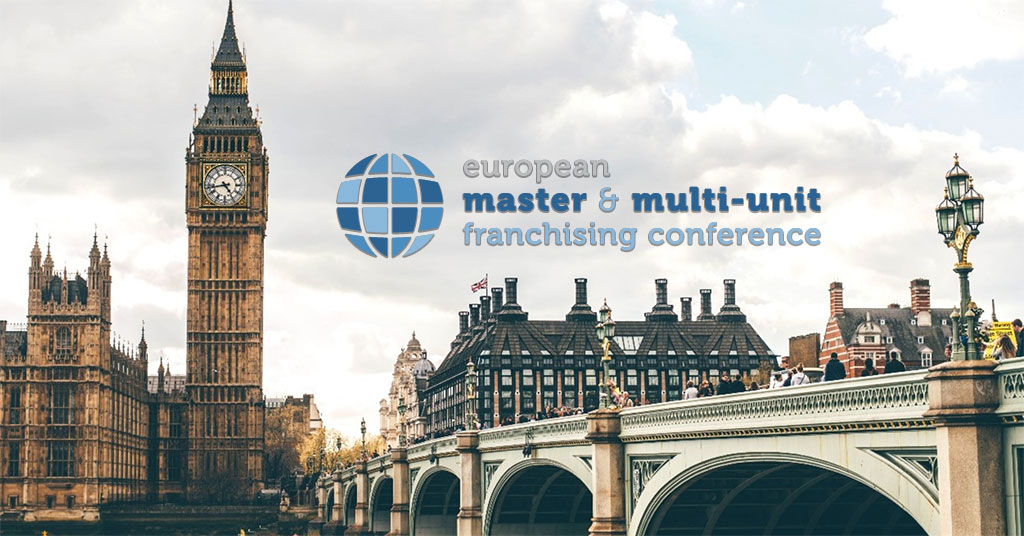 The first-ever European Master & Multi-Unit Franchising Conference debuted this past October 23-24 in London. The conference, which drew 173 registrants from 15 countries, was produced by Franchise Update Media and MFV Expositions and was held at the Park Plaza Victoria London.
The two-day event focused on providing educational sessions and networking opportunities to multi-unit/multi-brand franchisees and master franchisees looking to expand in Europe or enter the U.S. market. Attendees included both U.S. and European multi-unit and multi-brand franchisees, as well as franchisors, consultants, suppliers, and attorneys specializing in international franchise growth and development.
Catherine Monson, CEO of the U.S. brand Fastsigns International, opened the conference with a keynote speech called "U.S. & Global Perspectives." Fastsigns has more than 675 overseas locations spread across 8 countries, and is looking for more.
The tracks and content, tailored to the needs and interests of expansion-minded global franchisees, included a blend of master and multi-unit franchisee topics and experiences, as well as the most current data to help attendees make the best decision on how to grow their business in a new country.
Sessions and panels included the following: Multi-Unit Franchising vs. Master Franchising; Why & How Franchise Brands Grow Outside their Home Country; Updates on International Franchise Law with a Focus on the U.S. and Europe; The International Multi-Unit Franchise Agreement; and more.
The second day featured two concurrent breakout session tracks: one for multi-unit franchising (Choosing the Right Brand; Building Infrastructure; and Growing from Management to Leadership); and one for master franchising (Franchisee/Franchisor Relationship and the Master Franchising Agreement; Building Infrastructure with Budgets for Selling Franchises; and Franchise Sales Process and Programs). Panels for these sessions included both U.S. and European franchisees, franchisors, attorneys, and consultants.
"The show for us was very interesting, and the networking dinner/cocktail was also fruitful. The level of different people who were speaking was great and we have learned a lot," said Marc Hostyn, a master franchisee in Belgium for Bagel Corner. "In one word, it was a success."
The reception and dinner was hosted by HSBC UK Bank. In all, there were nearly 30 sponsors who participated in the event, from both Europe and the U.S., along with 50 franchise brands and product and service providers on the Expo Hall floor.
"I thought the conference was executed exceptionally well," said Ted Torres, a longtime U.S. multi-unit hotel franchisee. "The content was truly high-level and amazing. Personally, I learned a lot not only from the main panelists, but also from my fellow panelists. For a first-time production in London, the team did an exceptional job."
"It was a really good show for us," agreed Shery Christopher, director of franchise development at Brooklyn Fitboxing, a brand founded in Spain with 87 units there, two in the U.S., and a lease signed for a third.
Christopher, based in Tucson, Arizona, spent 20 years as a franchise consultant focusing on bringing international brands to the U.S. She said Brooklyn Fitboxing had never attended a franchise trade show before, and that it was a good experience and generated a lot of interest from multi-unit operators in both England and the U.S.
"I think it turned out really well. They did a great job with it. They had some really good speakers and multi-unit operator attendees who had important things to say and share with the audience. I hope it will grow as the Las Vegas multi-unit show has."
With plans for a 2019 European Master & Multi-Unit Franchising Conference already in motion, the goal is to continue providing an event that provides an intimate forum for international franchise business leaders to grow profitable franchise enterprises, based on the facts and on the experience of successful European master franchisees and multi-unit operators.
Learn more about this year's first-ever conference and stay informed about plans for next year by visiting the website.
Published: November 8th, 2018
Share this Feature
Recommended Reading:
Comments:
comments powered by

Disqus