Franchised Food Industry Stats
As of 2012, there were about 1,300 franchised food brands operating in the U.S.; roughly two thirds started offering franchises in 2000 or later.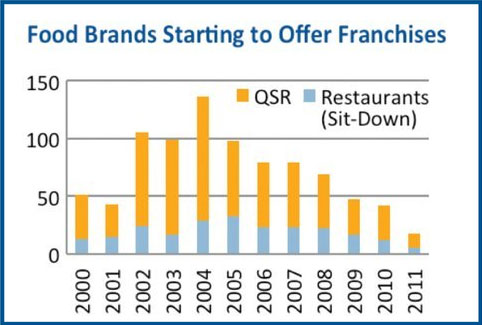 In 2011, these food brands operated an estimated 176,700 franchised locations. The largest industry by number of franchised units is QSR, which accounted for 72% of franchised units in 2011, followed by baked goods (9%) and retail food (8%).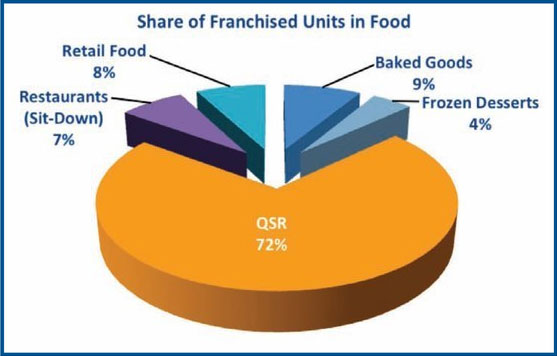 To estimate the growth rates in franchised food units, FRANdata created a sample of 488 brands for which consecutive data for 2004 through 2011 was available. In 2011, the sample operated 163,054 franchised locations, about 92% of the estimated total. From 2004 through 2011, the number of franchised food locations in this sample increased at a compound annual growth rate (CAGR) of 5%. Before the recession, from 2004 through 2006, franchised food units increased at a CAGR of 10%. CAGR in this segment slowed to 4% from 2007 through 2009, and to 3% from 2009 through 2011.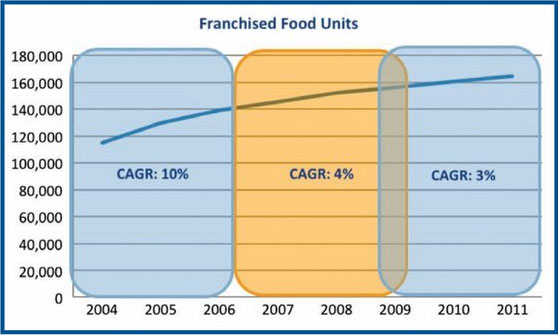 From 2004 through 2011, brands in retail food grew the fastest, at a CAGR of 9%, followed by baked goods and sit-down restaurants, both at 8%. Interestingly, frozen dessert picked up growth again in 2011 after stagnating during the recession more than the other industries. This was driven by frozen yogurt concepts such as Menchie's and Yogen Früz, which increased at a CAGR of 180% and 125%, respectively, from 2008 through 2011. In fact, when breaking up the 2004 through 2011 period into three chunks (2004-2006, 2007-2009, and 2009-2011), frozen dessert was the only food industry that managed a higher CAGR over the third phase than during the second phase.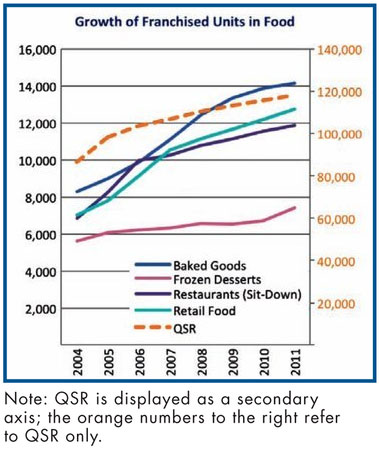 Baked goods
As of 2011, the largest baked goods franchise brand was Dunkin' Donuts, with 5,924 franchised units. Brands that act more like distributorships also have a large market share in the franchised baked goods space. One example is Bimbo Foods, with more than 3,000 franchised businesses; other big players include Sara Lee Fresh (1,200-plus units) and Tim Hortons (700-plus franchised stores).
From 2009 through 2011, some of the fastest-growing baked good brands in terms of franchised units were Gigi's Cupcakes, which increased its units at a CAGR of 175% over the period, followed by Einstein Bros. Bagels (96%) and Tous Les Jours (36%). The average CAGR for brands in this industry during this period was 3%.
QSR
As far as size is concerned, there were few surprises about QSR market leaders. Subway remained by far the largest system in the U.S., with more than 25,000 locations, followed by McDonald's (close to 12,500), Burger King (6,299), and Pizza Hut (5,586). Some of the fastest-growing QSR brands from 2009 through 2011 were Hot Head Burritos at a CAGR of 261%, followed by Sarku Japan Teryaki & Sushi Express (200%) and Smashburger (153%). This compared with an average franchised unit CAGR of 2% for the QSR industry over the period.
Restaurants (sit-down)
The largest sit-down restaurant concepts included Applebee's, with 1,694 U.S. franchised locations, followed Denny's (1,386) and IHOP (1,362). Interestingly, among the 10 largest sit-down restaurants concepts, only three had declining franchised unit growth rates in the 2009 through 2011 period. In total, the 10 largest brands added 233 franchised units in 2011. The fastest-growing restaurant concepts from 2009 through 2011 included Pickleman's Gourmet Café, which grew at a CAGR of 216%, followed by Jake's Wayback Burgers (155%) and The Dinner Detective (135%). From 2008 through 2010, restaurant brands increased their franchised units at an average CAGR of 3%.
Frozen dessert
As of 2011, the largest franchised frozen dessert brand in the U.S. was still Cold Stone Creamery, with 1,049 franchised locations. Baskin-Robbins ranked second at 943, and Dairy Queen Grill & Chill was next at 755. Rita's Water Ice and Dairy Queen Treat Center both operated more than 500 franchised units. Dairy Queen was the only one of these large brands to add units in the 2009 through 2011 period; all other large concepts in the frozen dessert industry lost locations. The industry's overall fast growth in 2011 (see above) was driven by smaller up-and-coming brands. From 2009 through 2011, the fastest-growing concepts were Orange Leaf Frozen Yogurt at a CAGR of 920%, followed by U-Swirl (192%) and Menchie's (98%).
Published: April 4th, 2013
Share this Feature
Recommended Reading:
Comments:
comments powered by

Disqus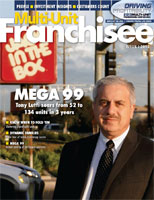 Multi-Unit Franchisee Magazine: Issue 1, 2013
Anytime Fitness makes wellness approachable for millions of members and gives franchisees the opportunity to be a part of a worldwide family of...
Cash Required:
$225,000
Grab Hold of the Bold with the legacy brand that is backed by 50+ years of experience, a fresh look and feel, and outstanding menu innovation, all...
Cash Required:
$500,000