From South of the Border: Guillermo Perales Wears Many Hats And Owns Many Brands
It's fitting that Guillermo Perales does business in the state of Texas--a place where things are known for being large. Fitting because Perales heads the largest Hispanic-operated multiunit franchise company in the U.S., with more than 140 units across five brands. And he's looking to expand.

Perales is a true immigrant success story. He was born and raised in Mexico where he attended university before graduating (with honors) and finding his future across the border. His academic work behind him, Perales began his professional career with a Mexican company (Grupa) that had businesses in the U.S. "I saw the opportunity to come to the states and perhaps, start my own business," says Perales.

He gained a lot of business experience with the company throughout the 1980s. One thing he learned was that "it's better to be a part of a bigger system. It takes away some of the risk when you have a recognizable name, and it makes financing easier to get," he says.

Following an aborted attempt to open some Golden Corral restaurants in Mexico in the early '90s, Perales set his sights on the Dallas market. And it didn't take long. He identified some key sites, and by 1997 he had opened his first Golden Corral restaurant in Dallas. An SBA loan helped him meet the financial criteria and get things off the ground. There's been no looking back. Four more locations came quickly.

Rapid growth has been a critical part of the strategy for Perales. "With one you can fail easily, but with several you can support the network," he says.

In just 10 years, Perales has built an organization that many would openly covet. His 140-plus units are spread among Popeyes, Golden Corral, Burger King, Denny's, and Bennigan's. He's the largest franchisee for Golden Corral and the second largest in the Popeyes chain. He has an intuitive knack for restaurant operations and a deep understanding of business development strategies--and he doesn't just operate franchises, he owns much of the property as well. That's a cornerstone of his growth initiatives.

While keeping an attentive eye toward his company's day-to-day operations (his brother-in-law does that full-time), Perales says his primary function is "to decide where we're going to go, where we're going to build or buy, and how we're going to finance it. I wear a lot of hats here."

Perales is a strong community supporter. He co-founded the Latin America/DFW Fund to raise money for Latino-based programs and initiatives, and he has supported other programs that encourage Latino students to stay in school. And, of course, he offers job opportunities to those throughout the community--more than 4,000 jobs to be exact.
"Finding the right people, training, and retaining them is always challenging," says Perales. "And different concepts have different training demands, policies, and procedures."

As for expansion, Perales is always on the lookout. He's currently evaluating some opportunities in casual dining--pizza and Mexican food--and in hotels. He says he likes keeping his franchises centrally located (mainly in the Dallas-Ft. Worth area, with some in Florida) because it's easier to manage and control, but he's not against reviewing any good opportunity, regardless of location.

"Diversification is a real key," he says. "There's a kind of synergy there when you have multiple brands because something is always going to be operating successfully. That gives us the chance to keep a close eye on our brands, and if something's not working right we fix it, or get rid of it." N

Title: President and CEO
Company: CG Management, LLC
Years in franchising: 10
Years in current position: 10
No. of units (by brand): More than 140, including Popeyes (74), Golden Corral (47), Burger King (14), Denny's (5), and one Bennigan's.

PERSONAL
Key accomplishments: I like the fact that we have been able to provide so many jobs for people. But I'm also proud to be the largest Hispanic multiunit franchise operator in the country.
Biggest mistake: Buying into the Denny's franchise without any financial disclosure.
Smartest mistake: Buying our first Popeyes restaurants even though the price seemed high at the time. It's been a great move for us, and we now have all of the Dallas market.
How do you spend a day, typically?: Taking calls, making calls, and responding to emails. Talking with our people and evaluating potential opportunities for our business.
Work week: During a typical week I may travel a couple of times to conferences, stores, or meetings. Every Friday there's a manager's meeting and I'm reviewing financials.
Favorite activity: I love to spend time with my family. We like to go skiing together and I like to play tennis.
Exercise: My goal is to make it to the gym three times each week but I always make it at least once. And I play tennis once a week.
What do you do for fun?: My favorite activities above are about all I have time for recreationally. It takes most of my time to run the business.
Books/magazines recently read/recommended: Most of my reading time is spent on trade and business magazines. That's the best investment of that time.

MANAGEMENT
Management method or style: We have directors for each of our brands. I delegate to them and trust them to take care of things. I rely on their expertise to keep those brands operating effectively. If there's a problem, I will step in.
How close are you to operations?: I'd say very close. I see the numbers every week, I have my eye on the cash flow, and I do visit our stores.
Greatest challenge: Employee retention is paramount. It seems I am constantly looking for ways to lower our turnover.
Personality: I'd say I have a demanding personality. When I ask for something to be done, I expect it to carried out at a high level.
How do you hire and fire?: I'll just say that in our company, we are not afraid to make a change when it comes to a poor performing store or manager. The quicker you get to the problem, the better off you'll be.
Find good people?: We certainly promote from within. We also have used headhunters, newspaper ads, referrals, the Internet. I wish I knew more ways to find talented people.
Train them?: Each of our brands has its own training requirements and they're all different. We have training managers and, for example, with Golden Corral, we have training stores.
Retain them?: We try to compensate fairly and we offer financial incentives. And I think by promoting from within.
"Growth meter" -- How do you measure your growth?: We like to develop our sites and own the property, but we also buy existing franchises from others. We set development schedules and measure our success based on them.
Annual revenue: Over $185 million annually. We should reach between $210 million and $220 million for 2007.
2008 goals: We're looking to build a couple more Golden Corrals, Burger Kings, and Popeyes. We may buy some existing Popeyes locations. And we're looking at three other franchise concepts with the goal of adding one or two of them to our business.

Published: February 1st, 2008
Share this Feature
Recommended Reading:
Comments:
comments powered by

Disqus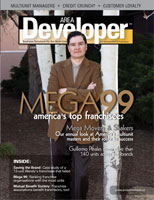 Multi-Unit Franchisee Magazine: Issue 1, 2008
Hungry Howie's is currently EXPANDING! Top Markets are available for single or multiple unit development. Get the EDGE over the competition with...
Cash Required:
$220,000
Checkers Drive-In restaurant franchises are small but efficient making our restaurants easy to operate and typically reduced overhead costs.
Cash Required:
$250,000