Growing Up Franchising: Life Is Great--Pass It Along!
In 1969, when high school senior Rodger Head took a job at a Burger King, he had no idea he was entering the business he would stick with for his entire career. One big reason was veteran restaurateur and franchisee Billy Trotter, who took the young man under his wing. "He had 19 Burger Kings then, and I stayed with him as he grew his company," says Head. "And I grew up in that company."
In 1985, when Trotter sold his company and started Rally's Hamburgers, Head, whose responsibilities also had grown, went with his mentor. They also became Papa John's franchisees and remained together until 1995, when Trotter retired.
In 2000, Head became president of Shoney's. During his six years, he brought the organization's sales figures back into the black for the first time in more than a decade.
While searching for his next opportunity, the hard-working husband and father met with friend and current partner Clyde Culp, who had formed a private equity group. In 2007, the group bought bd's Mongolian Grill and revamped the brand into one known for its fresh ingredients (used to create your own stir-fry) and hip, Gen X/Y atmosphere. With that move, the longtime franchisee also became a franchisor.
"That seemed a natural evolution of my career and my relationship with Billy," says the CEO of the Burnsville, Minn.-based franchise. "He was a huge franchisee who became a franchisor after starting Rally's Hamburgers. I understood the franchisee side of the business and thought that would make me a better franchisor."
Today there are 35 bd's Mongolian Grills in 13 states, with more on the way. Head also works with his wife, Denise, vice president of marketing for bd's and a 25-year industry veteran.
Insisting he's an operator at heart, Head also continues as a 12-unit franchisee with Popeyes, which he describes as "one of the coolest brands out there today."
Having accomplished more than he'd ever imagined, and having learned about balance in life, Head, who now lives in Nashville, says he is focusing a lot of his time now on giving back. "I was always so lucky with my mentors--people like Billy Trotter and Clyde Culp and Jim Patterson. I'd like to be remembered as someone who was a good mentor and teacher, who taught young people how to be good leaders."
Name: Rodger Head
Title: President and CEO
Company: bd's Mongolian Grill
No. of units: Franchisor: 35 bd's Mongolian Grill in 13 states. Franchisee: 12 Popeyes Louisiana Kitchen
Personal
Age: 59
Family: Wife Denise, 6 children, and a stepson
Years in franchising: 41
Years in current position: I bought bd's Mongolian Grill and formed this partnership in 2007. I've been a Popeyes franchisee for more than two years in the Tidewater, Va., area.
Key accomplishments:
First of all, I think it's amazing I've lasted this long in this industry. I'm proud that I was part of the early days of Rally's Hamburgers (now Checkers/Rally's Drive-In Restaurants) with my great friend and mentor Billy Trotter. Another key accomplishment was being president of Shoney's for 6 years, during which we had positive sales in that company for the first time in 14 years. But I'm most proud of all my seven kids. Denise and I are in business with two of my sons, Bryan and Chad. Together, we own two restaurants in Nashville. It's really cool to work with your kids.
Biggest mistake:
I've made every mistake in the world. But I don't look at life that way. From a professional standpoint, mistakes are lessons.
Smartest mistake:
Allowing Billy Trotter to talk me into moving to New Orleans. I thought it was a big mistake, but from that move came the founding of Rally's Hamburgers, which was one of my greatest life and business experiences.
How do you spend a typical day?
I'm an early riser, usually up by 5 or 5:30 a.m. I immediately power up some type of device and go through emails, read our guest comments through our website and respond to those appropriately through regional or franchise directors. I travel four days a week, since I live in Nashville and have my office in Minnesota and franchisees in many states. A normal day for me is visiting with and mentoring operators, franchisees, and staff.
Work week:
The restaurant business is a seven-day business, but I try to work smarter now than I did when I was young and thought I had to conquer the world every day. I work five or six days a week, and on weekends, I like to spend time at my son's restaurants. That's not work--that's fun.
Favorite fun activities:
As I've gotten older and found someone I love to spend time with, my favorite fun activity is hanging out with my wife. We spend time in our RV and we love to kayak, golf, and hike. We also like to travel.
Exercise/workout:
I love to walk and usually walk four or five days a week. We live on a lake on a nice piece of land, and I enjoy working outside in the garden.
Favorite tech toys:
My iPhone!
What are you reading?
I read a daily devotional every morning. And I love to read adventure and murder mysteries, especially by James Patterson. I also read the Wall Street Journal and USA Today on my iPad.
Do you have a favorite quote/advice?
I have so many that my team would say you don't want to get me started.
Best advice you ever got:
My mother, who is responsible for anything good in me, said, "Stay true to your spiritual beliefs, whatever they are, and stay true to yourself. If you do that, everything else will fall into place."
Formative influences/events:
I have been so fortunate with mentors like Billy Trotter throughout my career. But I think growing up very poor and watching my father work so hard made me hungry to learn and to succeed.
How do you balance life and work?
This is always a challenge, but I'm very disciplined about spending time with the people who mean the most to me. After years of experience, I recognize the signs now when I'm overindulging in work, and I'll take vacation time and spend it with my family.
Management
Business philosophy:
My business and personal philosophies are absolutely aligned. And it's simple: I look at every business relationship as equally important as a personal relationship. I surround myself with like-minded people and I nurture those relationships, starting with establishing the importance of respect in any relationship.
Are you in the franchising, real estate, or customer service business? Why?
I'm in all of them. I'm on both sides of the franchising spectrum--a franchisee for Popeyes and a franchisor for bd's. Personally, I own real estate and deal in real estate in business. And we're all in the customer service business, whether we want to be or not. In our company, we don't use the word "customer"; we use the word "guest."
What gets you out of bed in the morning?
I still love life. I view life as a three-legged stool representing my spiritual, personal, and business lives. Never in my life, until about five years ago, have all my stars aligned and given me three even and equally sturdy stool legs. Life is great.
What's your passion in business?
Developing young people. I don't have many business aspirations left. I've run big companies, public companies, small companies, and I'm still in business for myself. So I want to teach great restaurant leadership.
Management method or style:
I'm fair, but not tolerant. I think of myself as a servant-leader. I clearly articulate our goals and I demand performance. As long as someone is performing--putting their best foot forward and expending 110 percent of their knowledge and skills to achieve our goals--they're doing the best they can. If they don't have the skill sets, that becomes my problem.
Greatest challenge:
I have so much passion that sometimes I may put too much pressure too soon on young people. I have to allow people the opportunity to grow and remember to ask myself, Am I the leader I want to be?
How close are you to operations?
I grew up as an operator and am that guy who walks into our restaurants and gravitates to the kitchen to talk to our teammates there. That's where I'm the happiest. I've been a CEO a long time, but I am an operator at heart... forever.
Have you changed your marketing strategy in response to the economy? How?
Popeyes is one of the coolest brands going right now. Cheryl Bachelder is a wonderful CEO and is charting that course. We're really happy with their marketing strategy. As far as bd's marketing strategy, we changed and enhanced that when we bought the company four years ago. We clearly identified our unique selling propositions and we're staying true to the brand and to who we are. We've had some big opportunities we've been able to capitalize on.
Personality:
Fun, intense.
How do others describe you?
Fun, very intense.
How do you hire and fire?
I'm big on internal promotions, so we do a lot of that. When I hire, I spend a lot of time getting to know candidates personally. It's important to know if they align themselves with my beliefs, how I approach life and business. If they do, that's 75 percent of the battle and the chemistry works. If people are not like-minded, it's never going to work. I've always viewed firing as something to take personal responsibility for. When you have to release someone, it's not necessarily their fault. Sometimes it means the organization missed something along the way or didn't train or counsel them properly.
How do you train and retain?
I am huge on both initial and ongoing training, which manifests itself into retention. It goes back to hiring the right people, training them to do a specific function, and learning how to develop them. We have a program at bd's called Career Quest, which tells team members specific things they have to do to move up to the next level. I think it's the best program I've ever seen. We also do advanced management training, bringing in experts twice a year to teach things like Finance 101 or Marketing 101. We even did Beer Pouring 101 with a beer vendor and taught the team how to make more money on draft beer.
How do you deal with problem employees?
At my level, I don't get into that too much, but if I had a problem executive, I would stay committed to their success right up to the end.
Bottom Line
Annual revenue:
I'll say this: the AUV at bd's in 2010 was $2.2 million.
2011 goals:
At bd's, we want to have a 1 percent increase in sales and traffic, which is a pretty lofty goal these days. We're increasing our alcohol sales and sales of appetizers, which we've never focused on before. We've come a long way in both regards.
Growth meter: How do you measure your growth?
In actual comparison, same-store sales.
Vision meter: Where do you want to be in 5 years? 10 years?
I hope to be retired in five years, hanging out at my son's new restaurant, drinking margaritas and eating tacos. For bd's, it's hard in this economic environment to predict or set goals beyond three years. In five years I hope we'll have 100 restaurants or more.
How has the most recent economic cycle affected you, your employees, your customers?
As a brand, it's created huge obstacles because of the unavailability of money to grow. Despite the fact that lenders get up at conferences and say they're lending, if you're not borrowing big bucks--$20 million or more--there's little or no lending going on. The consumer has experienced shrinking disposable income, which makes it hard to grow sales. How we perform, execute, and wow our guests becomes even more important. As to our employees and teammates, we haven't laid off anybody.
Are you experiencing economic growth/recovery in your market?
Yes. Over the last five years, the population of Detroit, where the bd's brand was started, has shrunk by more than 300,000, and unemployment has been 26 percent. And of course the auto industry took a whacking. Yet our Detroit restaurants continue to outperform all others in the country. There's great loyalty from our guests to this brand. Popeyes also is doing extremely well. We bought our stores two years ago; we were plus-12 in 2010 and so far this year are plus-5.
What did you change or do differently in this economy that you plan to continue?
We're not doing anything different--we're just more conscious of the value equation.
How do you forecast for your business in this economy?
Ouija boards, dartboards (laughing)? It's tough but we're very disciplined in our forecasting and we measure everything we do, so our database is pretty deep. We also pray a lot.
Where do you find capital for expansion?
We found that the SBA is still lending, but with new requirements. We're looking for high-profile franchisee candidates, those who already have a business, infrastructure, and local bank relationships. These are the people who can pick up the phone and get money to develop.
Is capital getting easier to access? Why/why not?
No, and because of the events of the last 60 days, it's become even tougher.
Have you used private equity, local banks, national banks, other institutions? Why/why not?
We're owned by a private equity company and we've used private banks.
What kind of exit strategy do you have in place?
We're just building as many restaurants as we can, and it will take five years to do that. If you build a strong company of well-run restaurants and focus on developing your people, the exit will take care of itself either through merger, acquisition, or IPO.
What are you doing to take care of your employees?
The biggest thing we do is treat them with respect and create a healthy, fun work environment.
How are you handling rising employee costs (payroll, healthcare, etc.)?
We're committed to our people and want them to stay. Our managers have a group healthcare plan that we still offer at a 60/40 split (we pay 60 percent).
How do you reward/recognize top-performing employees?
I don't believe everything has to be monetary, but we do have good incentive compensation and bonus programs at all levels. One of the coolest this year was a contest running through summer promotion. Four servers and bartenders won all-expense paid trips to the annual conference in New Orleans, where they'll rub elbows with managers, regional directors, and senior team members.
Published: November 16th, 2011
Share this Feature
Recommended Reading:
Comments:
comments powered by

Disqus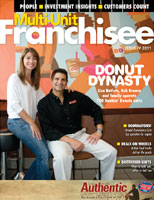 Multi-Unit Franchisee Magazine: Issue 4, 2011
Maintain your current lifestyle, build an asset, and utilize your existing leadership skill set with a Stratus Master Franchise.
Cash Required:
$100,000
Offering same-day service, a single low price, and a streamlined process that's simple to replicate, ZIPS is a standout in the garment care...