High Energy: One-Time Electrical Engineer Finds Power in Franchising
Restaurant work was just supposed to help Aziz Hashim pay his way as he pursued his life's dream of becoming an electrical engineer. But by the time he landed the "big job" at Rockwell, he discovered that he had been living the dream all along.
"All through high school and college I worked in fast food," says Hashim, who got the job with the help of an uncle who owned a Burger King franchise. "I started my career mopping the floor at a Burger King and funded my college education as a shift manager at Burger King."
Eight years after his first turn with a Burger King mop, Hashim earned his engineering degree from the University of California, Irvine and a great new job working with a prestigious corporation. He hated it.
"I had this pristine job for Rockwell in Newport Beach, California, and within a few short months I quit. I really missed working with people in the hospitality industry," he says. "I had all the top brass come down to find out what had happened. And I said, 'You know, I really enjoy the restaurant business.' And so I went back to try my hand."
This time, though, Hashim wanted to build his own restaurant group. But first he had to find the right city to do it in. After living in Los Angeles, Hashim was also looking for a change of scenery. He particularly wanted to find an appealing place to raise a family.
"I looked at Seattle and other cities," says the franchisee. "My first trip to Atlanta, flying in all I saw was trees. It was just perfect for us: a big city with a small-town feel."
In the autumn of 1996, he landed his first franchise in downtown Atlanta: a storefront on a busy street, where he got approval to build a KFC.
"Through bootstrapping and borrowing money and credit cards and doing all the things entrepreneurs do, I was able to grow the business steadily," he says. "The first store was successful. We built two in '97 and three in '98. It was very rapid growth after that. Financing was made available because of the advent of commercial loan securitization and we took full advantage of it."
Today, 15 years after he left Rockwell, Hashim's restaurant company manages 4 different franchise concepts at 44 locations with more than 900 employees. And he's a long way from finished growing.
He has never regretted his decision to abandon engineering so soon after he had achieved that goal. "Even as a manager of a restaurant, you have control of an enterprise," says Hashim. "It gives a person a total look at how the business works. You also have a chance to work with people. In engineering, you work in a huge firm with thousands of employees but your group may be only four people. And those are the four people you work with for years," he says.
"The Burger King I first managed had 40 employees. There were customers, it was fast-paced, exciting. As an engineer, I was in an 8-by-8 cubicle. In many ways it was quite boring compared to the business world."
Franchising has never been boring for Hashim, who relishes the 16-hour days and the steady stream of deals that are paving the way to an ever bigger company. Today his dream is to create the leading franchisee organization in the U.S.
Questions
Name: Aziz Hashim
Title: President, CEO
Company: National Restaurant Development Inc.
No. of units: 27 Checkers/Rally's; 9 Popeyes; 4 Moe's Southwest Grill; 4 Subway
Personal
Age: 43
Family: Married with two children; a 15-year-old daughter and a 10-year-old son
Years in current position: 15
Years in franchising: 15
Key accomplishments:
Being strong in faith with a solid family is a key accomplishment. On the business side, starting from scratch in 1995 and creating an enterprise that employs approximately 900 people. I've also enjoyed watching several employees of mine become entrepreneurs in their own right.
Biggest mistake:
I think not realizing the value of having a superior human resources executive earlier in my career. I took too long to bring in our HR executive.
Smartest mistake:
Investing in infrastructure in my business before the P&L could support it. I had management at one point that made more than I did, but in the end that turned out to be very important.
How do you typically spend a day?
I despise routines. Every day is very different. My typical day is about 16 hours, composed of professional and voluntary activities, but there's no standard day.
Work week:
My philosophy is that every day is a work day unless I'm on a vacation. Weekends are lighter, spent reading and writing, interspersed with family activities. I also serve on several boards and that requires travel as well. For me it's all intertwined.
Favorite fun activities:
The best thing for me is to watch my kids do something significant. Sometimes that means going to sports tournaments or celebrating their milestones. My daughter just got a driving permit. I spend a lot of time volunteering, I like to travel, and I love to make deals.
Exercise/workout:
I hit the treadmill periodically and play golf occasionally.
Favorite stuff/tech toys:
I have all the standard fare. One indispensable item is the iPod. It can keep you sane on long flights.
What are you reading?
I read prolifically, at least 8 to 10 periodicals on the industry and journals and probably half a dozen e-zines and newsletters. As far as books are concerned, I'm reading Stalking the Black Swan: Research and Decision Making in a World of Extreme Volatility.
Do you have a favorite quote or advice you give?
I advise young people that life is short and then you're accountable. I encourage them to think far into the future and plan their aspirations for professional and personal life and turn them into goals. Once on paper, you can achieve anything you want.
Best advice you ever got:
All limitations are self-imposed. Think big and don't sell yourself short.
Formative influences/events:
The trust and confidence that my parents bestowed on me at a very early age led to a lot of growth. They always had the highest expectations for me and gave me the requisite responsibilities to develop me as a leader. My faith tradition, which espouses the ethics of intellectual pursuit, generosity, and service to others.
How do you balance life and work?
I integrate the two. At some level they inevitably become intertwined and I believe that one should not compartmentalize. Attending a parent/teacher conference in the middle of week is acceptable, just as working on weekends is if there is a project with a short deadline. Technology, if used effectively, is an enabler and should allow more balance, not less.
Management
Business philosophy:
My business philosophy is to have a very clear vision for what you want to achieve. Surround yourself with the best talent you can find and be generous with your time and your knowledge. Self-gratification is a very shallow life. Live your business as you see your ethics.
Would you say you are in the franchising, real estate, or customer service business?
None of the above. I would say I'm in the distribution business. As a franchisee, I have access to a predetermined product distributed to predetermined customers. I'm getting a product, that I'm licensing from a franchisor, to a customer.
What gets you out of bed in the morning?
A clear sense of direction in my business and personal life.
What's your passion in business?
Two things really make me happy. I'm a deal junkie and I love watching people develop into exceptional leaders and entrepreneurs, participating with others' success.
Management method or style:
Set clear guidelines and then step aside. Let talent shine and foster innovation aggressively.
Greatest challenge:
Identifying and managing risk at all levels is a constant effort.
How close are you to operations?
Moderately close. We have a great operations team and business intelligence systems that keeps me well-informed. I appreciate, inspire, and observe talent without getting in the way of the operations folks.
Personality:
I would say that I inspire people to be and do their best, and I'm extremely curious and constantly learning.
How do others describe you?
I'm told I'm enigmatic, difficult to read. I've been told I'm a great motivator and articulator and can rally people especially under difficult circumstances. I offer clear direction and strong leadership.
How do you hire and fire?
I hire slow and fire fast. Fitting our culture is important. With firing, every circumstance is different. Apply common sense. Handling a separation with courage and compassion is very important.
How do you train and retain?
We have designated training locations and training managers with the best practices infused with our own unique culture. We try hard to make expectations clear at all levels, finding the highest and best use for employees' talents and skills. High-quality leaders offer a commitment to professionalism and personal growth.
How do you deal with problem employees?
We try to prevent problems. Employees know we have an open line of communication, straight to me if necessary. I'm not a closet CEO, and when issues become problems we have a set method to encourage people and make every effort to resolve the issues.
What kinds of things are you doing to take care of your employees?
We invest in them. We train, we coach, and we mentor and publicly praise and reward their success.
How are you handling rising employee costs (payroll, healthcare, etc.)?
I think we have exceptional internal negotiators on the team. Being informed on cost drivers provides a disciplined approach to vendors. We make sure we acquire the best possible information.
How do you reward/recognize top-performing employees?
We have a wide range of programs, from "spot bonus cards" to redeem music downloads and so on to giving away a car, a Kia Soul currently, to a restaurant manager twice a year. That causes a great feeling. I go through the drive-thru and give the keys to the manager. We're blowing horns, cheering. It's really exciting.
Bottom Line
Annual revenue: Undisclosed
2010 goals: Significant growth through acquisition and development.
Growth meter: How do you measure your growth?
We measure the quality of our workforce and the quality of our earnings, as well as the achievement of our business plan. Then we look at the time and resources contributed to charitable activities.
Vision meter: Where do you want to be in 5 years? 10 years?
I want to have the leading franchisee organization in America.
How has the most recent economic cycle affected you, your employees, your customers?
I would say that because of our risk management culture we somewhat anticipated the downturn. We didn't over-leverage and we didn't keep poor assets. We felt pain but managed through it, adding good staffers. With the franchisees, employees, franchisor, and suppliers all working together, we've muddled through.
Are you experiencing economic growth/recovery in your market?
I would say we're seeing a moderate sales recovery and many real estate opportunities to position us for the future.
What did you change/do differently during the recent tough economic times that you plan to continue doing into the future?
Keep a frugal approach toward administrative expenses, continue to innovate, keep leverage under control, and always upgrade talent regardless of conditions.
How do you forecast for your business during trying times? Can you even forecast at all?
Yes, I think downturns can be forecasted. It depends on how you get your information. If you get your information through the nightly news then that's a lagging indicator. We believe that investing time and resources in top-notch business intelligence is essential.
Where do you find capital for expansion?
Modes of capital and capital structure change, but good deals always get done. Today, regional banks and nontraditional lenders are more involved.
Is capital getting easier to access?
Sources are loosening up. There is a sense that the worst is behind us.
Have you used private equity, local banks, national banks, other institutions?
Private equity is more a partnership than debt. We have not taken that road, but we do have relations with high-quality private equity firms, so that if a sufficiently large transaction comes along we can manage it. We have had success with local banks and traditional franchisee lenders.
What kind of exit strategy do you have in place for your business?
No plan is complete without an exit strategy, and we have a variety of strategies to monetize the business depending on the time. There's always the ability to sell to employees or existing management, an option for an IPO, and always an option to merge with another firm or sell markets piecemeal. We're nowhere near doing that, but there should be no expansion without a defined exit strategy.
Published: August 9th, 2010
Share this Feature
Recommended Reading:
Comments:
comments powered by

Disqus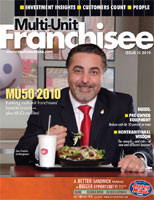 Multi-Unit Franchisee Magazine: Issue 3, 2010
Starting your own Snapology education franchise is affordable, flexible, and provides a great opportunity for success. Find out more today on how you...
MOOYAH Burgers, Fries & Shakes (MOOYAH) is a fast-casual concept committed to providing the best-tasting burger experience possible by specializing...
Cash Required:
$500,000