No Turning Back: Former Ski Coach Races to Top-Earning Status in Franchising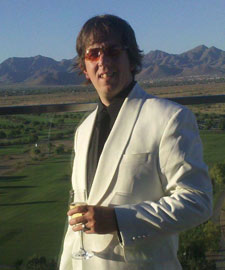 When Jim Fitlow skis, he goes at it full tilt. In fact, one of his favorite quips is, "Turning is highly overrated."
Now the former ski racing coach and his partner Mike Allen are applying that same "go big or go home" philosophy as multi-brand, multi-unit franchisees for Re-Bath, Floor Coverings International, and HomeStory Doors & More, all in Utah and Colorado.
Fitlow, born in Florida, was raised in Michigan where the ski bug bit him at a young age. He met Allen later, in college at Montana State University. When Fitlow got out of ski race coaching--"I enjoyed it and had some success with that for a few years," he says--he began to look around for something that would keep him in Salt Lake City.
Fitlow and Allen knew a local Re-Bath franchisee, a retired plumber they'd swapped jobs with on occasion. "He decided the franchise was just a little more than he wanted to take on, so he said, 'You guys want to do it?'"
They did, adding it to their existing business activities. "After a year and a half, we realized the potential of the Re-Bath model and partnered up with some Re-Bath guys in Idaho and Spokane," says Fitlow. "We knew the bathroom business was going to continue to grow and we were already spending money to capture customers, so we thought, 'Why not add other products and services?'"
The duo signed their first Re-Bath contract in 2001 and today serve thousands of households. In 2012, Fitlow and Allen were among nine Re-Bath franchises named to Qualified Remodeler magazine's Top 500 list of the largest revenue-generating remodeling companies in the U.S.
After concentrating on building their Re-Bath business, in 2011 Fitlow and Allen signed contracts for Floor Coverings International and HomeStory. "Our idea was to create lifetime relationships with our Re-Bath customers, working with them on all other aspects of remodeling in their homes," Fitlow says.
Despite their success to date, juggling three concepts, even in related industries, is a big job, he says. "We thought with multiple brands, we could maintain similarities in the process flow and run similar time frames and efficiencies. And often, that has been the case. But some of it is confusing because each franchisor has its own operating system. We're running off too many platforms right now. I wish I had one that I could use to talk to the others. It's been a more complex beast than we'd anticipated," Fitlow says.
When the partners started with Re-Bath, Fitlow was selling and Allen was installing until they could add enough people to take that on. "I understand the business aspects of it all, but I'm not sure I realized all the things you need to be expert at when you grow a new business from scratch. It's a little more of a challenge," Fitlow says.
Today, Fitlow is president of their three companies with about 50 employees, and Allen is vice president/operations. "Our relationship works well because we both come in with different strengths--something that is key to any successful partnership," Fitlow says.
In the three years since Fitlow became president, he has backed off from day-to-day operations and has even started working at home three days a week. That has worked well for a couple of reasons. For one, he can often get in a couple of hours skiing before going to the office. Also, "I've learned that I'm more efficient when I'm not around anybody, and that they work more efficiently when I'm not around," he says. "We finally got an office where I had a nice window, and I don't get to enjoy it very much."
Today, at 42, Fitlow is a family man with a wife and three young daughters--all of whom ski. He jokes about the challenges that face him in the future. "I used to say when the teenage years hit, we'd send them to boarding school. We've recently realized how expensive that would be, so now I may have to go to boarding school," he jokes.
Name: Jim Fitlow
Title: President
Company: Re-Bath of Utah and Colorado, Floor Coverings International of Utah and Colorado, HomeStory Doors of Utah and Colorado
No. of units: HomeStory, 4 in Utah, 6 in Colorado; FCI, 5 in Utah, 2 in Colorado; Re-Bath, 1 in Utah, 2 in Colorado
Age: 42
Family: Wife Vicky, and three little girls
Years in franchising: 12
Years in current position: 3
Personal
First job:
After college, I was a ski racing coach.
Formative influences/events:
When I was done with coaching, I knew I liked the area and needed to do something else. My family had always had small businesses going on, so I was influenced by their entrepreneurial spirit.
Key accomplishments:
Getting married and having kids. From a business perspective, it was big when we moved beyond the DIY business to building a company. We're still small, but we're not a mom-and-pop operation.
Biggest mistake:
Our biggest mistake was probably growing too fast without a well-established infrastructure.
Smartest mistake:
Starting the business.
Decision I wish I could do over:
I wish I'd focused on cash reserves during our growth phases instead of assuming the run would always be there.
Work week:
My role has changed since my partner Mike and I have team members who have been with us long enough to handle their work without constant oversight. So I guess I've moved from a 24/7 work week to a "whatever's needed" work week. I'm also working at home three days a week and working in the office two days.
How do you spend a typical day?
I don't deal with fires much anymore. My typical day is a lot on the strategy side, working with franchisors. I'm on some committees and boards so I spend time on that. Then I'm looking at marketing, accounting, and reviewing reports, looking for ways to tweak things for the better.
Favorite fun activities:
Skiing, mountain biking, camping, hockey.
Exercise/workout:
I started cross-fit a year ago.
Favorite tech toys:
I don't like any of them--I'm on them too much.
What are you reading?
I'm usually looking at a business book or magazine. The problem with the digital age is that we spend so much time reading all day, the last thing I want to do at night is stare at a screen or book.
Do you have a favorite quote?
Turning is overrated (yes, that's a skiing reference).
Best advice you ever got:
Say "Yes, dear."
What gets you out of bed in the morning?
The challenge.
What's your passion in business?
At this point, it's to make a lot of money. We want to be the highest income Re-Bath franchise in the country instead of the fastest-growing (we've already done that).
How do you balance life and work?
If you have a job, you can balance life and work. If you have a business, it's intertwined with your life. You just have to have enough activities that force you away from it--sports or other things that you can't be doing business while you're doing them.
Last vacation:
Just got back from a family trip to Michigan and we took a few extra days on a conference.
Person I'd most like to have lunch with:
George Carlin.
Management
Business philosophy:
I approach business in two ways: one from a pure roots level with the primary aim of "challenge, enjoy, and win." Our company's philosophy is to acquire customers for life. We used to be a bathroom remodel company. By adding other related brands, our goal became to stay with customers for life while they're remodeling the rest of their home. We do that under the umbrella of our slogan, "Remodeling made easy." Each brand has to have a component that makes it special and easier for consumers than just hiring Joe Contractor off the street, whether it's fast installs, high-quality materials, technology, or the sales process.
Management method or style:
I try to let people do what they're supposed to do, and to that end, for the past year and a half I've been working from home more. I've found that I'm more efficient if I'm not around anybody, and they're more efficient when I'm not around. We have people who've been with us for a while, and they're good at what they do. My job is on the backside, looking for ways that may make their work easier and more efficient.
Greatest challenge:
Right now as a company, our greatest challenge is consistency in sales. Most of our processes and procedures are fairly deep-rooted in the company. Some days I wake up and see a sales report with a big goose egg, and on another day I see a huge win. One piece of this is process driven, but it's ultimately up to the customer. Greater consistency in sales would bring more predictability to all we do.
How do others describe you?
They say I talk a lot.
One thing I'm looking to do better:
Complete tasks sometimes.
How I give my team room to innovate and experiment:
By working at home three days a week.
How close are you to operations?
I've backed off that. Mike deals with day-to-day operations.
What are the two most important things you rely on from your franchisors?
I need them to uphold their side of the bargain. And then if they're open, honest, and have our best interests at heart, I'm okay with them.
What I need from vendors:
I need them to be on time, every time.
Have you changed your marketing strategy in response to the economy? How?
Yes. We are trying to be much more strategic with the marketing dollars as far as where they're going and what they're bringing back.
How is social media affecting your business?
For the remodeling industry, social media is where websites were five years ago. It's just gaining traction but it's moving quickly. We need to get ahead of the game on it.
How do you hire and fire?
We are trying to hire differently, as far as who we're looking for, than in the past. When we started, my partner was in his 20s and I was in my early 30s, and it was more difficult to hire older people, because they didn't want to work for young punks. Now that we're getting older, we can hire the right people. We also have more experience in the business now, so we hire based on what we've learned over the past 12 years. As far as firing goes, we're bad at it. We don't do it fast, but we do it when needed. We've been changing as the economy changed; team dynamics have changed, and our process is probably changed as well. In a small business (roughly 50 employees), sometimes with people who are single-tasked, it's easier. But when you have people with you for a while who perform tasks across different areas of business, you have to be more strategic, making sure all the roles are finished.
How do you train and retain?
A big part of retention is creating a work environment that supports employees, helps to make them successful, and is someplace they enjoy being and working. Training is ongoing throughout the company. Retaining sales people is the biggest challenge.
How do you deal with problem employees?
We have a regular HR process to go through. It protects us and the employee, so there are no surprises.
Fastest way into my doghouse:
The quickest way to get on my bad side is trying to sneak something past the customer.
Bottom Line
Annual revenue:
$8 million
2013 goals:
$12 million
Growth meter: How do you measure your growth?
Now we're measuring how we grow on the bottom line; it used to be on the top line.
Vision meter: Where do you want to be in 5 years? 10 years?
In five years, I'd like to have a full team of general managers who have a profit share in the business, and my work week consists of going to reports with them. In 10 years, I don't know. I'll probably be hiding from three teenage daughters.
How is the economy affecting you, your employees, your customers?
It's made us better. Our customer base has shrunk, so we knew that if we didn't get much better at what we're doing, the business would be more difficult to come by.
Are you experiencing economic growth or recovery in your market?
Yes.
What did you change or do differently in this economy that you plan to continue doing?
We got lean.
How do you forecast for your business in this economy?
It's tough. We look at what we should be able to do with the lead flow we have and try to target off that. Then we try to create additional lead flow without spending a ton of money doing so.
Is capital getting easier to access? Why/why not?
No, not at all. Our business models are low-asset models, and the only thing banks want to lend on is assets.
Where do you find capital for expansion?
Self-funding.
Have you used private equity, local banks, national banks, other institutions? Why/why not?
Local banks.
What are you doing to take care of your employees?
Keeping the business growing.
How are you handling rising employee costs (payroll, healthcare, etc.)?
We make sure that whatever we offer is something we can continue to offer, whether we get busier or slower. Through this downturn in the economy, we've never taken away a benefit or reduced pay. But we have trying to find good vendors who do a good job managing costs.
How do you reward/recognize top-performing employees?
I try to send out company-wide monthly newsletters so all employees in all divisions know what the company is doing and know about standout performances. They know that most of what we do is a team effort, with everybody working toward the same target. We try to have company functions a couple of times a year where we get together in the new office in Salt Lake City. The building used to be a pool and spa place, so there's still an in-ground pool. We had our first pool party there.
What kind of exit strategy do you have in place?
I don't see businesses getting sold to the point where somebody can sit back and retire because 10 to 20 years of effort paid off. That just doesn't happen out there, or at least, I haven't seen it. So we're mainly trying to get the right people in place to manage the companies into the future. Our outfit is more about continuing to guide and mentor and give them a share when things go well.
Published: July 3rd, 2013
Share this Feature
Recommended Reading:
Comments:
comments powered by

Disqus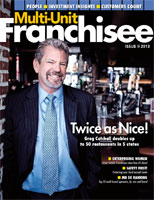 Multi-Unit Franchisee Magazine: Issue 2, 2013
Founded in 2015 in a tiny grab-n-go and delivery location in Midtown Manhattan, Pokeworks® has quickly established itself as the nation's...
Cash Required:
$300,000
Sport Clips is a winning concept-a great haircut experience for men and boys in a sports-themed environment. With more than 1,700+ stores and...
Cash Required:
$200,000