Reforming Franchise Regulation
Our system is "mad"--and we shouldn't take it any more!

For over a quarter of a century, I have been a critic of the United States' franchise sales regulation system.

Going back to 1981, I wrote my first article on how the fractured and twisted regulatory scheme established in our country was overly complex and extremely inefficient for a variety of structural and what I will call "human factor" reasons: the failure of the FTC to preempt completely regulation over franchise sales; the inability of the states to harmonize fully their respective regulatory schemes; the failure of state regulators to communicate effectively among themselves (although, I admit, this has improved drastically over time); the fact that judgment calls are required by state administrators and examiners, which leads to differing results; the limited resources provided by the states for reviewing franchise registration applications; and in some cases poor training of franchise examiners.

In particular, I have been critical of the multiple reviews of franchise registration applications resulting from most of the states insisting that they each--separately--scrutinize carefully registration applications filed with them. Initially, for a franchisor wanting to offer franchises nationwide, this meant its documents were subject to review in 14 jurisdictions.

Critical questions to be asked in analyzing the desirability of this system are:
Does a review of a Uniform Franchise Offering Circular (now known as a Franchise Disclosure Document) improve the quality of disclosure?
Are multiple (up to 10 reviews) really necessary? How much does each additional review add to the knowledge of prospective franchisees?

Although these issues have been long on my mind, recent work I have done for Australian franchise companies entering the U.S. market has brought these issues again onto my radar screen. Like the United States, Australia--a highly franchised country--relies upon disclosure as the primary way to prevent franchise sales fraud and to ensure that prospective franchisees can make informed purchasing decisions. However, the Australians have no registration procedures, and franchise sales are regulated only at the federal level. Thus, their system has avoided two of the pitfalls of ours. This makes the Australians highly critical of our system. As I have previously noted in various publications, they think we are "mad."

Subsequent to the initial adoption of franchise registration laws, most of which occurred in the early 1970s, three states--Indiana, Michigan, and Wisconsin--amended their statutes. These revised statutes still required franchise offerings to be registered in their jurisdictions, but eliminated the review process, thus eliminating one of the challenges (some might say barriers) to being able to sell franchises in those jurisdictions. Since the last of these three amended statutes was adopted, there has been radio silence with respect to changes to the U.S. franchise sales disclosure process at the state levels.

Radio silence, however, has been recently broken with the enactment of revisions to the South Dakota Franchise Investment Law, which was signed into law in mid-March. Following in principle the pattern set by Indiana, Michigan, and Wisconsin, the new South Dakota law continues the requirement that franchise offerings be registered in the state. However, the statute refers to these filings as "notice filings," as the review process has been essentially eliminated. The state has reserved the right to impose escrows (or alternative measures) if the franchisor's financials show weakness, and has retained its enforcement rights if the franchisor fails to file or its disclosure document is faulty (i.e., contains misrepresentations or material omissions). Thus, South Dakota has had the foresight to eliminate what I perceive as the inefficiencies of the historical franchise sales regulatory scheme, but at the same time retain the right to protect its citizens from fraud--in my opinion, a healthy compromise.

Now, it would be difficult to say that as South Dakota goes, so goes the nation. South Dakota's decision is not, by itself, sufficient to say boldly that there is a groundswell for franchise sale reform. Because of the state's relatively small population, as well as its location outside the country's main population belts, it is not likely that this step alone will serve as the proverbial wake-up call to the 10 other states that continue to require franchise disclosure document review. But it is refreshing to see even this small step toward franchise reform. Hopefully, this will trigger discussion in other jurisdictions about the problems inherent in their laws.

For the record, I am not totally convinced that a complete elimination of franchise disclosure document review would be good. However, presently the system has erred on the side of too much review. Since there appears to be little interest in a federal-level review requirement preempting the state reviews, the remaining registration states might consider outsourcing the process to a single entity that would be charged with responsibility for performing this function. This would eliminate cost and simplify the process, but retain whatever benefits there may be to disclosure document review.

Rupert Barkoff is a partner in the Atlanta office of Kilpatrick Stockton, LLP, where he chairs the firm's franchise practice. He is a former Chair of the American Bar Association's Forum on Franchising, and Co-Editor-In-Chief of Fundamentals of Franchising.
Published: June 19th, 2008
Share this Feature
Recommended Reading:
Comments:
comments powered by

Disqus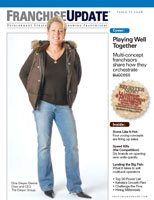 Franchise Update Magazine: Issue 2, 2008
Featured Opportunities