Seismic Shift?
What does future multi-unit diversification look like?
We thought we knew how the end of this first generation of substantial multi-unit expansion was moving into the next generational phase, i.e., a combination of family/investor ownership buyouts, M&A consolidation, and continued expansion within and across brands. But the Covid-19 crisis is showing some initial signs of changing how this next generation of multi-unit operators will develop.
The reason is twofold: 1) the length of time this pandemic will be around, and 2) the impact it will have on future consumer behavior. Pandemics end when the virus doesn't have enough susceptible people to infect. The catastrophic 1918 Spanish flu pandemic is thought to have infected 500 million people worldwide, many of them soldiers living in close quarters fighting in World War I. Once the war ended and people dispersed, the spread slowed as people had less contact. But the flu was ultimately halted in large part because those who survived it had immunity and the virus didn't hop as easily as it did at the beginning.
Today we're pinning our hopes on a vaccine. Yet recent history shows that these types of viruses are a moving target. SARS reappeared four times after the global epidemic ended in 2003. The 2009 H1N1 pandemic (swine flu) may have lasted only a year or so, but 10 years later it is still around and causing illness and even death, even with vaccines chasing it. The point is that consumer behavior is likely changed, if not forever, at least for many years to come.
We are accustomed to getting inquiries from suppliers and lenders about sectors and brands. They are asking us similar questions about the crisis: How have sectors been affected, and within those sectors, which brands have adapted best? The problem with these questions is they focus on near-term results and not what the post-pandemic world will look like. A QSR may be doing really well because it's captured market share locally with take-out and home delivery ahead of competing brands. Is that sustainable? I wouldn't want to make a 10-year contract bet based on the pattern of activity over the next 12 months.
Rethinking and adapting
Multi-unit operators are telling us they are starting to rethink what good unit/brand portfolio diversification looks like post-Covid. Many started with a food brand, then moved into additional food brands over time as an initial diversification move. Then came the move beyond food. That was built around their experience and knowledge bases of franchising and local markets. There has been a measurable and meaningful expansion over the past decade into non-food retail as well. An important part of that strategy was diversification. Balancing food and non-food retail units was thought to be a way of balancing risk, while benefiting from the knowledge of how to execute in retail as well as franchising.
In a similar way, non-food franchisees also expanded beyond initial brands, although our data shows that they tended to stay on the non-food side, especially if they were in residential services.
While many of the sub-sector food brands have been able to adjust to the current crisis, non-food retail has been hit hard and continues to suffer. Sectors like fitness appear to be heading toward a significant reduction in brands, as well as units. That brings into question whether many multi-unit operators had successfully diversified with their food/non-food retail strategy.
A strong argument can be made that we are not returning to an economy built as prominently on retail. Even if it turns out that retail does return to something similar to what we knew, a retail recovery will most likely be measured in years. What does that mean for future multi-unit expansion and diversification?
In the short term, it appears most retail-focused franchisees will be preoccupied with survival, and then adjustment—in the form of footprint requirements and layout, changed offerings, off-premise kitchens, mobile and delivery programs, and so forth. Those adjustments require fresh capital, which will delay further diversification efforts. However, we are seeing interest now by retail operators with units that managed through the crisis well, for what we expect to see much more of in the longer term: retail multi-brand diversification strategies likely to take them into areas mostly outside traditional retail, such as health care and education, sectors that have been affected, but that have a different set of recovery factors.
Residential services so far seem to show the most likely continuation of existing multi-unit strategies within and not outside related sectors. The relatively high cost of acquisition of a customer relationship in this sector is driving additional service offerings, and crisis recovery is following a better path.
For franchisors and suppliers trying to attract multi-unit operators, it is advisable to be aware of the changes coming to their diversification strategies and adjust your marketing messages accordingly.
Darrell Johnson is CEO of FRANdata, an independent research company supplying information and analysis for the franchising sector since 1989. He can be reached at 703-740-4700 or djohnson@frandata. com.
Published: September 9th, 2020
Share this Feature
Recommended Reading:
Comments:
comments powered by

Disqus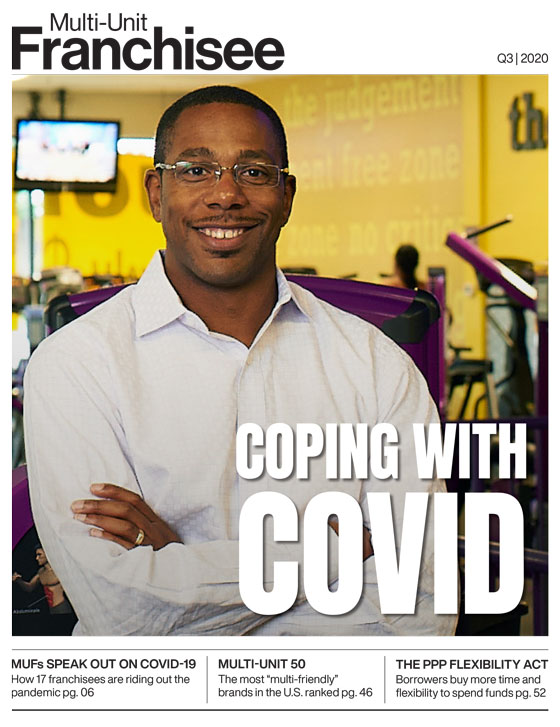 Multi-Unit Franchisee Magazine: Issue 3, 2020
Another Broken Egg is an upscale breakfast, brunch and lunch restaurant that specializes in Southern-inspired menu options and signature cocktails....
Cash Required:
$250,000
We're redefining the laundromat industry with a simplified business model built for scale and perfect for diversifying your portfolio.
Cash Required:
$300,000