Doubling Up, Doubling Down: Tom Garrett Returns to Franchising with a Bang
To say Tom Garrett has been a busy man since we last profiled him in 2015 would be a gross understatement. When we first met up with Garrett, his Atlanta-based GPS Hospitality company was operating 196 Burger King locations. The industry veteran had become a franchisee of the brand during a refranchising push in 2012. During the past two years he has grown GPS to 376 Burger Kings and added 19 Popeyes to the mix. But fast growth and big numbers are nothing new for Garrett.
Garrett previously worked at RTM Restaurant Group, which operated 775 Arby's when the company was sold back to the franchisor, Triarc Companies, in 2005. At that point, he moved from president of RTM to COO of the newly formed Arby's Restaurant Group, a wholly owned subsidiary of Triarc. He left the company in 2010, as CEO. "I can't say it was fun, but those 5 years made me tougher and smarter and better prepared to go back to what I love: being a multi-unit franchisee," he told us in 2015.
The call of the multi-unit operator brought him back to life on the franchisee side. GPS Hospitality was formed in October 2012 with the acquisition of 42 Burger Kings in Atlanta. That was just the beginning. The acquisitions and store openings kept adding up, and last year he hit the mother lode. In December 2016, GPS Hospitality acquired 194 Burger Kings in Alabama, Arkansas, Florida, Louisiana, and Mississippi.
"Since 2015, we have continued to grow through acquisition of Burger King restaurants, including our largest acquisition to date, which allowed us to almost double in size and put us firmly among the top three largest Burger King franchisees in the United States," he says.
But there was even more to the business plan in 2016. It began when Garrett's company acquired 7 Popeyes in Georgia. "Aligned with similar core values, we saw Popeyes as a highly recognizable brand for guests, as well as an organization that has solid plans to sustain the momentum they've achieved over the past few years. This year, we purchased 11 more restaurants," he says.
Garrett likes to take care of his business and his employees. "From the beginning, we've remained committed to investing in both our people and our facilities," he says. "In 2016, we remodeled 19 and built eight new Burger King restaurants. We're on track to remodel more than 40 and build 10 new locations this year."
GPS Hospitality is on a path to reach $1 billion in revenue during its first 10 years, says Garrett, who has named the goal "Journey to 1 Billion."
"To help us reach that goal, we decided to hire industry veteran Michael Lippert as our chief operating officer. He brings more than 30 years of QSR experience and a shared vision for growth and development of a world-class team," he says.
There's no telling where Garrett's GPS Hospitality will be in another 2 years. He says his next big goal is 650 restaurants and $1 billion in sales.
Name: Tom Garrett
Title: Founder/CEO
Company: GPS Hospitality
No. of units: 376 Burger King, 19 Popeyes Louisiana Kitchen
Age: 55
Family: Wife Mary Frances, 35 years; daughters Kaitlyn, Sarah
Years in franchising: 35
Years in current position: 5
Personal
First job:
Wendy's in Rainbow City, Ala.
Formative influences/events:
Joined RTM Restaurant Group as an assistant manager for Arby's in Gadsden, Alabama with the intent of working there a couple of years before attending college. Instead I spent 25 years with RTM, serving as president my last few years. I am the leader I am today because of to the influence of Russ Umphenour and my former partners at RTM.
Key accomplishments:
Rapid, successful growth of GPS Hospitality.
Biggest current challenge:
Managing our growth.
Next big goal:
650 restaurants and $1 billion in sales.
First turning point in your career:
I got my first experience as an entrepreneur when I was promoted to vice president at RTM Restaurant Group. It was there I really learned all the different ways I could grow a business and motivate people to succeed.
Best business decision:
Starting GPS Hospitality and assembling a team of top performers.
Hardest lesson learned:
Staying in a bad investment too long. I don't like to quit.
Work week:
Every day starts after I take my daughter to school and ends when it ends. I do try to focus on my family and my children's sports on the weekends, but I do touch the business every day.
Exercise/workout:
Three to four times a week.
Best advice you ever got:
Be yourself. Don't pretend to be what you are not.
What's your passion in business?
I love the challenge presented by growth, whether it is helping a person grow or growing a business. It is very fulfilling, never boring, and requires many different skills.
How do you balance life and work?
We encourage everyone on our team to make family activities, soccer games, and ballet recitals a priority, and I am sure to set the example.
Guilty pleasure:
Purchased a new Ranger Bass Boat this year.
Favorite book:
The Bible.
Favorite movie:
"Jerry Maguire."
What do most people not know about you?
I like to cook.
Pet peeve:
Lack of a sense of urgency.
What did you want to be when you grew up?
Engineer.
Last vacation:
Took the family to see Wimbledon this summer.
Person I'd most like to have lunch with:
Dad.
Management
Business philosophy:
We like mature brands that offer operations upside measured in sales and/or margin improvement. We see/create value that many overlook.
Management method or style:
Surround myself with smart people who possess common values, align them with exciting goals, share generously as the business grows, and make certain we have the people and systems to sustain it.
Greatest challenge:
Making sure we have the team to sustain our growth rate.
How do others describe you?
Fair, even-keeled, challenging.
One thing I'm looking to do better:
Keep up with technology.
How I give my team room to innovate and experiment:
I believe in encouraging risk-taking and trying new things with most people. I don't believe in letting incompetent people try things in the spirit of innovation.
How close are you to operations?
My role is focused on the growth side of our operations: preparing for growth by ensuring we have the people for sustained growth, maintaining and building a consistent culture, and identifying opportunities that fit our strategy.
What are the two most important things you rely on from your franchisor?
1) Brand integrity (compliance), and 2) brand relevance (marketing communication).
What I need from vendors:
Resources--the talent and systems to support the growth of our company.
Have you changed your marketing strategy in response to the economy? How?
We focus on improving operations, which helps create value for our guests.
How is social media affecting your business?
The Popeyes and Burger King brands are part of pop culture, making it very relevant within social media. We use social media to raise the awareness of GPS Hospitality and recognize our people for their accomplishments.
How do you hire and fire?
We apply our values (Goal Focused, People Oriented, Service Obsessed) to all people decisions, including hiring and firing. This filter helps us determine who belongs on the team and who does not.
How do you train and retain?
We provide the tools and the environment for people to succeed, but we expect the trainee to be accountable for their training. We retain people by providing them with personal growth opportunities and rewarding and recognizing their successes.
How do you deal with problem employees?
It depends on the problem. I have little patience for people who don't fit our values. I do believe in providing the training and coaching necessary for people to succeed.
Fastest way into my doghouse:
Lack of effort.
Bottom Line
Annual revenue:
NA.
2018 goals:
$600 million.
Growth meter: How do you measure your growth?
Against our goals: did we accomplish what we set out to do.
Vision meter: Where do you want to be in 5 years? 10 years?
We call it "Journey to 1 Billion"--reaching $1 billion in sales within our first 10 years.
How is the economy in your regions affecting you, your employees, your customers?
Improving. GPS operates 395 restaurants in 11 states: Alabama, Arkansas, Florida, Georgia, Louisiana, Michigan, Maryland, Mississippi, New Jersey, Pennsylvania, and West Virginia.
Are you experiencing economic growth in your markets?
Yes.
How do changes in the economy affect the way you do business?
QSR rises and falls on disposable income. Improving employment and low inflation are improving the outlook for GPS Hospitality.
How do you forecast for your business?
We have a five-year outlook, a one-year annual budget, and a weekly cash forecast.
What are the best sources for capital expansion?
Senior debt, equity from family office investors depending on the transaction.
Experience with private equity, local banks, national banks, other institutions? Why/why not?
We do not believe that private equity capital is a good fit for our company.
What are you doing to take care of your employees?
We believe that our success is directly tied to the success of our team. We encourage our people to set personal goals and we look for ways to help them achieve them. As they succeed in accomplishing their goals, both personally and professionally, our company wins.
How are you handling rising employee costs (payroll, minimum wage, healthcare, etc.)?
We offer competitive salaries and very aggressive, unlimited bonuses based on growth. Since every employer faces the same issue, we look for efficiencies and adjust, just as our competitors have to do.
How do you reward/recognize top-performing employees?
Our culture is all about motivating everyone on the team to perform at a high level. We focus all of our incentives and recognition on this group, which encourages everyone to grow and improve. We are very generous in our reward system. As we grow our business, we share a significant percentage with the management team.
What kind of exit strategy do you have in place?
Still not thinking about it.
Published: March 26th, 2018
Share this Feature
Recommended Reading:
Comments:
comments powered by

Disqus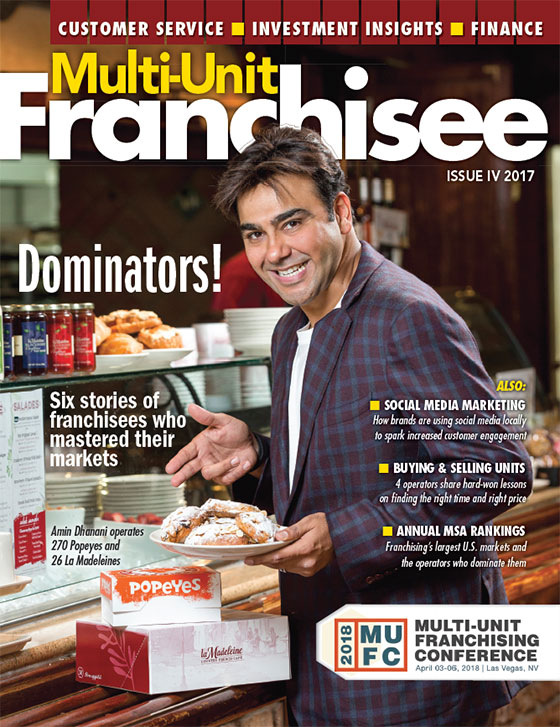 Multi-Unit Franchisee Magazine: Issue 4, 2017
Phenix Salon Suites is awarding our scalable, semi-absentee opportunity to motivated entrepreneurs. With no salon experience required, franchisees...
Cash Required:
$300,000
Shakeaway is a unique global company with stores popping up all over the world! Get involved in this fun, fast growing and profitable franchise now...