99 BIG Franchisees: Julie Wilson & Beth Driskill
Managing Partnerships
"Women are great at multi-tasking"

Name: Julie Wilson
Title: Managing partner
Franchise system: Regis Corporation
Personal/ @Home
Age: 50
Family: Husband and 2 sons, 26 and 24
School (alma mater): New Mexico State University
Memorable first job: Driving a taxi
Current book reading: Memorial Day
Best advice you ever got: Never pass up the opportunity to go to the bathroom.
Professional/ @Work
Number of units: 13
Business type: C-Corp
Years in business: 10
2004 sales revenues: $2.3 million
Top of your business wish list: A more stable staff
Best advice you ever gave: Take the initiative and make the time

Name: Beth Driskill
Title: Partner
Franchise system: Regis Corporation
Personal/ @Home
Age: 40
Family: Husband and 2 children, 13 and 11
School (alma mater): Masters from University of California at Berkeley
Memorable first job: National marketing director for Just Say No
Current book reading: Wicked
Best advice you ever got: What would you attempt to be if you knew you could not fail.
Professional/ @Work
Number of units: 13
Business type: C-Corp
Years in business: 3
2004 sales revenues: $2.3 million
Top of your business wish list: Perfect managers at every
Best advice you ever gave: You've got to look out for yourself


Julie Wilson believes in succession. She currently is sharing her experience with her newest partner, Beth Driskill, in hopes that Driskill will be able to make the transition into ownership as smoothly as she did.

"My first partner bailed," Wilson says. "But I couldn't have gotten into the kind of growth that I did without his financial strength. I'm grateful for that. I hope to pass that on to Beth and get her ready to take over as I did."

Wilson ran a large advertising agency specializing in franchises and retail operations when she decided to buy a business for herself.

"ProCuts was one of our large clients," she says. "Over cocktails one evening, I ended up buying one."

In addition to the savvy her first partner brought to the new company, Wilson says her previous experience in the field added to her relatively quick success.

"My experience really helped me understand the industry," she says. She continues to run a small advertising consulting firm, while adding units.

Initially, she jumped a little too quickly though. "We had 17 units at one time and that was too many," she says. "I needed to have volume, though, in order to justify the infrastructure."

With her partner, she is comfortable with 13 units now. The two women have time to devote to the under-performing units and develop strong teams at those stores.

Wilson stays in involved with women's business groups and enjoys serving as a role model to all of her employees.

"A few women have given me heartfelt thanks for being a strong role model for them," she says. "That feels so good. It makes it all worthwhile."

Driskill appreciates her mentor's experience and loves the entire franchising experience.

"We don't have to come up with policies and procedures," she says. "It's done. We can all be on the same page."

The partners place top priority on communications with all their employees. They produce a monthly newsletter and send weekly written memos to everyone.

"By following the franchise plan and being consistent with our communications, we can run 13 units simultaneously," Driskill says.

Wilson cautions women considering multiple units to go into the move with realistic expectations.

"The rules change when you get multiple locations," she says. "You can't be there all the time. The challenges are different."

But, she says, women, above all, are up to those challenges.

"I think women are very good multi-taskers," she says. "They seem to do well with franchises."

Published: April 4th, 2006
Share this Feature
Recommended Reading:
Comments:
comments powered by

Disqus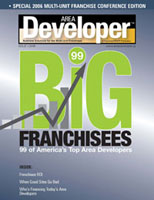 Multi-Unit Franchisee Magazine: Issue 1, 2006
Featured Opportunities