Asking for an Impact Study Might Help in a Close Call
Sometimes you get a notice from your franchisor that a potential franchisee wants to open a unit close to one of your own units. You're concerned about what might happen to sales. What can you do?

What happens next is determined by the franchisor's impact policy. If you haven't read it, you should. Franchisors have established formulas for what they consider "too much" impact, and usually a review committee has studied a potential new unit's location and determined that the impact is not severe. Usually, the franchisor will consider an impact of up to 10% acceptable.

You may disagree. All franchisors offer the opportunity for you to object, and if you feel strongly, you can commission an impact study. If you want to test the franchisor's assumption, however, you have to be willing to make an investment—usually around $5,000—to get the franchisor to reconsider. You can get that back if you're right, but not if you're wrong.

Still, franchisees do ask for impact studies, and they can make a difference in the location of a unit. The most likely outcome, however, is that you have some grounds for a discussion with the franchisor.

"Many of our contracts have site-specific clauses," says Scott Haner, vice president of Yum Brands, which include Pizza Hut, KFC, A&W, Long John Silver's, and Taco Bell. "You get a mile-and-a-half radius protection or 30,000 people, so we absolutely don't build in that situation. But there are times that you are two-and-a-half miles away and you ask, 'Will it be the best thing for the system to build?' You want to preserve the relationship, and you want to allow your brand to grow, but you don't want to put franchisees at risk."

An impact study offers another tool in a discussion with the franchisor to see if the move is the right one for both the brand and the franchisee.

How Impact Studies Work
Impact studies are based on interviews with the franchisee and the employees, data from the affected unit, from the franchisor, and from the area the new unit would go. Usually, the consultant conducting the study has experience in the particular industry, and brings that to bear in the analysis.

Since the franchisee chooses the consultant, there's a natural sympathy, so you have some advantages in the analysis. The franchisor is consulted in the process, but cannot influence the outcome in any way. As a result, the franchisee is probably going to have to go with the results of the study.

The studies can get complex. The procedures of the Highland Group, an Atlanta consultancy that performs impact studies for the hotel industry, are standard. Impact is defined as business lost from one property to the proposed new unit. Base impact is business lost because of new units or newly renovated units that may become affiliated with the brand. Incremental impact is business lost owing to the addition of the same brand in close proximity.

"Incremental impact does not include any business that would be lost if the impacting property were another brand," according to the Highland Group's white paper on impact studies. "Incremental impact is the difference between the impact created when a hotel carries another brand and a hotel carries the same brand as the objecting franchisee (impact of a Days Inn on a Comfort Inn is base impact; impact of a Comfort Inn conversion if the existing franchisee is a Comfort Inn has both base and incremental components). Base impact is how much that Comfort Inn would lose to a Days Inn. Incremental impact is how much more it would lose to a Comfort Inn."

"Incremental impact is the most important," says Peggy Berg, president of the Highland Group. It is generally the only kind of impact considered in most franchisors' impact policies.

As noted above, the calculation of impact can get complicated. It generally is the amount of business estimated to be lost divided by the amount of capacity available. Generally, if you have a strong business, the impact of another unit is going to be higher.

Haner says that caution in these studies is a good idea. "These matrices that have built up give us a reliability of plus or minus 2 percent, and that's not bad, but if you're at 9 percent, there's a margin of error. There could always be something unexpected in every trade area."

How Impact Studies Help
"The inception of impact policies was overcoming a sales objection," says Berg. "They were developed out of the sales department because franchisees were saying they didn't want to buy one because of impact. So companies say they protect you with the impact policy."

This protection will extend only to the brand, however. An impact study might also tell you that your area is ripe for a competitor—something neither you nor your franchisor has any control over, and another issue altogether.

"Obviously you want to have the ability to get your brand to more customers," says Haner of Yum Brands. "Let's say a franchisee is right [about the impact] and the new franchisee can't develop. We'll go to the objecting franchisee and suggest he consider impacting himself because a competitor may come in, and the franchisee won't get the business and the company won't get the business. Traffic patterns change over 15 to 20 years. There are areas where the existing franchisee is the only one who can develop it, so the existing franchisee may build another store and end up with 95 percent of the business."

An interesting twist on that scenario happened in Jackson, Miss., when McAlister's Deli franchisee Ray Miller received the results of the impact study. "Three miles down the road from his unit there were two new huge shopping centers built," says Pat Walls, chief development officer at McAlister's. "He told us he would like to build a new unit, but would like to see the impact on the existing location. The impact study said his current location would be hit by 39 percent impact, but he went ahead anyway."

Miller says there were good reasons for that. His experience suggests that impact studies are not always the only thing to go by. "It was initially a defensive move," he says. "The site was under contract to Atlanta Bread Company. When they dropped out, the center people knew me and called me."

There were two other McAlister's franchisees looking at the area, and some other concepts that were possible competition. "McAlister's predicted about $1.4 million annual sales in the new location, and I thought it would do a lot more than that," Miller says. "I think the impact study was skewed a bit, because your managers are not going to do a questionnaire when they're slammed" during rush periods with lots of customers.

"I remember sitting at the table, and the company reps there asked how much I would lose, and I said no more than $200,000, and I'll bet the money in my pocket against the money in your pocket."
a
Miller would have collected, and then some. "So far, we're down about 14 percent in the old store and probably will do $1.5 to $1.6 million in the new store. But I don't think I'm going to lose that much in the old store, because the markets are really different. My old store is near hospitals and is a lunch business, but the new store is all day. You really have to look at the market."

More than that, Miller had completely renovated the old location. "When the new store opened, the old store was experiencing a rise in sales. My thinking was, if my business is right there, why would I go three miles to get something when I can get the same thing close by? But it is chancy to put money in a store everybody tells you is going to lose."
Published: April 18th, 2005
Share this Feature
Recommended Reading:
Comments:
comments powered by

Disqus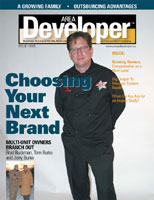 Multi-Unit Franchisee Magazine: Issue 1, 2005
Featured Opportunities