Building for Success: Infrastructure, Infrastructure, Infrastructure!
If a solid franchise system is the backbone of a brand, an efficient, smoothly working infrastructure is the heart of a multi-unit franchisee operation. Successful franchisees understand how to take advantage of a proven operating system and focus on building their procedures, processes, and people to create a working team focused on sustained growth.
Mike Simon, who operates 42 Donatos Pizza restaurants in the Midwest, views the creation of a working infrastructure in the franchise world like a box. "Here are your four walls to play with," he explains. "There are structural and franchise things you have to do in a certain way, inside the box. Outside the box is where you manage your people, goals, and expectations. It is up to you to get results, using your own personal skill sets and personality."
For many multi-unit franchisees, stepping up to operate multiple stores begins with learning to let go, often a struggle for entrepreneurs. When he and a business partner took the ownership plunge in 2010, Simon--who spent three decades on the corporate side at Wendy's, Pizza Hut, and Tim Hortons--admits it took a couple of years to shake off his "This is the way we do things" corporate hat for a more creative operational culture.
"The first tendency you have is to over control," says Simon, whose Titan Restaurant Group began by converting a portfolio of 39 family-owned Donatos Pizza restaurants into franchises. "You want to give people enough freedom so they can play outside the box. That really is where true growth comes from."
Learning to delegate
Title Boxing Club franchisee Sam Heaps is still pondering the best route for making the expansion leap while ensuring that his two existing fitness facilities stay strong. Heaps learned early as a first-time business owner about the problems of working in the business instead of on it.
When Heaps teamed up with his sister Kate Carski in 2012 to open their first Title Boxing Club franchise in Springfield Va., they spent every waking business hour running the facility. Within two years, the pair added a second club in nearby Falls Church. It didn't take long for him to discover that something in his hands-on approach had to give.
"Even though we were putting in the hours, we weren't able to get enough done," says Heaps, a former college baseball player and personal trainer. "You can't do it all. I had to step back and look at the big picture. We had to put our trust in our team and let them thrive and shine."
To meet the challenges that come with expansion, taking the time to find the right people who are the right fit is worth the investment. Most decisions required to efficiently manage multiple units are people-driven, especially when it comes to making the shift from doing everything yourself to hiring your first manager (or managers).
At the center of a strong working infrastructure is a concept called "span of control," says Simon, who was in charge of implementing the delivery system at Pizza Hut and served as vice president of U.S. operations at Tim Hortons. "I tell every franchisee I have ever managed in my life that when you go from five to six stores you are going to build that sixth store just to pay for the supervisor to run the first five," he says.
"Too many stores creates too much freedom, not enough stores chokes all freedom. You need to grow in every aspect of the business, but also allow for creativity," he says. Cultivating a layer of management to develop leadership and foster a culture where people want to stay and move up the ranks will help to solidify your infrastructure over time.
With pizza restaurants in Indianapolis, Cincinnati, and Cleveland, Simon's organizational chart includes two vice presidents and six supervisors. Each vice president oversees three supervisors. Each supervisor is in charge of seven stores.
When developed correctly, multi-unit processes should be able to be replicated anywhere, by anyone. The amount of operational control an established manager or supervisor is given is more complicated, based on geography and the complexity of the business. Conducting a proper gap analysis can help a franchisee determine infrastructure needs from the outset.
The timing for adding management personnel also depends on the complexity of your concept. For many concepts, that point arrives at three units. "Going from one to three is the hardest jump you will ever have in the franchise world," says Simon. "It is where all the processes come into play. You can't be there yourself to do them and that is where the replication comes in." (And the delegating.)
Water, water, everywhere
As the largest Watermill Express franchisee, Ken Talmage, chairman and owner of Monterey Water Co., is well-versed on perfecting an infrastructure to manage his 106 drive-up kiosks. Spread across 300 miles of California's Central Valley, the kiosks offer pure drinking water and ice to thirsty customers.
Talmage has spent more than two decades growing his business by creating an efficient route system to keep his customers supplied--and satisfied. To achieve this, technicians must service each location nearly every day, so locating his kiosks for maximum efficiency is paramount.
"When I look at expansion, I don't look at expanding one or two units," he says. "I look at where I am going to build another 10 units and make another route." Each route consists of nine to 12 locations, depending on their geographic distribution. His field technicians are overseen by duty supervisors from offices in Fresno and Manteca, more than 100 miles apart.
Training for technicians is critical in making it all work at this scale, says Talmage. New hires are schooled on the job, spending time with up to three of the company's best technicians over the course of two months. When trainees are handed over to a duty supervisor, they must pass a rigorous test before being allowed to go out on their own.
Talmage, whose background includes naval intelligence, international management consulting, and private banking, runs a tight management ship. The company has just 25 employees, bolstered by constant real-time data from 50 sensors located inside each unit. This allows for both quality control and the ability to troubleshoot quickly. GPS tracking systems installed in each of the service vehicles enable supervisors to keep track of each technician in the field.
Watermill, the nation's largest drive-up drinking water and ice business, has its own high standards Talmage must maintain, but it's smart hiring and a focus on a customer culture that has kept his company expanding through the years. His marketing coordinator and duty supervisors all started with the company in entry-level promotions jobs.
"We have so many standards internally that we can become focused only on our internal processes," says Talmage. "What you need is to be focused on the customer. By virtue of the fact that people coming through our system started in promotions, we are always thinking about the customer."
Learn from the best
Hiring right is imperative, particularly for franchises such as Title Boxing Club, where the front-line employees work so directly with members. Every club may appear the same, but the environment the trainers create at the club level is what makes the brand so successful, says Heaps.
Soaking up the know-how of successful franchisees both inside and outside your system can help accelerate your learning curve by showing you how to use their best practices to train, incentivize, and retain employees. For Heaps, this wake-up call occurred two years ago when he hit the road to observe some of the brand's best-performing clubs. The trip was an epiphany that came just as his business expanded and his sister started a family and reduced the time she spent in the clubs.
"We watched and took notes on everything," he says. "That changed everything for us by learning from other successful franchisees and not just being stuck in our ways. We made ourselves grow by learning and using the knowledge of other franchisees."
The result was a major shift in how he managed his own managers. A daily checklist evolved from "Here's what I did today" into more productive follow-up checklists designed specifically for each position. For example, a new hire onboarding checklist details everything required to be a successful team member.
Heaps now uses a job-specific organizational chart that outlines the roles of the regional manager, club managers, head trainers, and marketing coordinator. Each manager fills out a monthly report that highlights goals, training, completed staff evaluations, and other information, such as the results of a club walkthrough. Sales team members use a daily follow-up schedule to help them stay organized and diligent.
Managers also use Title Boxing Club's monthly scoreboard to grade club performance and follow the monthly marketing campaigns to keep the brand message current and fresh, says Heaps, who is always ready to roll up his sleeves to help with any business need.
To ensure everyone is on the same page, managers meet weekly to discuss club updates and upcoming promotions. Timing those meetings and check-ins with managers is another factor to consider when setting up internal systems. Simon says he avoids speaking with his supervisors during lunch and dinner rush hours at his Donatos locations, choosing instead to talk with them between 9 and 10 a.m. and 2 to 4 p.m.
Automation also is a great tool to incorporate into your operations. "I get reports every day from all 42 stores," Heaps says. "I don't have to call any store supervisor or VP to get data. I can look at the data, which, over time, I can ask questions about. What I don't want to do is monopolize someone else's time."
But it's also important not to over-rely on technology and automation, he reminds. Those personal check-ins are valuable in maintaining communication. "Yes, we have these big projects," says Simon, "but I still want them to know we are involved and we care about their success. It's a balancing act for sure."
Let go and grow
Despite all the messages from franchisors, business gurus, and veteran franchisees to delegate and not try to do too much themselves, it's still hard for many franchisees to make that happen, for various reasons: force of habit, personality, the additional expense of hiring managers, or because they simply don't know how to set up the best internal systems, even when they want to.
Successful franchises are successful for a reason, says Heaps, who is always looking for ways to do things better, manage and motivate his managers, track results, and set company goals. Creating the right infrastructure is a constant focus for him, while always sticking with the system and maintaining brand standards.
"When we first got into this, we were doing well, but not as well as we are doing now," he says. "Your wheels start to spin to see what you can do differently. We got ahead of ourselves and away from the brand." By tinkering with the system, he says, "You are losing out on the whole branding aspect of what Title Boxing--or any franchise--is all about."
To make the right kind of changes to your franchise organization, Heaps recommends franchisees look to their franchisor and other franchisees to consider how to improve the processes you have in place, as opposed to changing the brand or product on the business level.
While there is a risk of investing too much money and time in infrastructure early in the growth process, if you can weather the financial strain there is a big payoff down the road. And in the end, seasoned entrepreneurs understand that success means their business can run without them.
"As an owner, you sometimes think you are the important person, so whatever you want to happen--happens," says Simon. "That is absolutely the wrong methodology," he says. "I am the least important person in this company. If I don't go to work today, the business still operates." Now that's letting go!
Published: February 16th, 2017
Share this Feature
Recommended Reading:
Comments:
comments powered by

Disqus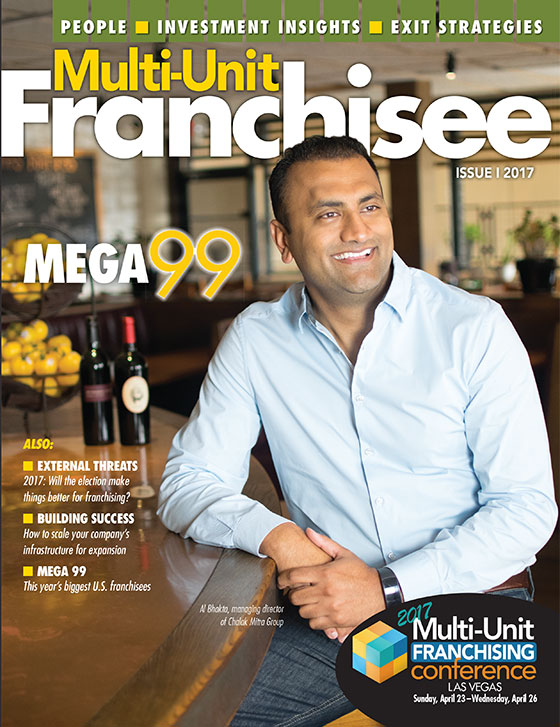 Multi-Unit Franchisee Magazine: Issue 1, 2017
Bad Ass Coffee of Hawaii brings an unforgettable brand, premium coffee products, and a proven business model to a booming coffee scene. We want...
Cash Required:
$100,000
Vitality Bowls specializes in acai bowls, smoothies, juices, salads, grain bowls, wraps, toast & panini, made with unique superfoods like pitaya,...