Footballs to Donuts: Former NFL Kicker Scores Big in Franchising
Kris Brown kicked his way through 12 seasons in the NFL. The former University of Nebraska standout and two-time National Champion was drafted by the Pittsburgh Steelers in 1999. In his first six years in the NFL, he converted 132 of 173 field goals and scored 573 points. His career included stints with the Pittsburgh Steelers, Houston Texans, and San Diego Chargers.
Following his retirement from the NFL in 2011, Brown partnered with a former Houston teammate and began opening Dunkin' Donuts franchises. Today at 40, Brown is in charge as the owner and CEO of the Berliner Group, which has 12 Dunkin' stores, four in Kansas City and eight in Omaha. He holds the territory rights to the two markets and is under contract to open 17 stores with the brand.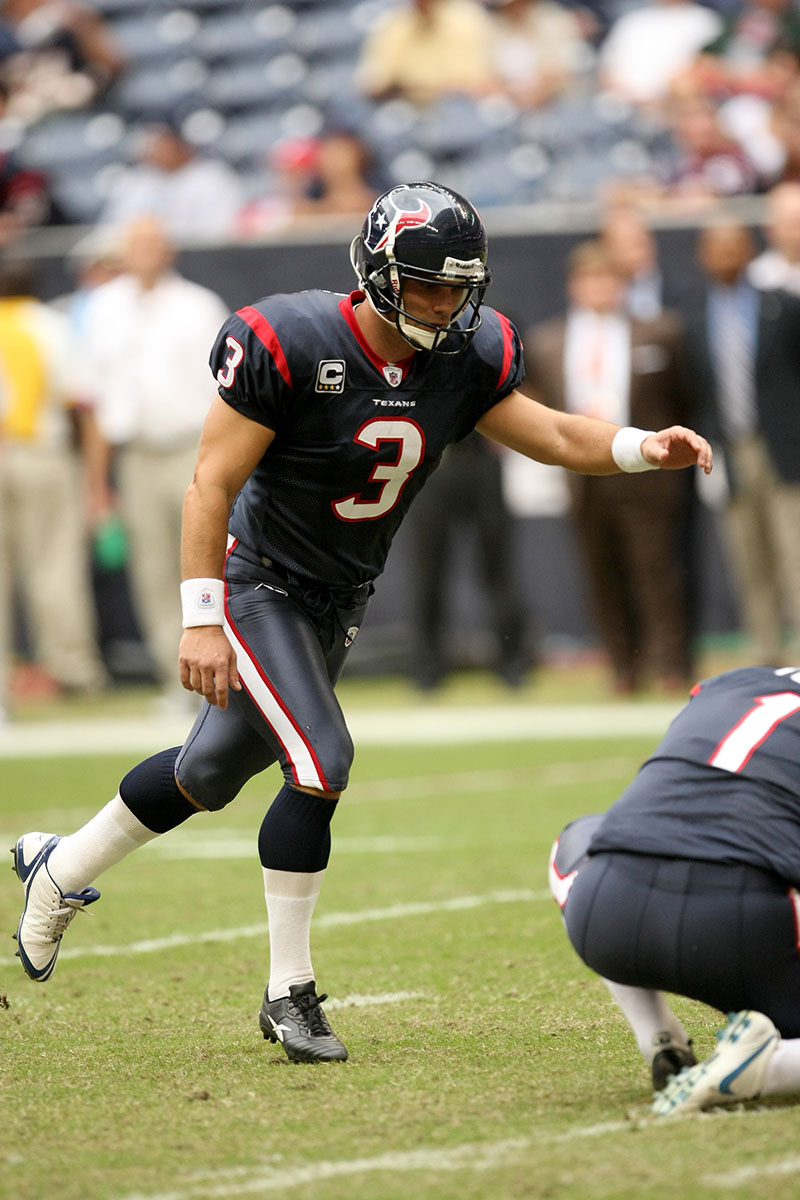 The transition from sports to franchising was a natural for Brown. "There are a lot of qualities you must have to succeed as an athlete," he says. "You have to know how to work and work hard, but running a franchise is really about following the operations manual, which tells you, 'This is how to run the business.'"
Brown is quick to point out other connections between sports and franchising. "Working on sports teams and running a franchise are similar," he says. "You are bringing a group of people together, setting a vision, and setting goals." He says the structured nature of the NFL translates easily into being a successful franchisee by following the structure the franchisor provides. "It's already given to you, and that's a fit with a lot of professional athletes."
Employees, just like teammates, are crucial to any organization's success and Brown understands the challenges of finding and keeping good ones. "What makes people get up and go to work at 5 a.m.? It's because we want to energize and reward our guests and our team and our community. It's about defining those things and getting into alignment so people have a deeper appreciation and understanding for what we do," he says.
Life after football was not a scary proposition for Brown, who says he was drawn to the idea of being his own boss. "If you got into business for yourself, you controlled your destiny: how much you could make, how hard you would work, and if you want to kick butt or not."
Brown, who used to kick footballs, now is doing just that as a multi-unit franchisee.
Name: Kris Brown
Title: Owner/CEO
Company: Berliner Group
No. of units: 12 Dunkin' Donuts
Age: 40
Family: Wife Amy, 18 years; son Kolby, daughter Carly Bea, son Burke
Years in franchising: 5
Years in current position: 3
Personal
First job:
Window washer at my dad's office during the summer.
Formative influences/events:
Being part of a team my whole life.
Key accomplishments:
Graduating college in four years as a student athlete; 2-time National Champion; marrying my college sweetheart and love of my life!
Biggest current challenge:
Time management.
First turning point in your career:
Moving from director of operations to CEO.
Best business decision:
To assume the responsibilities of our finance position to understand what that role entails.
Hardest lesson learned:
Always trust your gut instincts.
Work week:
Weekdays 7 a.m. to 5 p.m., Saturday 7 a.m. to noon. There has to be balance in your work/family life or you can burn yourself out.
Exercise/workout:
Try to get four days a week in, with a mix of strength and interval cardio training.
What's your passion in business?
Being able to build a team of people who are developing their talents and experiencing opportunities in life because of our organization.
How do you balance life and work?
Make it all part of your weekly schedule.
Favorite book:
The Energy Bus by Jon Gordon.
Favorite movie:
"Forrest Gump."
What do most people not know about you?
I went to nine different schools growing up.
What did you want to be when you grew up?
Professional athlete.
Last vacation:
Vail, Colorado.
Person I'd most like to have lunch with:
Warren Buffet.
Management
Business philosophy:
Communicate our mission and vision every day. Hire people who possess our core values. Management method or style: Servant leadership. My job is to serve our team in whatever capacity they need to do their job.
Greatest challenge:
Finding and retaining great talent.
How do others describe you?
Energetic, serious, and compassionate.
One thing I'm looking to do better:
Communicate our mission, vision, and values more consistently.
How I give my team room to innovate and experiment:
We learn from mistakes, therefore the worst thing we can do is not make a decision. If it is wrong, we will grow and learn.
How close are you to operations?
I started as the director of operations, so it is near and dear to my heart.
What are the two most important things you rely on from your franchisor?
Brand value and the ops playbook.
What I need from vendors:
Reliable service and products.
Have you changed your marketing strategy in response to the economy? How?
We have used the digital space much more since we joined the Dunkin' Brands system.
How is social media affecting your business?
It gives guests an opportunity to give real-time feedback, both positive and negative. How do you hire and fire?
We do both based on our core values.
How do you train and retain?
Both with an introduction and indoctrination to our company culture. If you create an atmosphere where your team enjoys working together, it fosters a sense of belonging to something greater than yourself.
How do you deal with problem employees?
If they stray from our mission, vision, and values, we ask them to leave the team.
Fastest way into my doghouse:
Not accepting responsibility or being accountable.
Athletics
What skills/experience from sports have you carried over to operating a business?
Teamwork and incorporating a unified vision. Which do you find more competitive, sports or business? They are both equally competitive.
Why did you choose franchising as an investment option?
It was a proven, established system with significant brand value.
What was your greatest achievement in sports, and what has been your biggest accomplishment as a franchisee?
Playing 12 years in the NFL, and opening 10 stores in 28 months.
Bottom Line
Annual revenue:
About $8 million.
2018 goals:
Positive EBITDA.
Growth meter: How do you measure your growth?
Sales, EBITDA, and net income.
Vision meter: Where do you want to be in 5 years? 10 years?
20 stores in 5 years.
How is the economy in your region affecting you, your employees, your customers?
The Midwest's economy has been robust and is only affecting our recruiting. Unemployment has been low and has made it hard to find quality talent.
Are you experiencing economic growth in your market?
Yes.
Experience with private equity, local banks, national banks, other institutions? Why/why not?
We prefer the local banks who really care about our business and building a personal relationship.
What are you doing to take care of your employees?
Providing additional compensation through an incentive plan, health insurance, and paid time off.
How do you reward/recognize top-performing employees?
We try to "catch" team members executing our mission, vision, or values and reward them with gift cards, store pizza parties, movie tickets, etc. It is amazing how these smallest gestures make the greatest impact!
What kind of exit strategy do you have in place?
None.
Published: February 22nd, 2018
Share this Feature
Recommended Reading:
Comments:
comments powered by

Disqus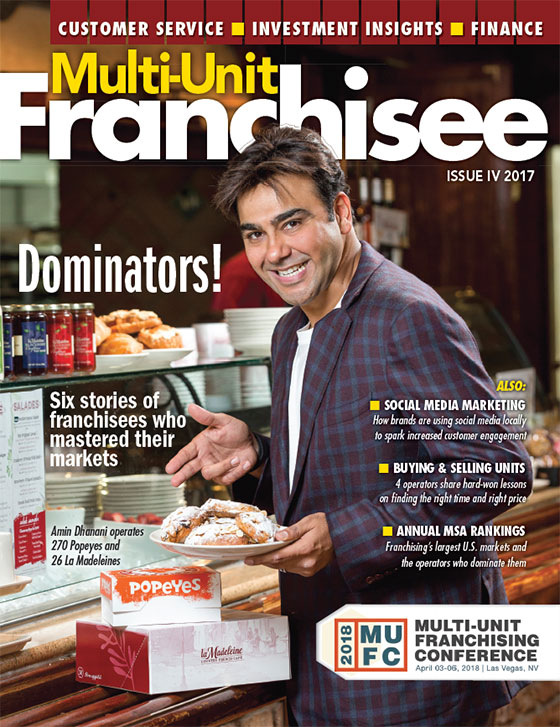 Multi-Unit Franchisee Magazine: Issue 4, 2017
Anytime Fitness makes wellness approachable for millions of members and gives franchisees the opportunity to be a part of a worldwide family of...
Cash Required:
$225,000
With a 46-year track record, 1.3M+ Avg. Gross Sales* and flexible footprints, Potbelly is a perfect addition to your portfolio. *Top 25% of...
Cash Required:
$250,000