Jim Hagan's unique reward system makes managers into franchisees
Jim Hagan was a successful salesman selling battery backups for communications systems when he got the idea to get into the restaurant business. It changed his life-though not quite in the way he expected.

"When I was selling battery backups, I was making $60,000 a year, working maybe 20 hours a week, and playing golf every day," he says. "Then I got in the restaurant business-I figured, how hard could this be? I went from there to not playing golf and working 100 hours a week. And my first W-2 earnings statement was $2,700. But by then I was stuck; I couldn't leave no matter what."

His learning curve took years. He had bought into Beef O'Brady's, the brainchild of Jim Mellody, which started in the mid-'80s in the Tampa area. Mellody's idea was a family sports pub, and he built the franchise up to about 30-40 units. (The chain, still headquartered in Tampa, now has 156 franchised units, mostly in the South and Midwest). Hagan, now 42, was one of his early partners, starting in 1993 (official franchising did not begin until 1998).

But it took a while to catch on and for people to understand what it was, Hagan says: "We knew what the concept was, but people didn't quite get it-it was for the 35-40-year-old with two kids. It was not trying to be a bar. When I first started it was 50-50 food to beer, and people said it was just a bar, and I said it was a restaurant. Now it's 80-20."

From Mellody, Hagan learned some things about how to treat partners and franchisees.

"Jim's philosophy was, as long as you do well, I'll leave you alone." As Hagan began to develop new locations, he worked first as a partner with Mellody, and then came up with an unusual plan to find managers by turning them into part-owners of a new store.

When he finds someone who looks like a good prospect, he will finance up to 90% of a new franchise, and pay the owner/operator a salary in addition-a salary that increases with an improving store performance.

"I give 20% to owner/operators, so they own part of the franchise," he says. "I charge them $30,000-$40,000 for that 20%. "Our build-outs have been running about $325,000-$350,000 to get a store up and running." So the new owner/operator is getting a very good deal.

Some of his owner/managers have come from other restaurant chains. But they don't necessarily have to have restaurant experience, Hagan says. "My best guy was a CPA who got tired of the corporate world. I had to almost fight with corporate to get him on, because he scored the lowest on the test. I said 'Trust me, he's lived here all his life, and knows everybody.' He's had only two waitresses quit in the last 14 months, and in this business, that's saying something. He maybe does a little more for employees than I would, but those guys would do anything for him."

And Hagan follows his mentor's rule: The ex-CPA "does $1.3 million, so if it works, I leave him alone."

He does all he can to make sure that the structure helps. Owner managers start out at a much higher than normal salary-$600-$700/week-and then bases the salary on sales. And then he makes them feel like what they are: owners.

"So if a guy does $1.3 million, he makes $60,000 and he has part ownership," he says. "They're the owner, not Jim Hagan; that's where the decisions are made. Obviously if there's something crazy going on, I step in. I tell them to be there when it gets busy but otherwise they have to be in control. That's how Jim Mellody was with me. If the store runs well, I'm going to leave you alone. I'm not micromanaging. Your bonus is based solely on performance. As long as it's not illegal and they're not going to hurt anybody, I leave them alone."

It is, he adds with a laugh, what major league baseball should do.

Hagan also encourages the rest of the staff with incentives.

"One of the things I do for cooks, for example, is if a store does $100,000 in a month, they get $100 bonus, and the manager gets $500. It doesn't seem like a lot, but to a cook, it is, and those guys are very grateful. In turn they watch those blue cheese [dressing cups] going out, and they remind the waitress that it needs to be rung in."

He also keeps hands off even for managers who don't match his style. "I have another pair of managers who came from Outback and they're very hands-on. They turned over their whole staff in three months, but now they have a strong staff, and I'm not going to tell them how to run it. They jump on you quick, but they're also quick to compliment."

Sometimes it doesn't work. And then you have to do something.

"I've sold two stores because they disappointed me," he says. In one case, there was embezzlement, and Hagan gave the guy a second chance-and got cheated again. "He snuck out the back door. He had borrowed the money to get his $30,000 and he never gave that back. That store is now doing very well. I brought another young man in-a beer distributor-and he's doing very well."

In the other case, the manager didn't have the money he said he had to invest. Hagan says: "If they don't have their own money in it, it doesn't work. He said he had $60,000 for 20 percent, and it turned out he only had $15,000. I should have stopped there and said 'If you don't have it, then that's it.' I wish I'd never done it. We sold the store for a profit, but I believe he didn't want to work. He put investors together and bought it. He's still running it-with four or five managers."

That is directly contrary to Hagan's philosophy. None of his stores have managers other than the owners. He has a general manager for the group of stores who gives each owner a day off a week by working in a different store every day.

"Otherwise," he says, "the owner is it. They can delegate; the people in Cocoa (Fla.) have some people they trust and they take a day here and there; they work very hard and they've earned that right."

It all fits in with his idea of customer service.

"People like to know the owner," he says, "the personal attention. The owner knows a lot of the people and that makes them feel good. I put in years of being there every day; you have to be there to get that familiarity. It's a huge selling point of Beef O'Brady's. I don't like name tags-the waitress needs to make a connection with that customer-tell that person who you are. I don't want to hear 'That's not my section'-every table is in your section. When people walk in the door, be friendly to them, make them feel comfortable."

To get a high level of service, Hagan encourages the servers to pool tips. "If people pool their tips, it works so much better. People get better service and give better tips so the servers get more money. You know if someone raises their eyebrows, they need something."

Actually, Hagan still puts in some time. "I still work in a store on Sundays from 10-4 to relieve the manager who was a server in my original store so she gets some time off. My deal is I cook omelets if you get in before 11 to watch the game. We fill the bar up and have a good time."

Hagan does like a good time-he likes to play on the poker tour, and now has time for some golf. But the real fun, he says, is getting a new Beef O'Brady's going.

"We have seven stores now;" he says. "Six of them will do over $1 million a year. We've just bought land for our eighth store, in Satellite Beach, Fla., which should be open by June."

He's also bought the Las Vegas territory where he has set himself a real challenge: "In Vegas we're looking to open five stores in a year, all at once."

Hagan doesn't have any problem getting investors for the venture: "I have investors who have come to me with $2+ million for the Vegas deal. No one has ever lost money with me; all the stores have paid for themselves in less than 3 years. When you first start no one wants to give you a nickel, and by the end when you don't need it, they want you to take their money. I want to ask, 'Where were you ten years ago?'"

Hagan has some flexibility with the franchisor-his store design is now one of the five approved by corporate, and he tends to spend a bit more than most to get a more established, neighborhood look. He knows what he wants to do, and, not entirely in jest, tells the franchisor, "Just let me build stores and send you checks."
Published: May 16th, 2005
Share this Feature
Recommended Reading:
Comments:
comments powered by

Disqus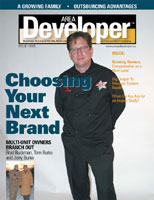 Multi-Unit Franchisee Magazine: Issue 1, 2005
Featured Opportunities