Re-Energizers: Refranchising Lets Franchisees Hit The Ground Running
Looking to expand your multi-unit operation and add some units fast? There's a way you can add locations--and immediate cash flow--quickly, without the long wait and usual headaches associated with building a unit from the ground up. It's called refranchising, and it's hot.

Refranchising--franchisors selling company-operated units to franchisees--is catching on as cash-strapped franchisors seek to reduce debt, improve unit performance, quickly penetrate a market or territory, or retool their strategic plans. Refranchising has been the word at several franchisors lately, including Jack in the Box, Denny's, Applebee's, and Don Pablo's, to name just a few.
Refranchising for breakfast
"Refranchising is a way for us to accelerate growth in key markets," says Mark Burgess, senior director of development for Denny's. "We want the entrepreneur on the ground in the local market. But also for us, it reduces debt and interest expenses and puts dollars back into the brand."

Denny's began to directly address refranchising a couple of years ago when it launched its Franchise Growth Initiative (FGI) program (see sidebar). To date, says Burgess, the company has sold more than 200 company-operated units to franchisees, and gained another two dozen new franchisees in the process. Shifting units to franchisees helps reduce company overhead as well, he says.

"There are areas where we believe franchisees can better develop the market, and there are areas where we still want to focus on the development ourselves," says Burgess. "Remember, we're still in the restaurant business too. We want to have some skin in the game just like the franchisees."

Burgess says Wall Street is keen on refranchising since it tends to prefer franchisee operations to company-owned stores. And Denny's is keen on it too. Says Burgess, "We get an entrepreneur on the ground working the local market and a steady royalty income from their efforts." (For a deeper look at Denny's development strategy, go to franchiseupdate-digital.com/franchiseupdate/2008iss3, page 32.)
They know Jack
"We're very fortunate to have existing franchisees acquiring our restaurants who are confident in their ability to operate them profitably" says Terrence Lewis, director of franchise sales for Jack in the Box. "Franchising allows our company to divert resources toward developing innovative new products, programs, and tools that will enable our franchisees."

Strategically, refranchising also helps a franchisee by "priming the pump" in a new market, says Lewis, one reason Jack in the Box continues to open company-operated units in new and developing markets. When the company gets the restaurants up and running in a given market, prospective franchisees can see how the brand is being received by customers there. Then, by acquiring those restaurants, they can hit the ground running and grow the unit and help build the area. "Having franchisees develop restaurants provides an excellent return on investment and accelerates growth," says Lewis.

Is there any sense of loss of control by selling off stores to franchisees? "Not at all," says Lewis. "We have a selection process designed to identify franchisees who will develop and operate restaurants as well as or better than our company operations."

Just two years ago, he says, about 25 percent of the brand's restaurants were franchised. Today that number is 40 percent, with a goal to increase the percentage of franchise ownership to 70 to 80 percent by the end of fiscal year 2013. (There are more than 2,100 Jack in the Box restaurants currently in operation.)
Do you qualify?
As might be expected, franchisors interested in refranchising can be picky when it comes to selecting franchisees. It's typically only certain territories, markets, or units they want to sell, and often they are looking for franchisees not only with franchising experience, but experience operating multiple brands and units.

"Lots of cash and no experience can be a bad combination," says Burgess. "We want people who have proven themselves in another system, those who have demonstrated they can make any brand and any situation work."

"It's very important to find the right franchisee," agrees Lewis. "In fact, we'd rather hold onto the company-owned store a little longer until we can find the right franchisee." At Jack in the Box, Lewis says they have been refranchising primarily with existing franchisees who want to expand their operations but notes, "We have added some brand new franchisees to the system through refranchising."

Of course, there's the 800-pound gorilla in the room these days: financing. There's less of it out there and it's tougher to get. Says Burgess, "Can they close the deal in this tough economy? Get the financing? Timing has changed because lenders are more cautious."

Basic business principles suggest it's easier to get financing for a unit that's up and running and delivering a steady cash flow than for one that may not be built and operating for another year or more. And in the end, says Burgess, Denny's is not just looking for franchisees to buy company-owned units, "We want multi-unit operators to buy... and to grow their units."
It works for these operators!
Nasir Farooqi is a Jack in the Box and Denny's multi-unit franchisee in the San Diego area. Altogether, he's operating 17 units--3 Denny's locations he acquired through the FGI refranchising program and 14 Jack in the Box units. He picked up 9 of his Jack in the Box locations by purchasing them from another franchisee; the other 5 were part of a refranchising deal he struck with corporate.

"The refranchising approach helped me get to know the Denny's brand and learn the system prior to building from scratch," he says.

Farooqi says it's crucial for franchisees to conduct due diligence when considering a refranchising purchase. He says find out as much as possible about each restaurant's potential, opportunities, strengths, weaknesses, and above all, negotiate a fair and reasonable price with the franchisor.

"For my Denny's, I got funding through GE with some down payment," he says. "But you want the lender in play from the very beginning." He says their feedback was extremely useful in putting the deal together.

Once the ink is dry on the contract, the next step is to make the transfer as smooth as possible. "Denny's helped me during the transition period by supplying all the necessary training, data, meeting with personnel, and even helping obtain licenses to operate."

Terry Shindle bought his first 16 Jack in the Box franchises from another franchisee in 2006. Less than two years later, he and his four partners were back at the table negotiating a deal for 14 company-owned locations in southern California. This past summer they built a new unit and have two more scheduled to open this year.

"Refranchising has been a great growth tool for us," says Shindle, who oversees day-to-day operations for his organization's 31 locations. "It can take up to two years, and a lot of cash, to build a new location. This way we are up and running immediately."

Shindle says he liked the fact that he could review each unit's performance history before purchasing. "It's so important to look at those financials, sales figures, and P&Ls," he says. Other questions he recommends asking up front: How is each location and market area? How old are the units? Do any need updating? What's the competition like nearby?

Realize, says Shindle, that when you buy a packaged refranchise deal, you're most likely going to get some strong-performing units as well as some under-performers. But that's okay with him. "Franchisees can operate locations more efficiently than the franchisor can," he says.

Craig Herman has been on both sides of the franchising fence. "I was senior vice president of company operations for Denny's before moving to Myrtle Beach and taking on formerly company-operated stores as a franchisee," he says. Today he has nine units he picked up through refranchising and two more new builds added during the past year.

Herman agrees with his fellow franchisees about refranchising's opportunities, adding, "I also got an instant staff of some great, qualified people who have made a great team." By default, this eliminated his need to train an all-new staff, saving valuable time and expense--as well as having experienced employees up to speed from day one.

Herman says the cost of starting a unit from scratch makes refranchising a very attractive growth model. "It's more expensive to buy land, then there's all the costs and headaches involved with building the facility."

Another key, says Herman is, "With the refranchising model, you can own a market right away, instantly. You're not having to spend precious time building one unit at a time." He says refranchising is most effective when employed by a strong, established brand. "That's why I think it has worked so well for me, and Denny's." Luckily for Herman, he was able to get his financing and his units before the financial crisis of last year. Timing is everything.
What's not to like?
These franchisees say lenders are often more comfortable approving loans for existing businesses with verifiable results than for a new undertaking. And of course in today's environment, capital is king.

"Getting capital today really requires that you, as a franchisee, have a track record," says Shindle. "You need relationships with financial partners, institutions, and banks." He recommends working to build relationships with large and small banks, both nationally and locally. "It's really important to structure your organization properly to attract and convince investors that you can make this expansion work."

As Herman notes, existing franchise locations already have a strong customer base established. "That's just one more thing that helps you take over a market," he says.
There also are other basic, on-the-ground efficiencies that can be better handled in the local market with local vendors, he says.

And don't be afraid to negotiate with the franchisor, say Shindle and Herman. "Start with due diligence, assess and plan your financial needs, agree on price, and then close," says Shindle. (See Negotiating Franchise Agreements)

Good infrastructure is critical for any organization, and one thing Shindle quickly discovered after he'd added his refranchised units, was that he needed more managerial assistance. "We'd basically doubled our company size and I had to add two positions right away," he says. One of them was filled by a former Jack in the Box regional franchise director who already knew the units and the territory: he had been displaced when the company refranchised.

Refranchising can bring much to the table for both franchisor and franchisee. Based on the experience of those we spoke with, sales, profits, and overall quality of operations have improved by embracing refranchising as a strategy today.
Growth Is Back on the Menu
Denny's refranchising program is paying dividends

For the past couple of years Denny's has been quietly transitioning a number of its company-owned units into franchise operations. And Mark Burgess has been overseeing the project.

Burgess is Denny's senior director of development, and his core focus is managing the company's Franchise Growth Initiative (FGI). It's a bold strategy to sell company-owned units to franchisees to accelerate growth in key strategic markets.

"It works as a way to attract both qualified new franchisees and talented existing franchisees who want to expand," he says. "It gives an opportunity for either of these groups to not only purchase company restaurants, but also sign exclusive development agreements in specific markets."

The initiative has attracted some big names and operators. For example, says Burgess, the largest Carl's Jr. franchisee, Harshad Dharod, has taken on Denny's locations in Washington state. "We've also attracted the single largest Jack in the Box franchisee, Anil Yadav, who is now operating Denny's restaurants in Northern California."

Experienced operators like this can be the perfect candidate to take over and grow the Denny's units, says Burgess. "They have the background, skills, infrastructure, and often the desire to diversify, and it makes a perfect candidate for us."

Logistically, says Burgess, it's often easier for these franchisees to take over an existing store than start from scratch with a new build. "There's no need to deal with site selection, leases, start-up costs, or any other new unit decisions--and you have an existing staff already on the ground and ready to go."

And, as Burgess notes, the FGI program is also a good way for a new franchisee to enter the Denny's system. "Buying company units first allows them to have scale prior to beginning their development."

FGI is an aggressive approach to driving sales and expanding the brand while providing the backbone of strong corporate support for Denny's expanding franchisee group. To provide a best-in-class support organization to its franchisees, Denny's has eliminated some corporate positions, restructured certain departments, and streamlined its entire support process. Four regional vice presidents oversee both company and franchise stores by geographic region and work closely with their operators to push customer traffic, sales, and profitability and ensure continued operational excellence. There's also been an increase in marketing efforts, with more focus and resources dedicated to local marketing in addition to Denny's national campaigns.

Over the past two years, the FGI program has increased the mix of franchise-owned restaurants to about 80 percent of the Denny's chain (315 company-owned stores and 1,228 franchise-owned as of February 1). Burgess says the FGI has sold 209 stores over the past 2 years, and there were 154 development commitments as of year-end 2008.
Growth is definitely back on the menu at Denny's.
Re-Start: Don Pablo's is looking for a few good franchisees
Don Pablo's is open for franchising.

Georgia-based Rita Restaurant Corp. (Don Pablo's owner) has just rolled out its first refranchising plan for its 40 Don Pablo's restaurants. "The plan is to convert 30 of them to franchises by 2012," says Paul Seidman, chief operating officer for Rita Restaurant Corp.

Seidman says the company is looking to "build the brand by partnering with great restaurateurs" in their markets (Philadelphia, Pittsburgh and Baltimore/Washington, Indiana, Cincinnati, Michigan, Dallas, and Orlando). He says it's "easier to get franchisees into existing units. Money can be tough to find right now for someone wanting to build a new franchise location from the ground up." The Don Pablo's restaurants are already operating and will provide the right entrepreneurs the chance to excel, grow quickly, and build success, says Seidman.

What kind of candidates are they looking for? "Definitely, previous restaurant operations experience, leadership skills, entrepreneurial, and somebody with local market knowledge," says Seidman. Existing multi-unit franchisees with other brands are top of the list.
Seidman says single- and multi-unit franchise licenses are being offered in both existing and new markets. Investment costs are $40,000 per restaurant for the initial franchise fee and $10,000 for each additional restaurant. Franchise candidates must have successful restaurant business experience in the desired market, as well as aggregate net worth of $750,000 including $250,000 in liquid assets per restaurant.

The initial push, says Seidman, will be for growth in markets with existing Don Pablo's locations. But the company is growth-oriented and will be looking at new market expansion as well.

"While our initial goal is to further penetrate existing Don Pablo's markets, what we're most interested in at this time is finding the right franchise partners. We want business operators and entrepreneurs who have the experience, enthusiasm, and customer-centric focus to be the driving force in moving Don Pablo's into the future," says Seidman.
Published: April 13th, 2009
Share this Feature
Recommended Reading:
Comments:
comments powered by

Disqus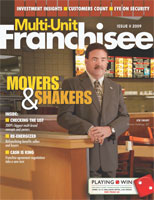 Multi-Unit Franchisee Magazine: Issue 2, 2009
Daddy's Chicken Shack believes in simple, high-quality ingredients with a lot of love.
Teriyaki Madness is the #1 Fastest-Growing Big Restaurant Chain for a reason: high-quality food, cutting-edge technology and incredible franchisee...
Cash Required:
$200,000