Savista Eases the Accounting Burden
Frustration levels are bound to grow higher when back-office woes increase. As a result, you may end up spending valuable time and energy on making things right. Outsourcing accounting and other functions may be the way to go. If you are in the restaurant industry, one firm to consider is Wichita-based Savista-FSC.

Frustration levels are bound to grow higher when back-office woes increase. As a result, you may end up spending valuable time and energy on making things right. Outsourcing accounting and other functions may be the way to go. If you are in the restaurant industry, one firm to consider is Wichita-based Savista-FSC.

The company was set up to help restaurant companies reduce the administrative burden that comes with growth and management. Today, it serves over 2,900 restaurant locations across 30 concepts. It has a diverse customer base, with clients that range from 20 locations to well over 200. It also meets all the regulatory requirements needed both internally and externally to service publicly-traded enterprises.

Savista-FSC focuses on how to manage the finance and accounting for multi-unit restaurant chains. "We understand this business model," says Jeff Bizzack, Savista's president and chief executive officer. "We get up in the morning and go to bed at night and this is what we think about," he adds. Bizzack has more than 18 years of experience in technology and business process outsourcing.

The company provides comprehensive accounting, payroll and reporting services. Specifically, it prepares financial statements, sales and deposit verification and reconciliation, accounts payable and receivable, fixed assets accounting, payroll processing, benefits administration, taxes and business licenses.

As a result, multi-unit owners can focus on the right parts of their business, he says. This includes growing revenue, attracting new customers, menu management, and providing a good dining experience for customers.

The company also offers clients an integrated, efficient solution for administrative tasks. "From the human resources side all the way through to the financial side, we have an integrated technology platform that we believe delivers great service to clients," says Bizzack.

Customer service is a top priority. For example, each of the company's clients is assigned a controller who will be responsible for the business overall. The controller is a degreed accountant and/or CPA who oversees the preparation of financial statements.

You have access to your controller and his or her team at all times to discuss your account and your company's financial picture. "The professionals at Savista-FSC are really an extension of our clients," he explains. "They understand what the client is going through. We are their finance shop," he adds.

When Savista-FSC meets with a new client, Bizzack says it gathers data, comes up with solutions and then devises the agreements needed to move forward. To implement and bring the client online can take from 30 days to about 90 for larger, publicly-traded franchise operations.

Benefits Worth Having

Clients who use these services can typically reduce operating costs between 20 to 40 percent by eliminating administrative and clerical positions. "What we have found is that only a CFO and a perhaps an assistant is needed even for some of the larger enterprises. Anything below the CFO line, Savista takes over," says Bizzack.

This way Savista-FSC is able to focus on the best practices that need to be delivered to multi-unit franchisees in the restaurant industry. There are a number of reasons why Savista can be more efficient than a franchise operation. Some examples include economies of scale that come with working for more than 2,000 restaurants with 50,000 employees. Further, it has lower labor costs in its Wichita location, which also has a highly educated and loyal labor force.

Savista also makes it possible to reduce capital expenses because outsourcing helps eliminate the need for costly and frequent investments in financial and payroll software and hardware. If you are able to retrieve data from your restaurants and your home office is connected to the Internet, you will not need to install any new systems.

"Another benefit of using Savista-FSC is we provide clients with world-class data to optimize their business," Bizzack explains. "For example, we give clients the data to know where they are making menu changes in the parts of their organization that is having an impact," he adds. This helps them to quickly take advantage of trends and market changes.

You don't have to worry about losing control of the financial side of your business. You will get daily operating statistics and have an enhanced ability to identify theft through daily sales and deposit verification.

Reports generated are printable and many are downloadable to excel spreadsheets. Further, reports can be emailed on a scheduled basis, avoiding a visit to the site. In addition, you remain in complete control of which vendor invoices are paid and when.

Savista-FSC takes on the accountability of working with each franchise store manager to ensure an accurate payroll. It processes over 90,000 employees in 50 states.

The current list of clients include some of the top franchisees in the U.S., such as Applebee's, Burger King, Captain D's, Church's KFC, Long John Silver, Taco Bell, Dairy Queen, and Shoney's.

Concerned about confidentiality? The company uses sophisticated encryption software to protect data. Further, access is password and identification protected. Savista-FSC also makes sure that each of its employees agrees in writing to maintain strict client confidentiality. In addition, it conducts full backup of all data on a nightly basis. Backup tapes are sent to a secure and disaster-proof offsite storage center.

The company also is a leader in point-of-sales technology. Savista's POS software is in 50 countries and serves over 5,000 stores around the world. "This also is available at the kiosk level or handheld," says Bizzack. "Having an understanding of the front part of the transaction, which is the first interaction with client and being able to poll the data off the cash register, gives us knowledge of how to deploy good business practices," he adds.

Looking to the future, Savista-FSC has recently secured additional investment to increase its overall levels of infrastructure. As a result, it plans to extend not only its finance and accounting platform, but to bring to life its human resource management and its benefit systems. Says Bizzack: "We are expecting very large growth over the next three to five years."

To find out more about Savista-FSC, go to www.savistacorp.com

- Joan Szabo is a Virginia freelance writer who specializes in finance.
Published: March 21st, 2005
Share this Feature
Recommended Reading:
Comments:
comments powered by

Disqus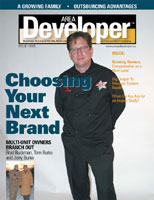 Multi-Unit Franchisee Magazine: Issue 1, 2005
Featured Opportunities