Hummus Republic Heading for East Coast Expansion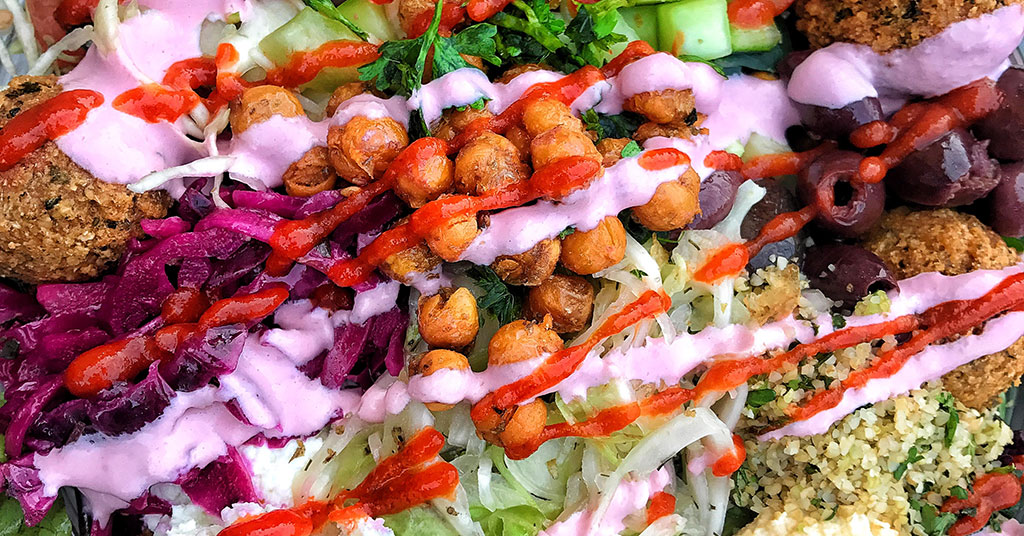 Popular Southern California healthy eatery Hummus Republic is stepping up growth with aggressive plans to take over the "American Mediterranean" fast casual restaurant market through franchise expansion.
The modern Mediterranean restaurant concept, which operates two company-owned restaurants in Los Angeles and Hollywood, California heads to the East Coast with its first franchise location set to open in Philadelphia in the coming weeks. With existing restaurants generating top-line growth and healthy profits, the buzz-worthy brand expects to award at least 100 more locations this year.
The founders opened the first Hummus Republic in 2013 "to bring the flavors of our families authentic Mediterranean cooking to the QSR industry in a casual, modern setting."
After years of working hands-on in the industry, the partners realized there was a major lack of lack of quality plant-based restaurants in the fast-casual world and wanted to make an impact. The restaurant brand specializes in flavorful and healthy customizable bowls, salads, and pitas for busy people with an on-the-go lifestyle.
"Mediterranean is the next hot ethnic cuisine and veganism is the fastest growing food movement in the world," notes Jordyn Weekly, director of development for Hummus Republic. "We dedicated three years to creating the perfect concept. We developed a simple operation with one of the lowest initial investment costs in the business. We have an incredibly unique advantage because our system is simple, scalable, and successful. Our lines are "out the doors" daily, so the concept really sells itself, both to customers and potential franchisees."
The primarily plant-based menu features six protein options, including vegan beef, falafel and braised veggies, and roughly 15 plant-based toppings, along with house-made hummus dips and spreads. An assembly line approach gives customers the ultimate control with thousands of personalized choices to satisfy all of their cravings in one meal.
Food is always freshly made with organic, sustainable, and locally grown ingredients, whenever possible and a restaurant design that ties the brand together with a clean, earthy, and organic feel. The CEO/founder Nir Giat and Weekly, both vegan, are passionate, yet never pushy, about raising awareness of the animal agriculture industry.
"We have a unique approach to the issue, by creating a concept that doesn't exclude or shame meat eaters," explains Weekly. "We have tried to create an environment where everyone feels welcome. Our goal is to introduce people who would "never go vegetarian/vegan" to delicious, healthy plant-based alternatives and, hopefully, influence them to start making healthier choices for themselves and the planet."
Until now, Hummus Republic has enjoyed a loyal following with "No PR," except organic Instagram engagement and providing customers with the best experience possible. A corporate infrastructure of more than 20 employees is already in place, including a new marketing team, set to build on this momentum to promote and franchise nationwide and in Canada. Hummus Republic's founders bring a background of more than 25 years of commercial real estate experience to the brand to provide franchisees with a competitive edge and a laser focus of support to find the best locations.
"People are calling us the 'next Chipotle,' but in the Mediterranean segment," says Weekly. "We see it as an opportunity to create accessibility to real, healthy, delicious food for everyone. We hope to raise the standard of fast food and improve the health of people and our planet."
Published: May 7th, 2018
Share this Feature
Comments:
comments powered by

Disqus