Purpose-Driven: Marketing Newk's into a Future of Growth
Michelle Spohnholz, vice president of marketing at Newk's Eatery, prides herself on being a purpose-driven marketer who produces results. That's what she's done throughout her career, whether at an ad agency or in the consumer product goods, food, beverage, or hospitality sectors.
Before coming to Newk's, she was head of marketing at Brioche Dorée North America, where she led the expansion of the French bakery cafe into the U.S. Before that, she spent a year as interim vice president of marketing for Tropical Smoothie Café, where she launched their online ordering and loyalty app, developed their innovation process and testing calendar, and crafted their next-generation menu. Other stops along the way included vice president of global marketing services for CSM Bakery Solutions, one of the world's largest bakery providers, and time with PepsiCo as vice president of marketing for national restaurant accounts, including Arby's.
"People are how business gets done, and your ability to influence and galvanize people for change has a tremendous impact on your ability to move the needle," she says. And everywhere she's been, Spohnholz has made it a policy to listen and learn before making decisions, with both franchisees and customers playing an important role in the process.
Since joining Newk's in 2018, Spohnholz has been focused on brand identity and finding the unique opportunity the brand offers. "Whether it's placing an order online, using our app, picking up a quick meal solution from our grab-and-go case, or enjoying a meal in our dining room, we are focused on being a convenient part of our guests' lifestyle," she says.
Describe your role as CMO.
I illuminate strategy, brands, purpose, and people.
What's the most challenging part of being a CMO today?
There is a tremendous amount of market fragmentation between consumers and their unique needs. It's a very competitive landscape in foodservice--as well with convenience stores, movie theaters, grocery stores, and restaurants all competing for share of wallet. Developing an authentic relationship with consumers as a brand in this environment can be a huge challenge, and motivating our hourly partners to deliver a best-in-class experience is also an important endeavor. Navigating to simple, clear strategies that work amidst all this is no easy task!
What are the 3 most important keys to being an effective CMO leader today?
Champion the voice of your guest or consumer, as they will teach you how to improve your value proposition and your business model. Create structured processes for execution and communication that can both drive accountability and allow learning to be incorporated in real time. Prioritize collaboration and alignment with cross-functional leaders and stakeholders. People are how business gets done, and your ability to influence and galvanize people for change has a tremendous impact on your ability to move the needle.
How do you prepare a marketing plan and execute strategies?
I first listen and learn, taking input from others who have learned based on their unique experiences. Franchise partners have tremendous insight into their local communities, and they have been in the business trying different strategies before I came on board. I then set a vision, gather a guiding coalition of leaders, and try to bring them into the planning. I believe in collaboratively creating ideas in a way that allows for input from lots of places first. Good ideas can come from anywhere! Once we have alignment on a direction, I work to quickly create action plans, then coach and support the team to deliver the initiatives and measure results.
How do you measure marketing results and effectiveness?
At the end of the day, we are looking for profitable, sales-driving initiatives that motivate our guests to visit us more frequently. We have to measure guest traffic as the be-all and end-all measuring stick. As we test initiatives, our best practice is to hold a control market and measure the net results on the pre-period and post-period and net out the control market results. We hope these tests get us to initiatives we can scale to the system.
Discuss your core consumer marketing strategies and objectives.
A big piece of what I have been working on is the brand identity to find the unique benefit we serve to our guests. From a functional perspective, they told us that we create meals that are the right balance of healthy and satisfying. And our open kitchen is a proof point that we prepare meals to order and use only the freshest ingredients. We are working hard to communicate in a bigger way that Newk's offers the right balance of healthy and satisfying in everything we make, and that the work we put into creating our food makes it the freshest and tastiest you can find. We are also trying to meet our guests where they are and provide more convenient offerings. Whether it's placing an order online, using our app, picking up a quick meal solution from our grab-and-go case, or enjoying a meal in our dining room, we are focused on being a convenient part of our guests' lifestyle. We are testing a new technology that will allow us to bring a to-go order out to their car so they don't even have to park! Additionally, we are building a loyalty program to engage our guests in a more meaningful way. We want to reward their loyalty and also intrigue them with offers and benefits relevant to them. If we can get our loyal customers to identify themselves when they place an order, we would like to give them a better experience in our restaurants because we value their business and the relationship we have with them.
How do you go about creating a customer-centric marketing and brand philosophy?
In my first months at Newk's, we did a lot of listening through focus groups, guest intercepts, and online surveys. We have conducted online research on several topics and continue to get guest input from our Round Table Club on new product and offer ideas. As we lead cross-functional teams, we continue to reinforce what our guests think to help guide our activities. People in our organization have been surprised at some of the feedback we have gotten, but it makes them stop and think a bit.
Describe your marketing team and the role each plays.
Our Calendar Marketing Team leverages consumer insights and sales data to build initiatives, and organizes cross-functional teams to implement them. Our Brand Communications Team has been building a new identity and is now infusing that in all our brand touchpoints: POP, website, social media, and email marketing. Our Field Marketing Team works with our franchisees and operating partners to develop local store marketing tools and localized advertising plans.
Why is it so important for the marketing department to have a personal touch when it comes to helping the brand connect with franchise prospects?
It's a great opportunity to tell the story of what our guests love about the brand and answer their questions. If the prospects become franchisees, then we have a head start on the relationship!
How does this help your franchise sales and development effort?
I hope it provides a peek into the value proposition of the business and the culture of the company we strive to create. We want to gain new partners who believe in our shared vision for the brand and can champion it in their own communities.
What ways/tools do you rely on to do this?
I meet quarterly with our franchise advisory council to consult on our mutual priorities. I also call or meet with franchisees in-market every week to get a broad sense of what they are seeing and what their unique market dynamics can teach me about the relevance of the overall strategy.
How do you manage costs and budgets for the marketing department?
We create an annual budget and get alignment from leadership and our franchise advisory council. We track expenses diligently and update the budget quarterly.
Do you see vendors as business partners? Why/why not?
Finding a vendor who can be a true business partner is a rare gem. We have several of them. They proactively look for opportunities to help; they bring ideas; they ask for feedback. They invest in the partnership and believe in the promise of a long, mutually beneficial relationship.
How is your marketing/branding strategy developed, and how does it flow through the system?
We start with the guest and the competitive environment and collaboratively develop plans with our leadership team. We run these plans by our franchise advisory council, which meets quarterly. To implement them, we host an annual owners meeting or convention, and we host quarterly webinars about our marketing initiatives. We also send out quarterly merchandising kits to our franchise restaurants with implementation guides to update our seasonal offerings and in-restaurant merchandising messages. Additionally, we provide an online toolkit for our franchisees to support local market activities.
Describe the evolving role of social media in your brand's marketing efforts.
We are trying to engage our consumers more to engage in dialogue with our brand and share their own content. In our next promotion, we invite them to post how they customize their favorite Newk's meal. Many guests don't realize the degree to which we can do that as we prepare each meal from scratch. We want to let our consumers educate each other and share their "Newk's" with their own social networks. We are also trying to provide a more seamless connection in our digital landscape by enhancing the tools our franchise partners can use to create localized content to develop their own store pages. Within our brand framework, we encourage them to keep their local pages up to date with relevant local news and conversations as well.
What advice would you offer to aspiring CMO executives?
Focus on developing leadership qualities that help you influence people and effect change. Your marketing acumen and work experience is very valuable. But perhaps most of all, it's your ability to take feedback, collaborate, work with a leadership team to set a joint direction, and leverage culture to drive organizational success.
Published: December 7th, 2019
Share this Feature
Recommended Reading:
Comments:
comments powered by

Disqus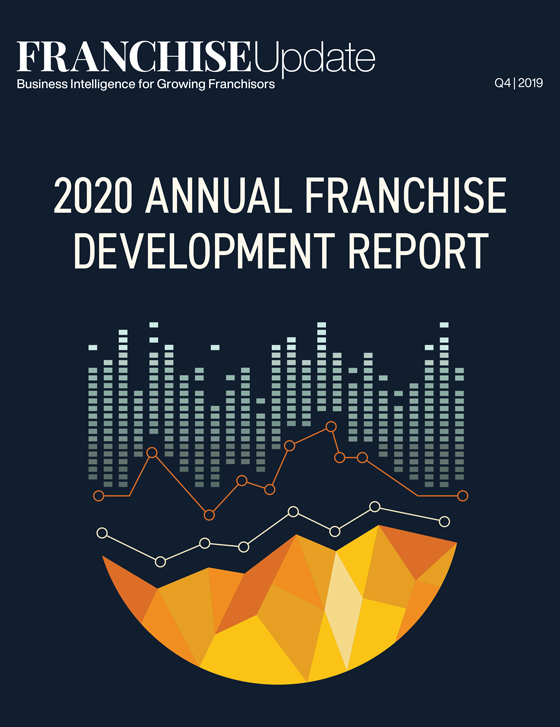 Franchise Update Magazine: Issue 4, 2019
Exhibiting at FEH provides your company with a unique opportunity to get face-to-face in the biggest gathering of potential franchisees, master...
MSA provides domestic and international franchise advisory services to franchisors and companies seeking to establish franchise and licensing systems.