Big Whiskey's Big Heart Grows Bigger With Expansion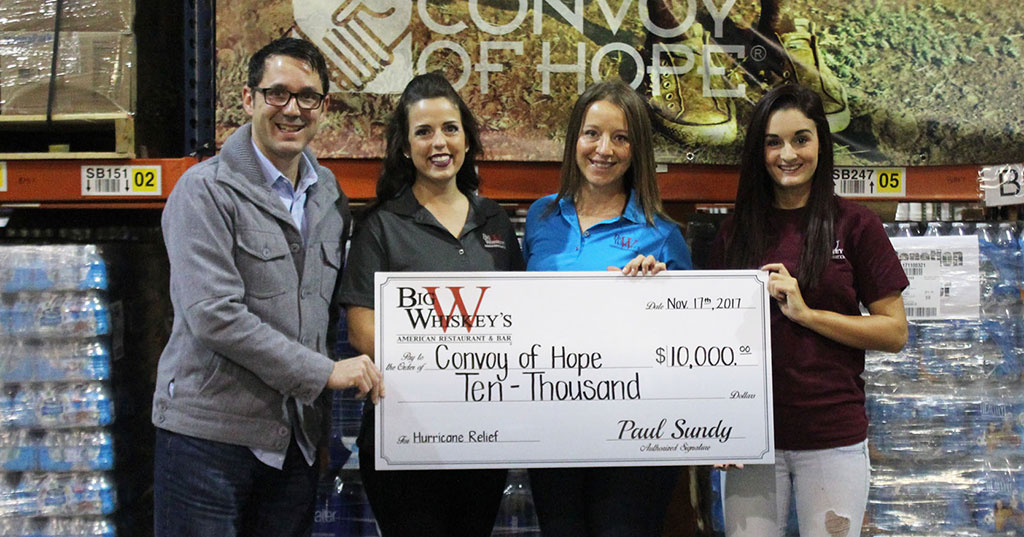 Being neighborly is the Big Whiskey's way.
Since the July 2006 opening of the flagship location of Big Whiskey's American Restaurant & Bar, the Missouri-based brand has practiced a community-first approach to doing business.
"During that time, downtown Springfield was, in a way, a forgotten neighborhood in our community, struggling to retain brick and mortar businesses, or connect with the community," recalls Laura Head Elliott, Big Whiskey's director of marketing. "Our owners made a commitment to not only open Big Whiskey's in downtown, but to make every effort to engage in the revitalization of the neighborhood. Establishing this commitment to community early on, built the foundation for our philosophy of building regulars and turning customers into friends."
Big Whiskey's is set to spread the brand's sense of community nationwide as an emerging brand poised for rapid growth. The casual dining franchise has nine restaurants in Missouri, Kansas, and Arkansas, and multi-unit development deals sealed for Las Vegas and Birmingham, Alabama. In 2018, Big Whiskey's opened a second Kansas City-area location, with plans in place for a new stand-alone restaurant in Nixa, Missouri, and construction underway on the first of two locations in Las Vegas. Additional franchise deals are also in the works for restaurants in Arizona, Colorado, Florida, and Texas.
With every restaurant opening, Big Whiskey's builds on its reputation as a unique neighborhood gathering spot with a big heart. The brand recently kicked off its newest initiative GAME ON as a staple of Friday night lights. Big Whiskey's restaurants team up with local high schools to host tailgate events at home football games, benefitting each school's Project Graduation initiatives.
"We're not just another chain location. You'll find our staff hosting tailgates and handing out wings and buffalo dip at the local high school football games, marching in the community Christmas parades, participating in local Chamber events, and responding to any urgent need that impacts our communities, such as hurricane relief," notes Elliott. "This approach strengthens our community spirit, creates loyalty with our customers, and gives our staff a sense of pride. I don't know that any of our competitors can say the same. We go beyond donating a check for community fundraisers by being active participants."
Giveback contributions to each community are vast and varied. Just a sampling of other charitable endeavors in 2018 include:
Special Olympics Support. Team Big Whiskey's, led by Springfield's Battlefield Road Assistant General Manager Ashley Bolin, took part in the Polar Plunge, an annual event that supports local Special Olympics athletes by walking, running, or crawling into the frigid Missouri waters. In the weeks leading up to the event, staff members raised money though sales of the specialty frozen drink Polar Colada, customer donations, and social media efforts.
Ambassadors for Children. For the past four years, Big Whiskey's has teamed up with Ambassadors for Children to provide support, raise money, and awareness for foster children and their families. The brand marks National Foster Care Month with fundraisers in May and sponsors older youth during the holiday season, hosting a "Pancakes with Santa" breakfast each December at three of Big Whiskey's Springfield, Missouri locations.
Run for Veterans. Big Whiskey's served as a sponsor of the Stars & Stripes 5K providing bottled water and Big Whiskey's koozies to the runners taking part in the July 4th event.
Collaborating with the community to make a positive impact keeps Big Whiskey's connected to their customers in a genuine way, Elliott adds.
"As we grow, we always want to be the local Big Whiskey's," says Elliott. "Our community first approach sets the tone for us to be the local restaurant and bar in our communities."
For more information on how you can become a Big Whiskey's franchise owner, check out our franchise site at www.bigwhiskeysfranchise.com.
Published: September 21st, 2018
Share this Feature
Comments:
comments powered by

Disqus