Goldfish Swim School Leadership Team is Pooled for Franchisee Success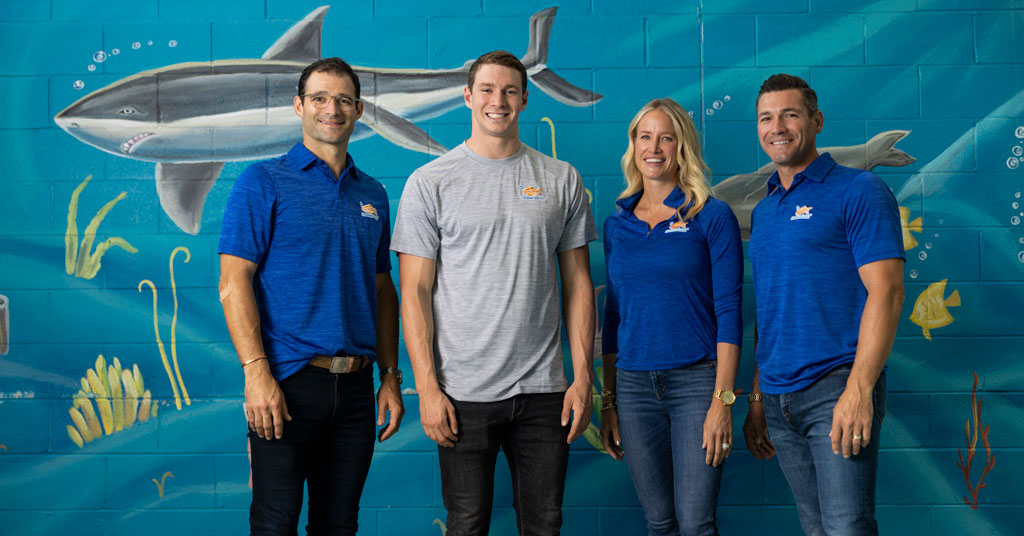 From L to R: Andrew McCuiston, World Champion Swimmer Ryan Murphy, Jenny McCuiston and Chris McCuiston
There are so many reasons to become a franchisee with Goldfish Swim School, the premier learn-to-swim facility for kids ages 4 months to 12 years. The brand has a proven and successful curriculum, an extensive support infrastructure, strong unit economics, and a host of successful franchisees to validate the company. Moreover, the brand's seasoned executive leadership team might just be the secret weapon to brand equity and franchisee success.
"Our leadership team is the strongest it's ever been in our brand's history," says Andrew McCuiston, the company's President. "Each team member brings something to the table based on their background and experience." If franchisees need assistance with any issue, says McCuiston, there is a team member in-house who can provide the answer.
Newest to the team is Mike Skitzki, VP of Operations. He has two decades of franchising experience including COO of TITLE Boxing Club, Vice President of the Belfor Franchise Group, and a Senior Development Manager of Service Brands International. He was also the founding COO and Operating Partner of the franchise growth equity firm, Franworth. He is a Certified Franchise Executive.
Chris and Jenny McCuiston founded the original Goldfish Swim School. It was their vision and passion that brought the brand to fruition. Chris serves as CEO and Jenny as Visionary.
Chris' brother Andrew is President. He joined Goldfish Swim School as the brand began franchising initiatives in 2009. He oversees the entire leadership team in executing all brand goals and objectives.
Dan Israel serves as VP of Franchising & General Counsel. He served for more than 15 years in the private practice of law – including representing Goldfish Swim School franchisees. Dan also leads the brand's franchise award process and oversees legal matters for the company. He is a Certified Franchise Executive.
With more than 25 years of marketing experience, Shana Krisan has served as the VP of Marketing for GSSF for seven years. She is a Certified Franchise Executive and recognized as a 2019 Bronze Stevie Award Winner for Woman of the Year in Marketing & Advertising and plays an active role on the IFA Marketing and Innovation Committee as well as the Franchise Marketing Leadership Conference Advisory Board. She leads an award-winning internal marketing team that continues to push boundaries and be celebrated in the franchise industry.
Bill Moorman holds the title VP of Construction, and like others, has previous franchise experience. He was VP of Construction for Arby's Restaurant Group, Steak and Shake, and Fiesta Restaurant Group. He understands real estate and site selection and has also been a multi-unit franchisee construction consultant.
James Collins is VP of Curriculum where he draws on his own experience as a collegiate swimmer and on more than a decade of overseeing private swimming technique clinics. He leads the brand's Science of Swimplay® curriculum and franchisee curriculum training.
Matt Davis rounds out the team as VP of Finance. He spent more than 10 years in public accounting where he worked with franchisors and multi-unit franchisees before coming to Goldfish Swim School. His focus is leading the franchise finance team and focusing on franchisee unit economics. He is also a Certified Franchise Executive.
Goldfish Swim School provides leadership at every level. Franchisees can count on unique one-on-one support from regional representatives in three key areas. The brand's Marketing Consultants, Franchise Business Consultants, and Curriculum Consultants are well-versed in their areas of expertise and always available to assist franchisees. "This allows us to work closely with our operators and provide direction and input exactly where each franchisee needs it," says McCuiston. The leadership team relies on research data and measuring KPI's. "We built this business off gut but are refining it with data."
It must be working. During the pandemic of 2020, Goldfish Swim School continued to ink new development deals. In September, a new franchise agreement was signed in New York that will bring seven new schools to the state over the next six to seven years. And just last month, the brand signed a multi-unit development agreement to bring 19 locations to Florida, Texas, and Virginia markets.
Goldfish Swim School is the undisputed champion of the learn-to-swim industry and its leadership team plays a strong role in the brand's success. The team is dedicated to giving franchisees the resources and support necessary to maximize safety, fun, and success. Visit https://www.goldfishswimschool.com/franchise-opportunities or call 844-906-0580 to learn more about how you can become a part of this great brand.
The below photo was taken before COVID-19
Published: April 23rd, 2021
Share this Feature
Comments:
comments powered by

Disqus