Hometown Fast Casual Favorite Pizza Factory Heats Up Franchise Growth
Entrepreneurs seeking an authentic brand to call their own are finding the perfect franchise match with Pizza Factory.
After signing 21 franchise agreements so far in 2021 and continuing its aggressive development efforts, Pizza Factory is actively growing from its West Coast roots and adding restaurants in select markets across the U.S. The brand's first locations in Texas and Georgia are slated to open in the months ahead, thanks to two longtime Pizza Factory fans turned franchisees. Pizza Factory also has its sights set on continual growth in its home state of California and the western half of the U.S.
Business is booming for the California-based Pizza Factory; the award-winning fast-casual restaurant brand introduced a new quick-service format, continuing to prove the concept's mettle as an innovative pizza restaurant with staying power.
The brand is making waves in more ways than one. In fact, Pizza Factory ranked on Franchise Times Top 400 list followed by placing in the top 50% on Entrepreneur's 2021 Top Franchises for Veterans list.
Franchise partners are drawn to Pizza Factory's hometown vibe and modern approach to operations, which is evident from the brand's recent achievements, led by its visionary leadership team.
"A lot of us on the executive team still own Pizza Factory restaurants," says Pizza Factory CEO Mary Jane Riva, letting us in on one of the brand's secrets to drawing a vibrant franchise base. "Franchisees know we have skin in the game; they know we have walked the walk—and we still do."
With more than 100 locations open, the brand is still growing as Pizza Factory has earned its reputation as a West Coast legend with its family-friendly dining and high-quality products, offering fresh, never frozen hand-tossed pizza, pasta, wings, sandwiches, salads, beer, wine, and more.
Cultivating relationships is at the core of Pizza Factory's winning recipe for a strong franchise network and deep customer connections formed in every community the brand serves. Each location shines as a local pizzeria with owners who are actively committed to Pizza Factory's community-focused efforts and national partnerships with organizations like No Kid Hungry and One Tree Planted.
"When you come to our Discovery Day, you will find a whole section on our supportive culture and a crash course on cultivating relationships within your community, with our leadership team and your fellow franchisees," explains Riva. "At Pizza Factory, you'll find there are a ton of people who want to support you through your ownership journey. Whether it be our corporate team, existing franchisees or other community members, you'll always feel supported and know that those around you want to see you succeed."
Pizza Factory's reputation as a community staple for over 35 years continues to lead to its significant gains with soaring sales in a piping hot industry. From the start of 2021 through today, Pizza Factory's companywide year-to-date sales remain the best in the brand's history since 2012. The brand most recently revealed a 16.8% increase in year-to-date same-store sales through September 2021.
A driver for these soaring returns is the Pizza Factory Loyalty App, powered by Punchh. Through the app and its ability to ease a customer's mobile ordering experience, Pizza Factory showed a 246% increase in year-over-year Loyalty sales.
"We are breaking all-time records for our brand," Riva says. "We have a great group of franchisees and are looking for more people that want to be part of a growing brand and make an impact in their communities."
Franchise partners can take advantage of multiple buildout options, including Pizza Factory's newly launched Express model and a flexible traditional dine-in line-up of new builds and conversions. The company is currently offering an aggressive development incentive program, which includes reduced franchise fees and waived royalties, as well as some free equipment for first-time Pizza Factory franchisees desiring to join an innovative brand to make dough and grow.
Ready to join a franchise built for the future? To get started, head to pizzafactoryfranchises.com.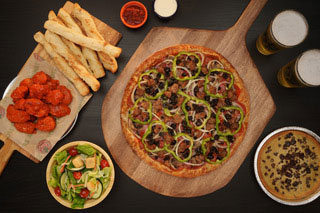 SPONSORED BY:
Pizza Factory
Pizza Factory houses hardworking owners, family-friendly dining and high-quality products. Restaurant design options include a Pizza Factory Express model and off-premise dining with delivery and mobile ordering available through our app. Learn More
Published: October 29th, 2021
Share this Feature
Comments:
comments powered by

Disqus