Iowa Native Finds Greener Pastures Opening Unity Rd. Location In Colorado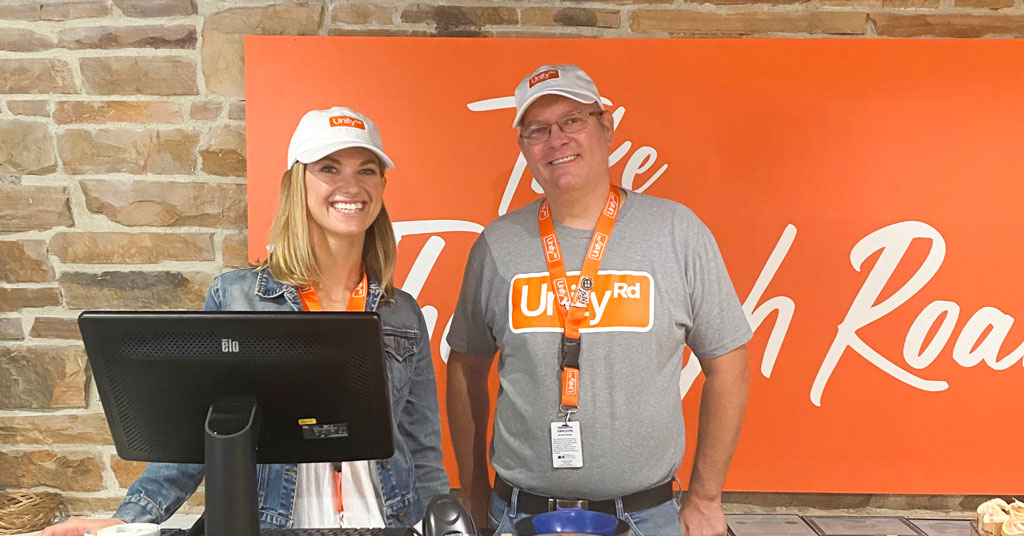 Iowa natives Nate Wetzel and his father Bruce were looking for a new business opportunity when they discovered Unity Rd., the premier cannabis shop and the nation's first cannabis franchise. Nate first heard about the brand on a podcast and says it opened his eyes to the possibilities of entering the industry as an entrepreneur.
Ultimately, Nate had the opportunity to acquire a dispensary in a prime location in Boulder, Colorado, and convert it to a Unity Rd. location. It's been such a successful endeavor for Nate that he's applying for another dispensary license in Colorado. Unity Rd. has been there every step of the way assisting Nate with the conversion process and providing the support and training he needs to run the business.
Nate says the cannabis space offers a unique and interesting opportunity because there are not a lot of brand-new industries that show up. "I think we're legitimately helping people both on the medical and recreational sides," says Nate. "By the sheer execution of your business, you're making people's days better, and I don't know what's better than that."
What made you pick Unity Rd.?
Nate: I became aware of Unity Rd. after listening to a podcast featuring one of the franchise's co-founders. I've been interested in the cannabis industry for years and had been trying to figure out what a potential point of entry could be that didn't seem rigged against me or overly complicated. I realized that Unity Rd. was offering the kind of help that I needed to fill the gaps in my game. From there, I brought the idea to my father and business partner, and we looked at a couple of different options. I started looking into franchising in cannabis, and realized it really didn't exist outside of Unity Rd. There were a lot of people offering assistance as consultants or through business plans, but no continuing, long-term support or ground support, which I really needed. This was my first dispensary and there was a lot I didn't know about retail; that was another blind spot for me that I would have to learn from the trenches. Unity Rd. was ready to provide those services and the knowledge base and give me direction where I needed it.
How helpful has Unity Rd. been on your franchising journey?
Nate: Unity Rd. has been absolutely key from start to finish. The team helped to identify properties, ultimately key in helping me get to my location in Boulder. They were helpful in the negotiations and everything involved in that process. After the purchase, the operations, marketing, and education teams got involved. They have been boots on the ground, helping us train employees and refine our processes.
What was the acquisition process like?
Nate: The acquisition process went about as smoothly as we could have asked for. I was given plenty of options and was constantly being fed things from the team's pipeline of opportunities. It was invaluable. Unity Rd. ultimately got me situated in Boulder by acquiring an existing dispensary for conversion and I'm looking forward to doing it again.
What was the conversion process like?
Nate: So far we've done a rebrand and a back-end upgrade in preparation for a larger remodel. Unity Rd. gave us the resources and training for the process to be as seamless and as smooth as could be asked for. Unity Rd. was integral in helping us switch to a new POS. We've also implemented some marketing processes and a loyalty program as part of our rebrand, and we're starting to see great results. I think the real show will start once we get the remodel completely finished and we significantly change our operational model – I think it will be great for our guests and for my team.
What other ways has Unity Rd. assisted you?
Nate: I have meetings with them regularly and they're always asking me what kind of things I'm seeing that need attention, what questions I have that they could possibly help with. They're also great with giving me direction on what I should be focused on and with general industry knowledge. The people at Unity Rd. have deep roots in the cannabis industry and that's experience that I don't have coming from a prohibition state [Iowa]. Their backgrounds help counter my inexperience in the industry and I can always count on them to be able to provide solid, well thought-out, experience-based answers.
Can you describe the relationship between you and the leadership team at Unity Rd.?
Nate: It's a great partnership. The director of operations was here in Boulder on the ground working with me before and through opening. We had a very close-working relationship, and it was fantastic to have her be as accessible as she was. I'm now working closely with other members of the operations team and can schedule a call with them whenever I need to discuss anything that needs to be addressed.
Are you happy with the results since you opened your first location?
Nate: Yes. The rebrand has attracted more customers. We follow Unity Rd.'s guidance in the way we greet guests, by putting customer experience at the forefront, and people are responding well to it. I want people to come into my dispensary and enjoy their experience so much that they tell their friends about it and they continue to shop with us.
What are your growth plans for the future?
Nate: Multi-unit operations is absolutely something that we're pursuing. I'm currently in a lottery for a license in a nearby market. My goal is to get two to three units as rapidly as seems reasonable. I'm hoping to go through Nebraska and get back to Iowa eventually as legalization continues throughout the country.
Would you recommend Unity Rd. to other people considering franchising?
Nate: Oh, absolutely. Like I said, for me, the brand provided the whole set that I needed to enter the cannabis space. The ongoing support and attention that I received from Unity Rd. was vital to my success. There's not one part of this business that they haven't properly, and I believe positively, advised me on.
Published: September 30th, 2021
Share this Feature
Comments:
comments powered by

Disqus