Potbelly Boasts Robust Franchisee Support Infrastructure
Potbelly, the iconic neighborhood sandwich shop known for its toasty sandwiches, has reached record-high average unit volumes of $1.1MM and an impressive sales to investment ratio. The 46-year-old brand attributes its revenue growth to a cost-effective operating model. For franchisees, this includes extensive support from the moment they join the Potbelly family. Support ranges from marketing, real estate, training and operational support to drive traffic and generate brand awareness.
Marketing
Potbelly strategically approaches marketing to best suit its franchisees. These strategies include traffic-driving promotions such as limited-time offers, a Perks Loyalty Program, systemwide media and PR support for local shop marketing initiatives.
Digital advertising plays a pivotal role in Potbelly's marketing support to generate nationwide brand awareness. The brand's Perks Loyalty Program offers guests points towards free entrées and allows them to receive member-only benefits through the Potbelly app. These perks present an opportunity for franchisees to gain added revenue while simultaneously satisfying the brand's loyal fan following.
The toasty sandwich shop brand also rolls out limited-time offers year-round, which add innovative elements to Potbelly's beloved menu. Some include the recent Red Velvet Cookie launch around Valentine's Day, the Pumpkin Spice fall-centric shake, the S'mores Cookie and the return of the fan-favorite Gyro Flat. Social media promotions around these limited-time offers help strengthen overall brand awareness.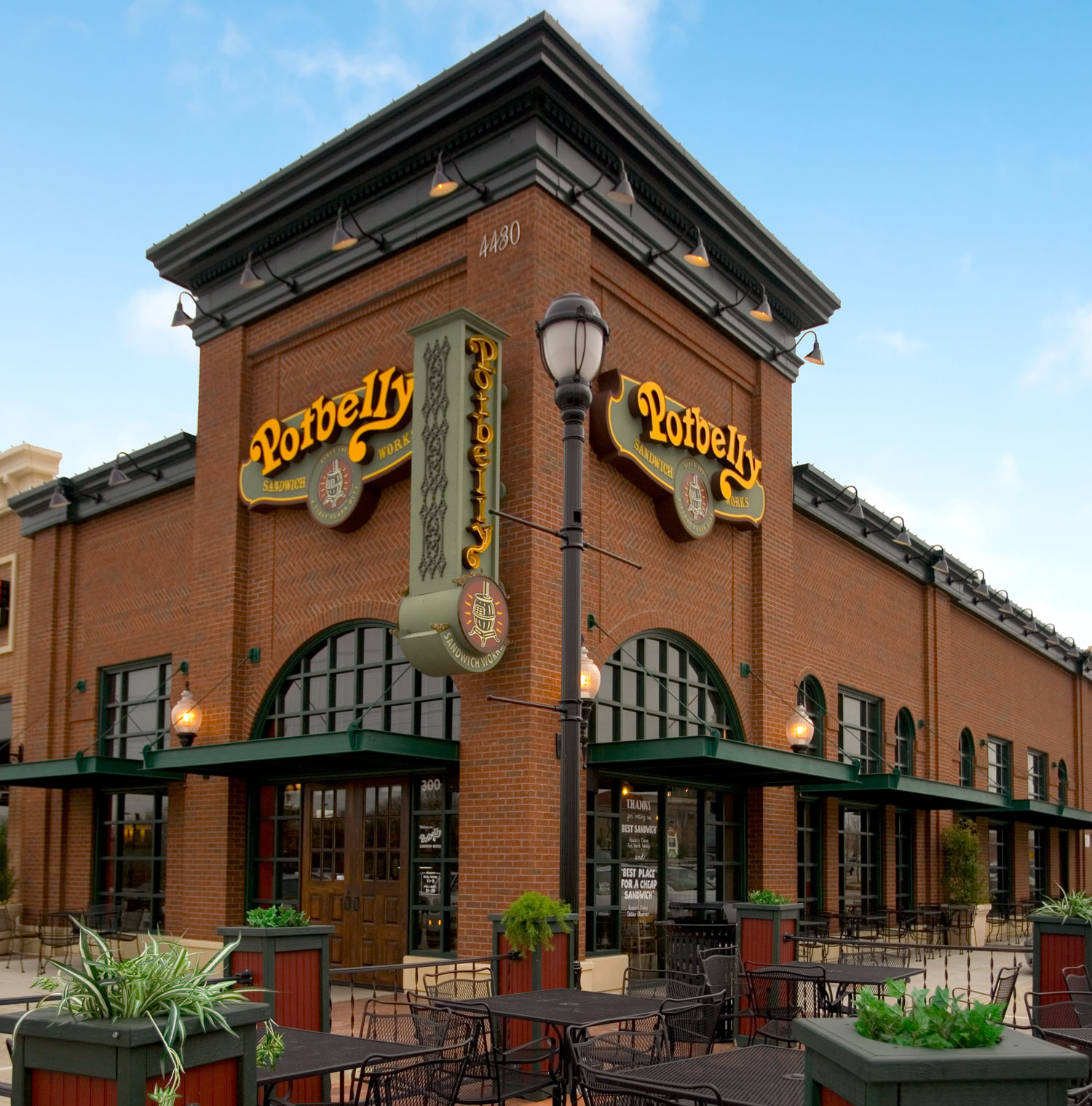 Real Estate
Potbelly utilizes data science, years of experience and consumer insights gathered from its 400+ existing shops to carefully plot the development course for each franchisee's development area. The brand's goal is to allow franchisees to hit the ground running with custom designed road maps that eliminate the guesswork in real estate site selection.
Franchisees are supported by a vast network of real estate brokers and contractors, who are experts in their local markets. Brokers will ensure locations are carefully selected through data collection and conduct lease negotiations while contractors offer extensive knowledge on how to design the restaurants in a variety of flexible real estate locations.
Training
To better support operators, Potbelly delivers a comprehensive training program, which includes an eight-to-12-week course for managing owners or operating partners. This involves ongoing staff training and access to a learning management system.
Operations
Potbelly's franchise business consultants bring decades of experience in their operational support of the shops and provide subject matter expertise in all aspects of the franchisee's business. From the moment franchisees begin operating with Potbelly, the brand has a team arrive on-site to assist with the restaurant opening and circulate brand awareness.
The cherished sandwich shop has plans to partner with seasoned operators and drive the brand's upward trajectory forward through expansion in new markets and refranchising select corporate locations in existing markets.
If you are interested in franchising with a household brand name that is revered by a loyal fan following, visit potbelly.com/franchising-why-potbelly to learn more.
SPONSORED BY:
Potbelly Sandwich Works
With a 46-year track record, 1.3M+ Avg. Gross Sales* and flexible footprints, Potbelly is a perfect addition to your portfolio. *Top 25% of franchised Potbelly shops operating during 12-period timeframe in 2022. Learn More
Published: March 8th, 2023
Share this Feature
Comments:
comments powered by

Disqus