Pinch A Penny Franchise Owners Dive into the Good Life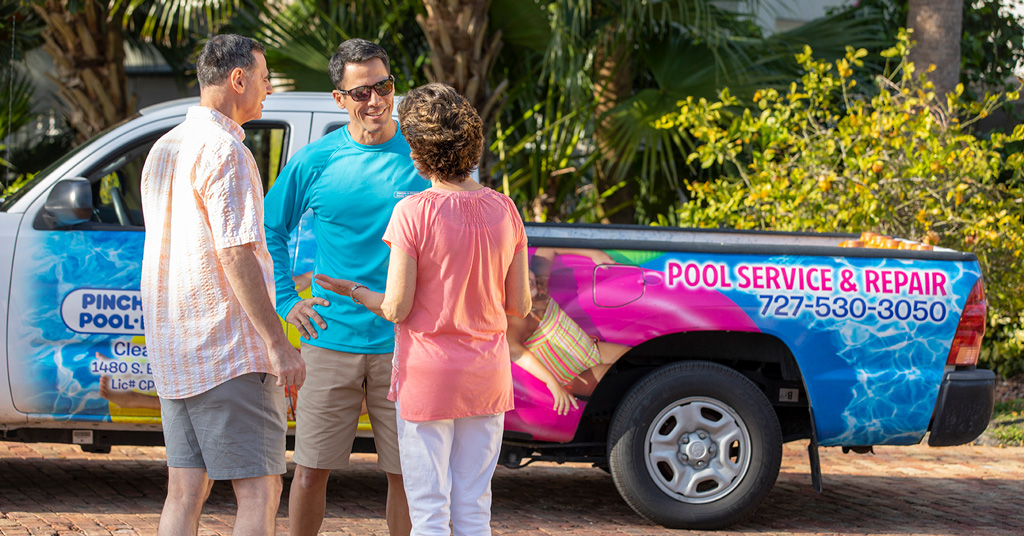 Pinch A Penny Pool, Patio, and Spa continues to make a big splash, forging new paths to expand as the nation's largest swimming pool retail, service, and repair franchise.
Business is booming for the Clearwater, Florida-based Pinch A Penny, with average store unit sales of $1.2 million* and plentiful pools of franchise opportunity to meet the increased demand for the brand's specialty and retail services.
Fueled by successful store openings in Dallas and Houston, Texas, as well as throughout the state of Florida, Pinch A Penny is primed to ramp up growth in Texas and expand its Southeast presence in Georgia, Florida, South Carolina, Alabama, Louisiana, and Mississippi. Founded in 1975 as a family-owned business, Pinch A Penny's proven business model and track record for success make the brand one of the most robust franchise opportunities available today.
"Pinch A Penny is the only U.S.-based swimming pool franchise that offers Franchise Owners three solid revenue streams, combining retail, repairs, and a wide range of services," says Michael Arrowsmith, Chief Development Officer of Pinch A Penny Pool, Patio, and Spa. "That, coupled with our more than 40 years of expertise, 250-plus locations, and a decade of positive same-store sales increases, continues to attract best-in-class Franchise Owners to our brand."
Pinch A Penny has a well-earned reputation as a trusted industry expert that delivers unmatched customer service and the highest quality products and supplies at a fair price. Stores offer customers a one-stop shop to meet all their pool, spa, and backyard needs, with one of the most complete lines of pool chemicals and maintenance equipment, as well as parts and accessories, available anywhere. Pinch A Penny stores also offer outdoor furniture, spas, grills, and more.
Both seasoned independent pool owners and Franchise Owners new to the industry are bullish on the brand that consistently ranks in the top 10 percent of most satisfied Franchise Owners, as surveyed by Franchise Business Review.
"After spending more than 20 years in the pool industry as an independent business owner, I was looking for an opportunity to join an established brand that could provide the resources I needed to take my operations to the next level," says Thomas Parison, owner of Pinch A Penny Pool, Patio, and Spa of Kingwood, located in Northeast Houston. "The brand's unparalleled level of support allowed us to easily convert our retail space and offer our customers the superior level of service and best-in-class proprietary products that Pinch A Penny is known for."
First-time Franchise Owner Lisa Ifland recently opened a Pinch A Penny store in Plano, Texas, the third Dallas-Fort Worth area store and 18th location in the Lone Star State, a prime target for Pinch A Penny expansion.
"After researching countless potential franchise options, Pinch A Penny's family-oriented approach to business aligned most with my own core values. The brand's consistent success throughout its rich company history made it the obvious choice," says Ifland. "I spent decades in the foodservice industry, a segment that is oversaturated with franchising opportunities, so I know firsthand how important it is to select a concept that has a proven business model."
Pinch A Penny is currently seeking qualified candidates to join its growing brand, including existing pool operators and retail store owners looking to make a splash with a rapidly growing franchise.
To discover your franchise opportunity, dive into the details at pinchapennypoolfranchise.com.
*For the year ending December 31, 2018, Pinch A Penny had 248 stores open. Of those stores, 238 have been open at least one year. Of those open at least one year, the average annual gross sales were $1,257,388.88 stores (37%) had annual gross sales that exceeded the average. Your results may differ. There is no assurance that you will do as well. See our 2019 Franchise Disclosure Document for more information.
Published: June 26th, 2019
Share this Feature
Comments:
comments powered by

Disqus