Huckleberry's Breakfast & Lunch Shines as Growth Ready Daytime Concept Primed for Franchise Expansion 
After 30-plus years overseeing the multi-brand operations of 50 restaurants in five states, Ray Tavakoli was ready to trade corporate life for a restaurant stake he could call his own. It didn't take long for the veteran industry executive turned entrepreneur to find the perfect franchise fit in Huckleberry's Breakfast & Lunch.
The rapidly emerging breakfast and lunch concept, backed by the leadership muscle of parent company Heritage Restaurant Brands, continues to build on the momentum of recording-breaking sales in March, April and May of 2021.
Tavakoli calls his 2019 opening of Huckleberry's in Clovis, California, the best career decision he's ever made—and he's ready for more.
"The Heritage Restaurant Brands team has been with me every step of the way to ensure my success," says Tavakoli. "I am actively looking for more locations, and my future is looking better than ever."
Franchise investors seeking an opportunity to soar with a growth-ready brand are flocking to own the Huckleberry's franchise. The San Luis Obispo, California-based brand, with 17 locations, is hatching plans to open as many as eight new restaurants in coming months in strategic markets, including Austin, Texas.
Huckleberry's stands alone in the fast-growing day-part segment with a unique vibe and a menu filled with delicious "Southern Cookin' With a California Twist," explains Greg Graber, CEO of Heritage Restaurant Brands, whose franchise brands also include Cool Hand Luke's Steakhouse and Perko's Café Grill.
No matter where they live, customers fall in love with the Huckleberry's experience, featuring a real Southern Bayou complete with a weeping willow tree, sparkling fireflies, and Zydeco music. Chef-inspired contemporary takes on Southern dishes like Mardi Gras beignets, fried green tomatoes, chicken & waffles, and N'Awlins- style sandwiches are served up in a welcoming escape.
"The icing on the cake is our Southern hospitality," explains Graber. "Huckleberry's genuine hospitality is in our DNA and built into our training systems. It permeates everything we do."
Graber heads up a leadership team stacked with decades of restaurant know-how. After taking over Huckleberry's from the brand's exiting founders in 2016, Heritage spent two years refining operations designed to deliver results-driven expansion and franchise support. Huckleberry's prides itself on its systemwide willingness to share best practices and great ideas for the benefit of the entire chain.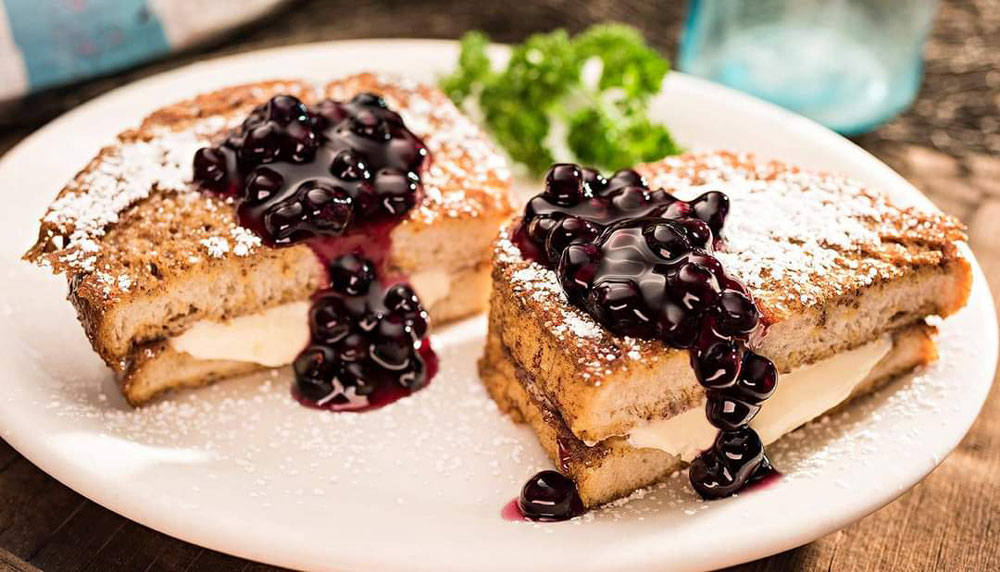 "Huckleberry's has a unique and compelling niche in the restaurant space," says Raman Dhillon, a multi-unit franchisee of five Huckleberry's in California. "The unit economics, captivating ambiance, great food, and the fact that we're open for breakfast and lunch make adding more restaurants a no-brainer for us."
Franchise partners can take advantage of a daytime-only concept with a low cost of entry and robust ROI that provides franchisees with quality of life and strong support from the start. In addition, Huckleberry's comprehensive site-selection scorecard, based on the system's highest volume restaurants' demographic traits, takes the guesswork out of site selection. Additional multi-faceted support includes marketing and brand building, purchasing synergies, training, vendor distribution, innovative recipe and menu development, a point-of-sale system, accounting, and restaurant operations reviews.
Huckleberry's has U.S. territories available throughout the West and Mid-West and is seeking existing multi-unit restaurant franchise owners looking to expand their portfolio as well as industry veterans like Tavakoli that are looking to own their own business.
Who's Your Huckleberry? We are, and we want YOU! With 7 a.m. to 3 p.m. operating hours, amazing food, differentiating ambiance, and Southern hospitality, Huckleberry's Breakfast & Lunch offers entrepreneurs the opportunity to own a franchise that "takes you to the "Bayou" every morning and gets you home for dinner every night."
To learn more, visit huckleberrys.com/franchise.html or email Reem.Fahoum@HeritageRB.com.
Published: June 1st, 2021
Share this Feature
Comments:
comments powered by

Disqus