Kono USA Franchise Opportunity
"The flexibility of the Kono business is great. We can go to different events, move in and out really quickly. Our plan is to grow into 5 carts and trailers operating in our first 5 years."
David White
Franchise Owner – HOUSTON, TX
"I love this business. At the events, we have long lines, I'm smiling and enjoying the concert. Sometimes it's like I'm not working at all!"
Rober Resendez
Franchise Owner – HOUSTON, TX
Financial Information:
| | |
| --- | --- |
| Cash Investment: | $50,000 - $75,000 |
| Franchise Fee: | $13,500 - $20,000 |
| Total Investment: | $75,000 - $274,000 |
Available Markets:

Canada:
United States: AL, AK, AZ, AR, CA, CO, CT, DE, DC, FL, GA, IL, IN, IA, KS, KY, LA, ME, MD, MA, MI, MN, MS, MO, MT, NE, NV, NH, NJ, NM, NY, NC, ND, OH, OK, OR, PA, RI, SC, TN, TX, UT, VT, VA, WA, WV, WY
The Kono franchise model is a truly unique, ground-floor business opportunity. We are looking for partners who are excited to help pioneer this new and improved version of one of America's favorite foods -- pizza. As an emerging franchise with explosive growth, our aim is to bring our products to where the people are.
Our Franchise Owners don't have expensive build-outs, high overhead and the worry of the seemingly difficult future of retail. Just like our cones, our business model is portable and flexible. Kono Franchise Owners operate food carts, trucks and trailers, to go to where the people are. From festivals, concerts, sports arenas, farmers markets and more, the success of our product and our business model lies in our flexibly to work with the modern-day consumer.
What is Kono? The Kono cone is pizza reinvented.
Our cones are created around mobility and high-quality ingredients. Kono Pizza tastes better, you feel better about eating it and the best part is you won't spill sauce down your shirt.
Own Your Own Kono Franchise
Kono is an internationally proven, one of a kind franchise that encompasses both Kono Pizza and Kono To-Go. Kono calls 30 countries home and has more than 120 locations worldwide. New to the United States as of 2015, Kono is a ground-floor business opportunity that provides new Franchise Owners the confidence of knowing it has already succeeded at an international level.
Recently Kono has begun to receive rave reviews and a cult-like following for our unique and delicious pizza product. Now the franchise opportunity is growing rapidly too, as more and more entrepreneurs are looking for ways to satisfy the $46 billion pizza market in the United States.
Our franchise owners appreciate the uniqueness, the portability and the deliciousness of the Kono product line. From the product to the franchise business model, Kono is on the rise!
Three Flexible Business Models
The Kono Truck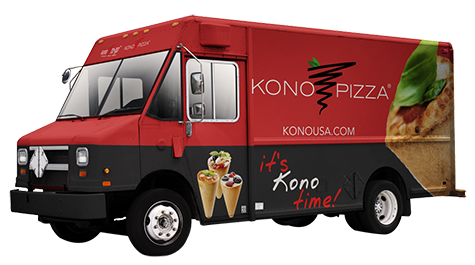 The Kono Food Truck is an exciting new business model for Kono Franchise Owners to take advantage of. Allowing our owners unprecedented efficiencies in getting to the masses, and getting them their Kono cones with little-to-no setup. Just drive up and start selling!
With our volume buying power, we have secured some of the best truck builders in the country to build Kono trucks at a fraction of the cost that the average business owner will pay for them. Ranging from 16 -18 ft and packed with efficiencies to keep the Kono business owners life simple, the Kono Truck is an exciting new addition in 2017.
The Kono Trailer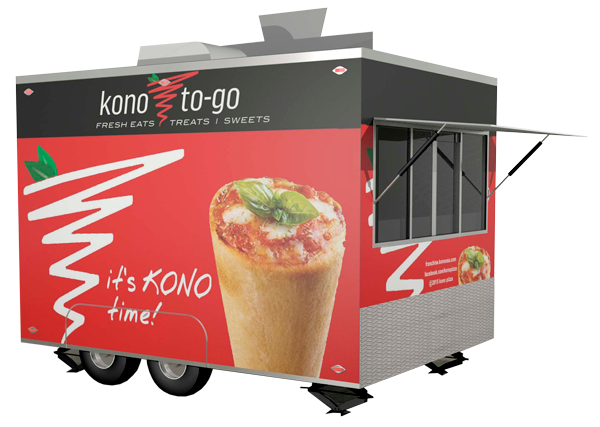 The Kono Trailer is the latest weapon in the Kono franchise owners arsenal. Combining the mobility of the Cart, with the ease-of-use of the truck, the Trailer is and eye-catching and effective business model for capitalizing on busy events.
The Trailer is not a motorized vehicle itself, but can be moved by a motorized vehicle you attach to it. Like the Food Truck, the Trailer is bigger than a Cart. The Trailer cannot be operated indoors, but can be operated at the same outdoor events as Carts and Food Trucks.
The Kono Cart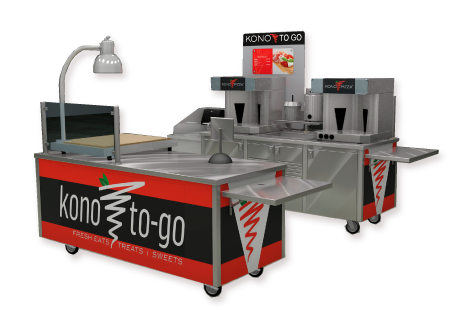 Were' on the move! The Kono Cart was created to allow our Franchise Owners to open locations wherever the customers are! This fully operational, self-contained serving cart comes equipped to simply and efficiently produce all of our delicious pizza cones.
It is NSF certified and meets health department requirements for mobile operation, and can be setup in as little as 15 minutes. Perfect for professional sports stadiums, convention centers, festivals and fairs, Kono is coming to a location near you soon!
Do you fit?
Kono is looking for entrepreneurs that are ready to jump into a promising opportunity.
Are You Business Savvy?
Are You Multi Unit Capable?
Have An Entrepreneurial Attitude?
Have $100K Liquid Capital?
This web page does not constitute a franchise offering or an offer to sell a franchise. A franchise offering can be made by us only in a state if we are first registered, excluded, exempted or otherwise qualified to offer franchises in that state, and only if we provide you with an appropriate franchise disclosure document.
Request Information
Looking for more information about Kono USA? Take a moment to fill out our quick information request form.